Law may be catching up with fugitive Buddhist monk with penchant for Louis Vuitton luggage and private jets
Wirapol Sukphol who is worth £20m is accused of drug trafficking, a hit and run accident and rape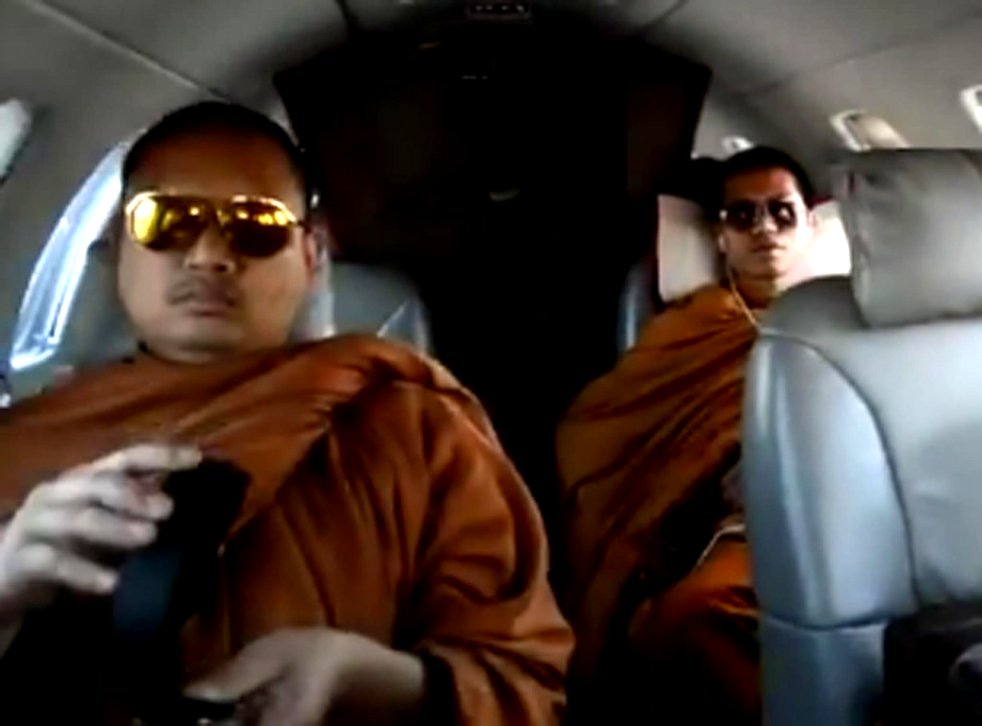 He's the fugitive Buddhist monk with a penchant for aviator sunglasses, Louis Vuitton luggage and travelling in private jets. But the law may finally be catching up with Wirapol Sukphol.
Last month, police in Thailand issued an arrest for 34-year-old Mr Wirapol after he was accused of money laundering, drug trafficking, involvement in a hit-and-run accident and statutory rape, in which he is said to have fathered a child with a woman who was underage at the time.
At the time when the allegations were made, the monk was said to have been on a meditation retreat in France. He subsequently travelled to the US.
Now it has been reported that Mr Wirapol is in Laos, neighbouring Thailand, and seeking to make an arrangement with the authorities that would allow him to return home and attempt to clear his name. He could be there as early as Thursday.
According to The Nation newspaper, Tarit Pengdith, head of Thailand's department of special investigations, said Mr Wirapol will return by means of the land border crossing close to the town of Nong Khai in the north east of Thailand, where there is a "friendship bridge" between the two countries.
Thais were shocked but captivated by Mr Wirapol after a video of him travelling by private jet and with his luxury accessories to hand was posted onto the internet. Another photograph showed him resting his elbow on the bonnet of a Mercedes parked in the driveway of a California bungalow.
But as investigators began to probe the source of his wealth – he is said to have amassed more than £20m and possess a fleet of more than 20 luxury vehicles – so more and more allegations emerged against him. As people grew increasingly outraged over his alleged actions, senior Buddhist monks in the Sisaket district where Mr Wirapol established his own monastery inside a forest, took the decision to disrobe him.
According to the Associated Press, the former monk began training for the Buddhist clergy as a teenager and became famous locally for his claim to be able to fly and to walk on water. He renamed himself, Luang Pu Nen Kham, taking on a title normally reserved for elder monks.
Reports said that the young man was skilled at cultivating wealthy followers to help fund expensive projects in the name of Buddhism. He has built temples, hospitals and even what he claimed was the world's largest jade Buddha, a 36ft statue was that was actually constructed from tinted concrete.
This is not the first time that Buddhist monks in Thailand have found themselves at the centre of controversy for their apparently irreligious behaviour. From time to time various scandals erupt and last year several monks were forced to resign after being caught on camera drinking, smoking and playing high-stakes poker.
Observers say the phenomenon is the result of Thailand becoming increasingly secular with teenagers less enthusiastic to take up the life of a monk. According to Thailand's Office of National Buddhism, about 300 of the country's 61,416 full-time monks were last year reprimanded and in several cases disrobed for violating their vows.
Sukij Poonsrikasem, a lawyer for Mr Wirapol, has reportedly told investigators that his client will give himself up if they agree to grant him bail in order for him to try and prove he is innocent. He also intends to lobby the Buddhist clergy to reinstate him as a monk.
Join our new commenting forum
Join thought-provoking conversations, follow other Independent readers and see their replies