Leading brands accused by Greenpeace of 'failing' to protect Indonesia's forest
Over the past 25 years more than a quarter of Indonesia's forests have disappeared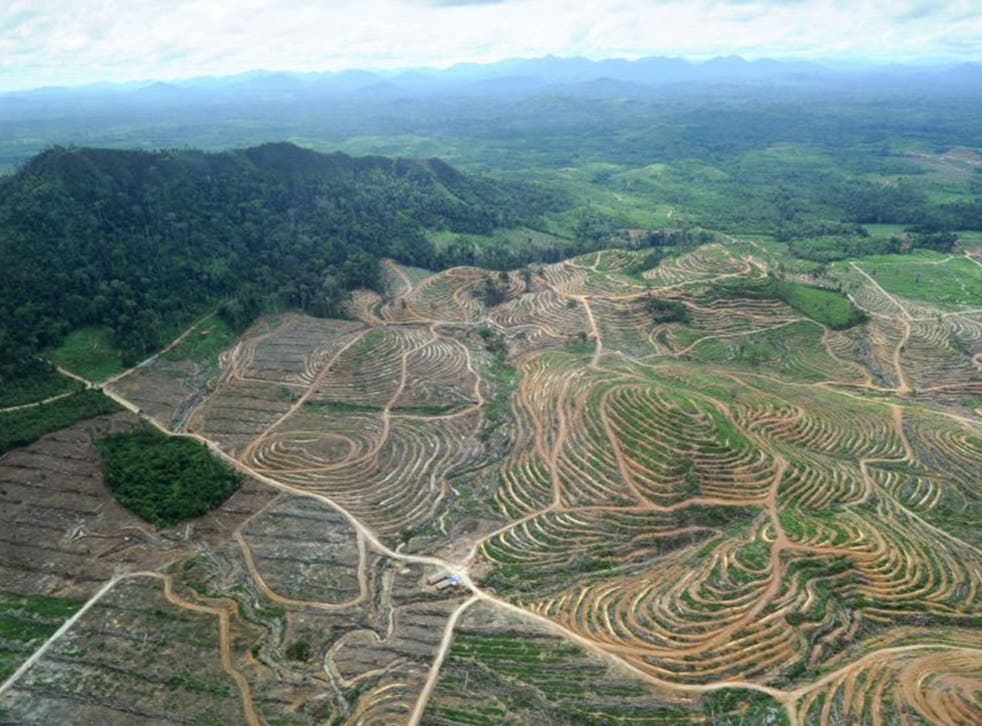 Over the past 25 years more than a quarter of Indonesia's forests have disappeared, meaning the 76 million acres of forest have been lost since 1990 – an area almost the size of Germany.
A major cause of this deforestation is believed to be the palm oil industry, with tree loss from palm oil plantations leading to devastating forest fires and threatening endangered species such as orang-utans.
Palm oil is used by many brands and found in thousands of everyday products from toothpaste to crisps.
According to an analysis by Greenpeace, however, some leading brands such as Pepsico, Johnson & Johnson and Colgate-Palmolive are "failing" to track whether the palm oil they use is linked to the destruction of Indonesia's rainforests.
A study by Greenpeace analysed 14 leading brands and said "none" could "guarantee their palm oil supply is not linked to deforestation" and "most" were "unable to say how much of their palm oil comes from suppliers that comply with their own sourcing standards".
The report assessed the companies on three different criteria - responsible sourcing, transparency and industry reform.
It supposedly found one of the largest problems was a lack of transparency along supply chains, with many companies allegedly failing to provide detailed information about their suppliers.
The companies with the "poorest performance", according to Greenpeace, are Colgate-Palmolive, Johnson & Johnson and PepsiCo, which are "failing" to keep the "no deforestation promises made to their customers".
Most companies were graded as "getting there" in their progress toward zero-deforestation, yet only two companies – Ferrero and Nestle - were deemed "strong", according to the environmental NGO.
Only Ferrero was found to be able to trace nearly 100 per cent of its palm oil back to the plantation it is grown on, Greenpeace said.
In response to the allegations Pepsico said: "We take the issue of deforestation and the sourcing of sustainable palm oil very seriously, and so PepsiCo has a long-standing palm oil policy.
"Our action plan reflects our enhanced efforts, including traceability to the mill level by 2016 and the sourcing of 100 per cent physically certified sustainable palm oil.
"We recognize this is a journey, and we will continue to evolve our efforts and commitments."
Johnson & Johnson said: "Johnson & Johnson Ltd has an obligation to preserve the environment and we are implementing programs across the world to limit our footprint and environmental impact.
"In 2014 we published our Responsible Palm Oil Sourcing Criteria and engaged The Forest Trust (TFT) to work with us and our largest suppliers to share supply chain information and assess compliance with our sourcing criteria which prohibits development in High Carbon Stock forests, peatlands and burning as a method to clear land for new developments or to re-plant.
"We do not directly purchase palm oil (PO) or palm kernel oil (PKO) but rather ingredients that are derived from PO and PKO. Johnson & Johnson Ltd. has removed one supplier for noncompliance with our standards and we will continue to take appropriate measures to verify conformance and engage with other companies and NGOs to promote responsible palm oil production to address the environmental impact."
Colgate-Palmolive said: "We're proud of our goals to fight deforestation and our progress towards them, including working with The Forest Trust and the Roundtable on Sustainable Palm Oil (RSPO), and purchasing certified oils and GreenPalm Certificates that together contributed nearly $8 million to support sustainable palm oil production since 2013.
"We are targeting over 75 per cent certified mass-balance oils in 2016 and are committed to achieve our goals for a deforestation-free palm oil supply chain within four years, including working with Greenpeace and others on tracking to the plantation the source of these products."
Six months ago, Indonesia endured some of the biggest forest fires of the century reducing millions of acres of tropical forest to ash. As Indonesia braces itself for another outbreak of forest fires this year, Greenpeace is urging consumer goods companies to take action.
Annisa Rahmawati of Greenpeace Indonesia said: "Palm oil is found in so many products, which is why brands have a responsibility to their customers to act. Palm oil can be grown responsibly without destroying forests, harming local communities or threatening orang-utans.
"But our survey shows that brands are not doing enough to stop the palm oil industry ransacking Indonesia's rainforests.
"PepsiCo, Colgate-Palmolive and Johnson & Johnson are really letting their customers down. People should be able to brush their teeth or eat a snack without pushing orang-utans even closer to extinction."
Join our new commenting forum
Join thought-provoking conversations, follow other Independent readers and see their replies