Malaysia Airlines plane: 239 feared dead as search for missing Boeing 777 reveals two oil slicks in the Gulf of Thailand
Two passengers on the plane were travelling on stolen passports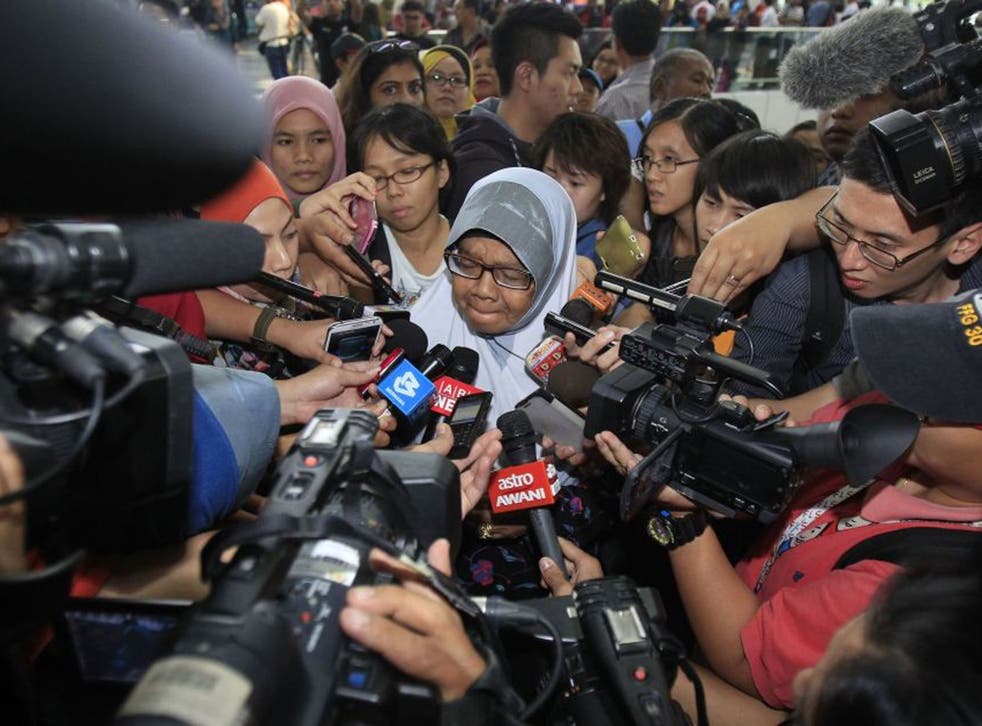 Flight MH370 to Beijing was, by all accounts, unremarkable until it vanished. A little over two hours out of Kuala Lumpur, as passengers – including five children under six and a group of 24 Chinese artists – attempted to sleep on the overnight "red eye", the Boeing 777 disappeared from radar screens without any indication it had experienced technical problems.
In the Chinese capital, almost six hours went by as friends and families of the 227 passengers on board, from 14 different countries, were told the Malaysia Airlines flight was "delayed". Then, what had been apparent for many hours was finally confirmed yesterday: all the passengers, and 12 crew, were feared dead. The youngest passenger on board was a US citizen, Yan Zhang, aged two.
The only remains of the Boeing 777-200 jet were two oil slicks in the Gulf of Thailand, spotted by the Vietnamese Air Force. One slick off the southern tip of Vietnam was reported to be 12 miles long. They were both said to be consistent with what would be expected from fuel left by a crashed airliner.
According to reports, the flight was "stable" at 35,000ft half way between Kuala Lumpur and Ho Chi Minh City at around 1.30am before it disappeared off the radar where the South China Sea meets the Gulf of Thailand. Sources in China said radar data suggested a "steep and sudden descent" of the aircraft.
The search for missing Malaysia Airlines plane

Show all 115
Malaysia Airlines' chief executive, Ahmad Jauhari Yahya, said there was no indication that the pilots had sent a distress signal, suggesting whatever happened to the plane occurred quickly. Lai Xuan Thanh, director of Vietnam's civil aviation authority, said air traffic officials there never made contact with the plane.
The airliner "lost all contact and radar signal one minute before it entered Vietnam's air traffic control", said Lieutenant General Vo Van Tuan, deputy chief of staff of the Vietnamese Army.
Some 15 aircraft and nine ships were involved in the search for the wreckage yesterday, with the area of the sea operation being enlarged. However, there had been little sign of a crash other than the oil slicks. "We are doing everything in our power to locate the plane," Malaysia's acting transport minister, Hishammuddin Hussein, told reporters. "Today, all Malaysians stand in solidarity with those on flight MH370 and their loved ones," said the Malaysian Prime Minister, Najib Razak.
Territorial disputes over the South China Sea were temporarily set aside as China dispatched two rescue ships and the Philippines deployed three airforce planes and three navy patrol ships. "In times of emergencies like this, we have to show unity of efforts that transcends boundaries and issues," said Lt Gen Roy Deveraturda, commander of the Philippine military's Western Command.
The unease surrounding the mysterious crash was increased yesterday by the revelation that two names listed on the flight manifest matched passports reported stolen in Thailand, according to officials in Rome and Vienna. Luigi Maraldi, an Italian man whose name was listed as being on board, was not on the flight, and had reported his passport stolen last August.
The Austrian foreign ministry confirmed that a name listed on the manifest matched an Austrian passport reported stolen two years ago in Thailand. There was only one Austrian on the passenger list: Christian Kozel, aged 30.
Meanwhile, relatives of the 152 Chinese nationals waited anxiously for news at the Lido hotel in Beijing, as China's leaders called for speedy and vigorous search and rescue efforts to locate the aircraft. The flight was due to arrive in the city at 6.30am local time yesterday.
President Xi Jinping ordered China's ministry of foreign affairs as well as Chinese embassies and consulates to strengthen contact with departments of relevant countries and pay close attention to the search and rescue work for the plane, the Chinese Xinhua news agency reported. "All-out efforts must be made for any emergency treatment necessary in the aftermath of the incident," President Xi said.
Anxiety is running high in China. Yesterday's crash came less than a week after 33 people were killed by 10 knife-wielding assailants in Kunming railway station in a coordinated terror attack. This was blamed on separatists from the province of Xinjiang.
The 227 plane passengers included 38 Malaysians, seven Indonesians, six Australians, five Indians, four French and three Americans. Jessie Yee Wai Ching was supposed to be on board the flight but missed it after getting the wrong departure time. She told the Malaysian television channel Astro Awani: "I feel blessed and like I'm the lucky one, but it still doesn't overcome the awful feeling that I have for the people on that flight. I believe I've been given a second chance."
Chinese media reports were highly critical of the airline for waiting hours to say the plane was missing and not holding a news conference for almost 13 hours after the plane went off the radar. Relatives complained about the slow flow of information. "They're treating us worse than dogs," said one. There were reports that the plane had crashed into waters off Vietnam's southern Phu Quoc Island, which were subsequently rejected.
Malaysia Airlines has a good safety record, as does the 777, which had not had a fatal crash in its 19-year history until an Asiana Airlines plane crashed in San Francisco in 2013, killing three passengers. "Boeing offers its deepest concern to the families of those aboard Malaysia Airlines flight MH370," said the company in a statement. "Boeing is assembling a team to provide technical assistance to investigating authorities."
Lost at sea
Yesterday's mysterious downing of an airliner was compared to a crash in June 2009, when Air France Flight 447, an Airbus 300, travelling from Rio de Janeiro to Paris, crashed into the Atlantic killing all 216 passengers and 12 crew. The flight disappeared mid-ocean, beyond radar coverage and in total darkness, causing Air France to take six hours to concede its loss. No other airliner has vanished so completely in modern times. A report in 2012 found that a combination of technical faults and human error led to the crash. Heavy turbulence caused air-speed sensors to malfunction while the captain was taking a rest break and the plane began to stall. Investigators finally discovered the debris in 2011.
Join our new commenting forum
Join thought-provoking conversations, follow other Independent readers and see their replies