Missing Flight MH370: Did pilots elude radars with 'terrain masking'?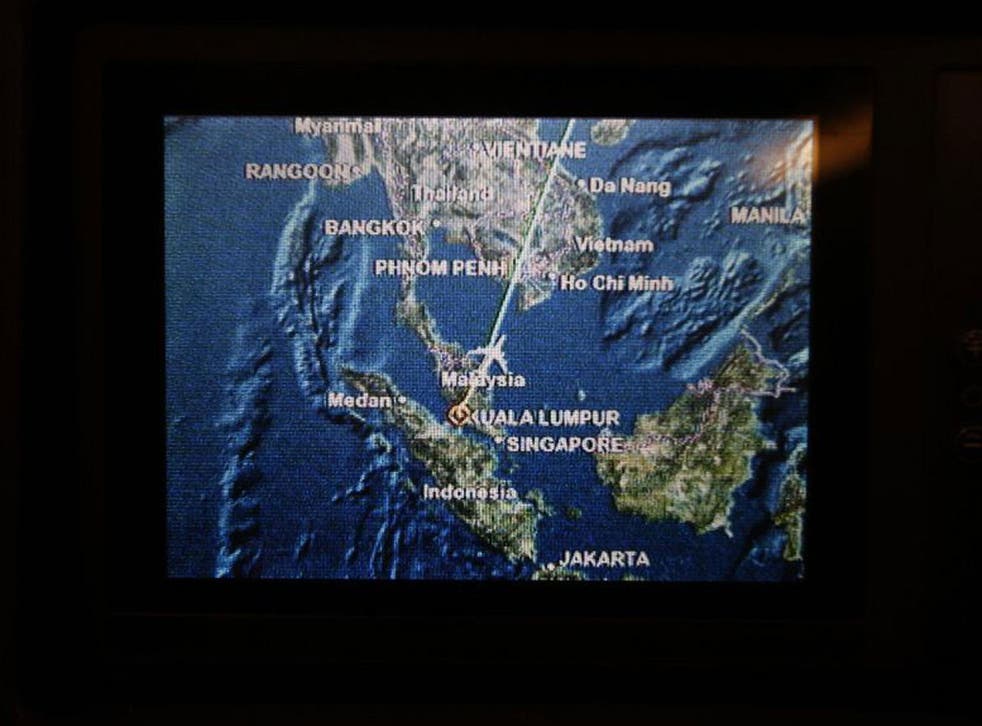 Officials searching for missing Flight MH370 are investigating whether whoever was in control of the plane when it veered off course deliberately flew low to avoid detection by military radar. Experts say so-called "terrain masking" could explain why the plane was apparently able to avoid being spotted after its last confirmed location.
10 days after the Malaysian Airlines jet disappeared with its 239 passengers and crew, an international team of investigators is said to be probing the possibility that the plane hugged close to the ground to avoid detection – a technique used by military pilots.
The New Straits Times reported that shortly after the plane took off from Kuala Lumpur and then veered off course to the west, its altitude fell to as low as 5,000ft. "The person who had control of the aircraft has solid knowledge of avionics and navigation and left a clean track," an official told the paper.
With so few solid leads, investigators are having to consider an endless list of possibilities and theories, some more fanciful than others.
The search for missing Malaysia Airlines plane

Show all 115
So far, none of them appear to have come up with anything. Reports suggest that while investigators believe the plane was most likely seized and intentionally diverted off course, they have not uncovered links to any militant groups or any of the sort of militant "chatter" that might normally be expected in the aftermath of a "spectacular".
And while officers from the police special branch have searched the homes of the main pilot, 53-year-old Zaharie Ahmad Shah, and first officer Fariq Abdul Hamid, 27, they have reportedly found nothing unusual. An examination of a flight simulator that Mr Shah put together himself and built in his home, has also shown nothing untoward. Officials have now confirmed media reports that the initial searches of the pilots' homes happened just a day after the plane went missing.
The inquiry into the possibility that the plane was "terrain masking" might help explain why as of yet, there has been no fixed record of the jet since it was captured as a "blip" on a Malaysian military radar at 2.15am on Saturday March 8. At that point it was north-west of Penang.
Experts said that if the plane were being flown intentionally low, it would increase the fuel consumption sharply. The jet was carrying sufficient fuel for around seven hours.
"It is likely that the distance it could fly would be as much as halved compared to a normal cruising flight. But technically there is no reason why the aircraft could not fly at a low altitude for a long time," said Chris Yates, a London-based aviation expert.
He said the Boeing 777-200ER was a robust aircraft which could handle being flown at a lower altitude. Yet he warned: "The issue comes if you try to do something like flying at low altitude over land. There are going to obstacles in your way that a large commercial airliner cannot avoid quickly."
The investigation into the possible use of terrain masking came as officials in Kuala Lumpur backtracked on earlier on a potentially crucial piece of information about when an important communication system was switched off.
Last week, the government had said the Aircraft Communications Addressing and Reporting System, or ACARS, was switched off before the last verbal communication with whomever was flying the plane. That conversation between air traffic controllers and the cockpit took place at 1.19am as officials warned the pilots they were about to leave Malaysian airspace on route to Beijing. "All right, good night," came the response, apparently from Mr Hamid, the co-pilot.
The suggestion that the pilots had not mentioned anything untoward at a time when part of the commutation system had been switched off, heightened a perception that they were involved in whatever went wrong.
Click here for enlarged view of graphic
But in what has been the latest of a series of instances when officials have changed the information they have given, on Monday officials said the system had been switched off somewhere between 1.07am and 1.37am.
The revelation, by Malaysia Airlines chief executive Ahmad Jauhari Yahya, means the pilots may not have been aware that their part of their satellite system had been turned off when they calmly spoke with the controllers.
Police and a multi-national investigation team may never know for sure what happened in the cockpit unless they find the plane. Officials have said satellite data suggests its last known location was along either of two vast corridors that arc through much of Asia: one stretching north Thailand to the Caspian, the other south from Indonesia into the vastness of the southern Indian Ocean.
Aviation officials in Pakistan, India, and Central Asian countries Kazakhstan and Kyrgyzstan - as well as Taliban militants in Pakistan and Afghanistan - said they knew nothing about the whereabouts of the plane. Indonesia, Burma and Thailand have also denied the plane entered their air space.
"The idea that the plane flew through Indian airspace for several hours without anyone noticing is bizarre," an Indian defence ministry official told Reuters.
Malaysia's Transport Minister Hishammuddin Hussein said diplomatic notes had been sent to all countries along the northern and southern search corridors, requesting radar and satellite information as well as land, sea and air search operations.
26 countries are involved in the search. Three French civil aviation experts involved in the search for an Air France jet that crashed in the Atlantic in 2009 arrived in Kuala Lumpur on Monday to help.
Join our new commenting forum
Join thought-provoking conversations, follow other Independent readers and see their replies