Missing Malaysia Airlines Flight MH370: 'Everyone on board remains under suspicion'
Malaysia's transport minister said FBI and Chinese intelligence officials have been asked to 're-intensify' their investigations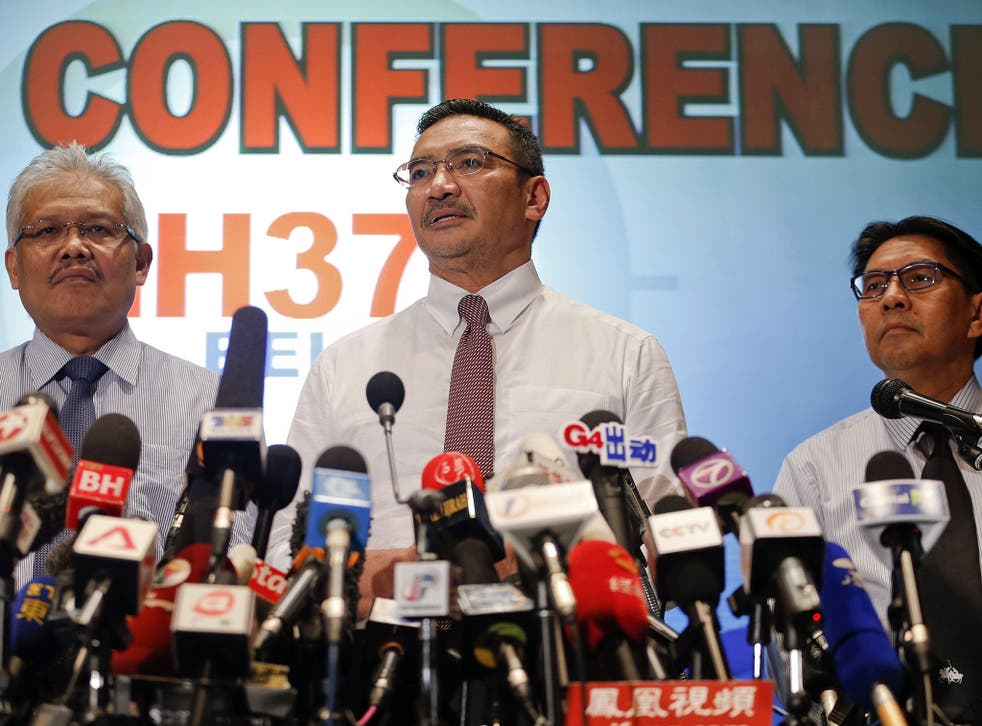 All passengers, crew and pilots aboard missing flight MH370 remain "under suspicion", Malaysia's defence minister has said, as the search for the stricken jet – and its elusive black box – intensifies in the Indian Ocean.
Hishammuddin Hussein, Malaysia's defence minister and acting transport minister, confirmed that the criminal investigation is ongoing, and told Sky News: "Everyone on board remains under suspicion as it stands."
He said. "As we look into the black box, we look into new facts. It isn't just MI6 involved in the investigation, it is Chinese intelligence, it's also the FBI.
"I've asked them to re-intensify their investigations, just as we did with the radar data."
Read more: What is a black box and how do you find one? Searching for the last remains of MH370
He defended Malaysia's handling of the crisis he described as "unprecedented situation without benchmark" amid criticism from relatives of passengers on the jetliner, which disappeared on 8 March with 239 people on board travelling from Kuala Lumpur to Beijing.
Last week Anwar Ibrahim, the country's main opposition leader slammed the investigation as "clearly suspect" and claimed "information critical to our understanding" is missing.
"I'm not saying MAS (Malaysia Airlines) handled it perfectly," Mr Hussein said.
The search for missing Malaysia Airlines plane

Show all 115
"We have to deal with family members who are trying to grapple with it. And sometimes people are not sensitive, including the Malaysian government, including MAS."
The Australian Prime Minster said on Friday teams leading the search for the missing Malaysia Airlines flight MH370 are confident signals being picked up in the southern Indian Ocean are coming from the plane's black flight recorders.
Read more: Australian PM 'very confident' black box position narrowed down
Tony Abbott told reporters in Shanghai, China, that crews searching for the jetliner have zeroed in on a more targeted area for the source of the pings, first heard on Saturday and then again on Tuesday.
"I think it is the black box and I hope it is the black box, but if not I will still not give up," Mr Hussein said.
Join our new commenting forum
Join thought-provoking conversations, follow other Independent readers and see their replies