Mummified sailor Manfred Fritz Bajorat discovered on yacht missing for a year
Fishermen make gruesome discovery 60 miles off Philippines coast [WARNING: GRAPHIC IMAGE]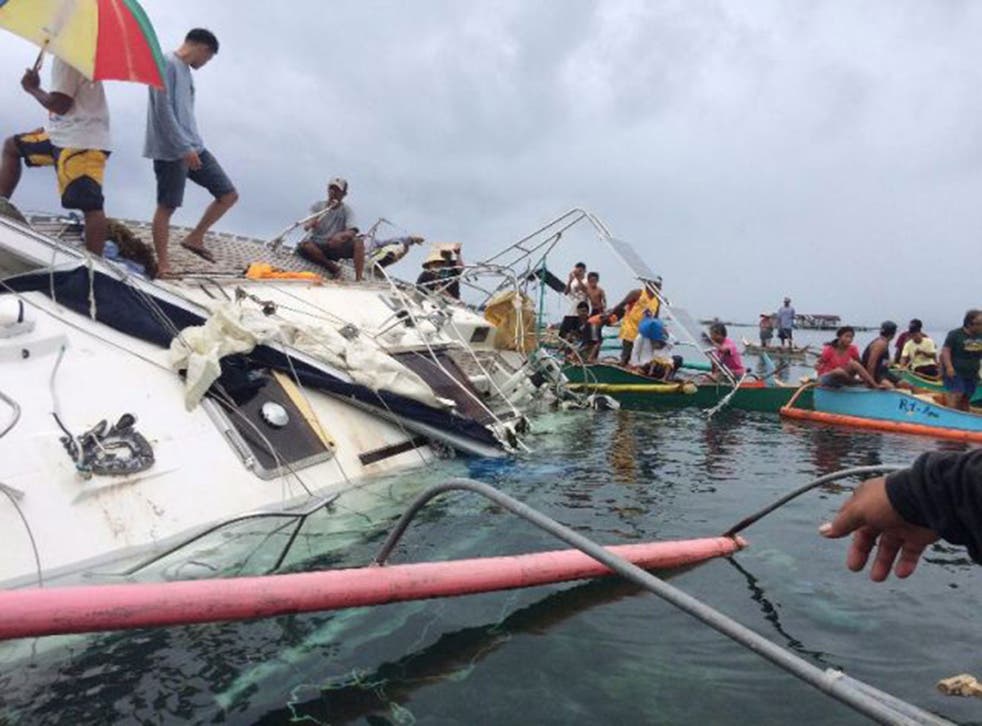 Christopher Rivas and his colleagues were about to turn their fishing boat for home when they noticed the half-submerged hull of the yacht Sajo sitting in the water about 60 miles off the coast of the southern Philippines.
It had been more than a year since anyone had heard from the 40ft Sajo's 59-year-old German skipper, Manfred Fritz Bajorat. It did not take long for Mr Rivas to discover why as he scrambled on board to help.
Warning: graphic image below
The Filipino fisherman found Mr Bajorat's body sat next to the vessel's bank of radio transmitters. Such had been the dry, salty conditions since the unexplained death of the German sailor that his corpse had been mummified in its final position, slumped over a table used for charts with the transmitter handset just inches away.
Police in the port of Barobo, about 700 miles south of Manila, where Mr Rivas towed the Sajo, said that a post-mortem examination had found no evidence of foul play and it was believed Mr Bajorat had died of natural causes, possibly from a heart attack.
His identity had been established using documentation, including dozens of photographs, found on board the yacht, which it is believed had been drifting for months in the Pacific Ocean before Mr Rivas and his fellow fishermen came upon the wreck.
World news in pictures

Show all 50
The discovery signifies a sobering end to what had started as a life of adventure for Mr Bajorat and his wife, Claudia. The couple had begun sailing around the globe about 20 years ago, but their marriage did not survive their travels and they broke up in 2008.
Two years later, Claudia died from cancer while on the French island of Martinique. Mr Bajorat posted a tribute online to his former wife, saying: "Thirty years we've been together on the same path. Then the power of the demons was stronger than the will to live."
The mariner, from the Ruhr region of Germany, continued his voyages alone, sailing between Europe and the Pacific.
Mummified body found on yacht
Reports in German media said that Mr Bajorat had taken to the waves to avoid central Europe's bitter winters, which he disliked.
Photographs found on board the £130,000 yacht showed carefree family moments – a sea-water damaged picture of picnic with friends or relatives, a Polaroid of a visit to the Arc de Triomphe in Paris and an image of children playing in the snow.
Two other documents chronicled a journey taken by the Bajorats on board a large container ship with certificates recording their crossing of the Equator, naming Manfred as "Tiger Shark" and Claudia as "Angel Fish".
Mr Bajorat, who is believed to leave behind a daughter who works as the captain of a freight vessel, is not thought to have been in contact with anyone since he sent a birthday message to a friend on Facebook a year ago.
Police are investigating whether Mr Bajorat may have been trying to send a mayday message at the time that he died.
A police spokesman said: "We have no evidence of a second person aboard and no weapon was found on the yacht."
Join our new commenting forum
Join thought-provoking conversations, follow other Independent readers and see their replies