No sign of Tony Abbott 'shirtfronting' Vladimir Putin over MH17 at Apec summit
The Australian PM could be waiting until the G20 summit to pounce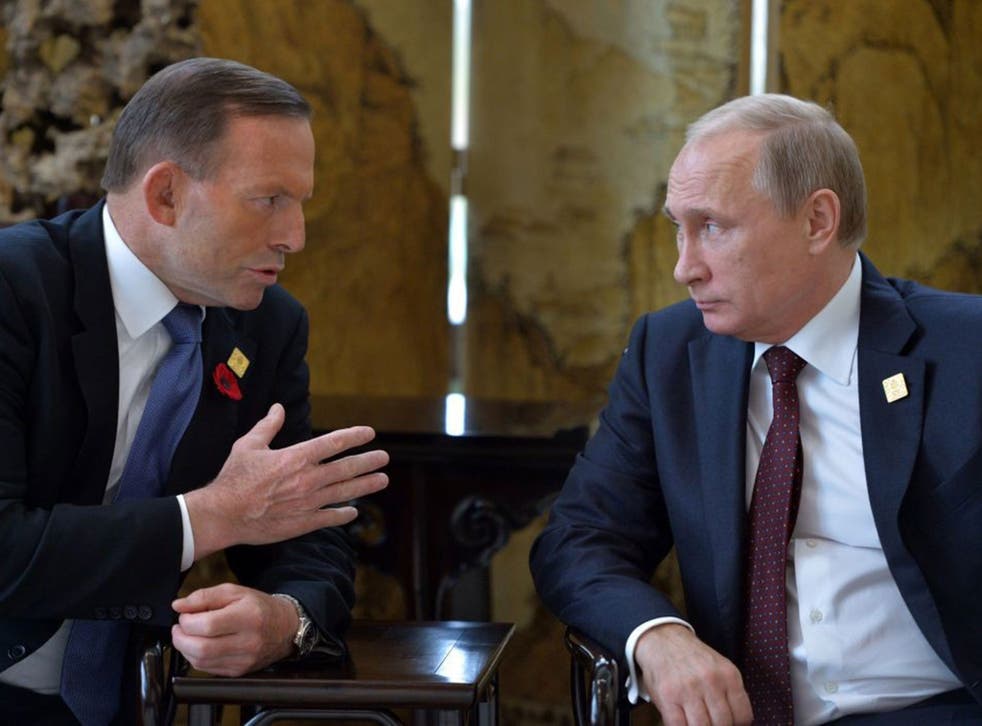 Tony Abbott's vow to "shirtfront" Vladimir Putin over the downing of Malaysia Airlines flight MH17 has shown little sign of being carried through in apparently cordial meetings at a summit in China.
The Australian Prime Minister had promised to pin Putin down on allegations that Russia had armed separatist pro-Russian rebels who allegedly shot the plane down in March.
Children were among the 38 Australian citizens killed in the disaster, along with the rest of the 298 passengers and crew on board.
Abbott pledged to grab his chance for a "tough conversation" at the G20 meeting in Brisbane next week, but if the current Asia-Pacific Economic Co-operation (Apec) summit in Beijing is anything to go by, few harsh words will be exchanged.
"I'm going to shirtfront Mr Putin – you bet I am," he said, referring to an illegal Australian football tactic where a player charges head-on at an opponent to knock them to the ground.
"I am going to be saying to Mr Putin Australians were murdered, they were murdered by Russian-backed rebels," Abbott told reporters.
In pictures: Malaysia Airlines flight MH17 crash

Show all 109
He reportedly intended to tell the Russian President: "[Australians] were murdered by Russian-backed rebels using Russian-supplied equipment. We are very unhappy about this.
"We accept that you didn't want this to happen, but we now demand that you fully co-operate with the criminal investigation…and if the criminal investigation identifies suspects that you have some influence over, they've got to be produced and justice has got to be done."
Putin's press secretary today said that the Russian and Australian leaders had discussed the MH17 disaster on the sidelines of the Apec summit and come to an agreement.
Dmitry Peskov told Russia Today: "The leaders have quite resolutely called for a genuine investigation of the causes of the catastrophe [of the MH17 flight]."
Telling journalists that Putin had stressed Russia has always insisted on "an unbiased, quick and effective investigation," he said that the meeting went "without harsh phrasing" and that Abbott "has not attempted" to shirtfront the President.
The Sydney Morning Herald also noted the warmth of their conversation, saying it was understood to have been "measured and respectful in tone".
They were not the only two leaders meeting amid simmering tensions – Putin and President Barack Obama have had a series of near-silent encounters, while the Chinese President Xi Jinping shared an awkward handshake with the Japanese Prime Minister, Shinzo Abe.
Leaders of the 21 international leaders at the Apec Summit, including Brunei, Canada, Chile and South Korea, have attempted to put historic rivalries and current tensions aside as they focus on international trade.
A new free trade zone, called the Free Trade Area of the Asia-Pacific (FTAAP), was backed today and a study will be launched.
The China-supported initiative is seen by some as a rival to a similar US trade pact, which excludes China, called the Trans-Pacific Partnership.
Beijing is also looking to underline its growing status as regional leader and economic giant and its censors have gone into overdrive to present a squeaky-clean image of the Government.
Cheery pictures of the Chinese leader surrounded by delegates have been beamed across the country, with state news agency Xinhua showing them planting symbolic "trees of friendship".
But the perils of over-friendliness were demonstrated later in the day, when footage of President Putin's apparently chivalrous gesture of draping a shawl around President Xi's wife's shoulders went viral on the Chinese version of Twitter.
Chinese news sites pulled the video within hours, according to Foreign Policy, and censors scrubbed it from Weibo in an apparent attempt to shut down any unflattering gossip.
Air pollution data also appeared to have been censored after weeks of efforts to temporarily combat Beijing's notorious smog.
Join our new commenting forum
Join thought-provoking conversations, follow other Independent readers and see their replies