North Korea missile launch poses 'grave threat' to Japan, Shinzo Abe says
America's Rex Tillerson says that 'the threat of a nuclear attack on Seoul, or Tokyo, is real'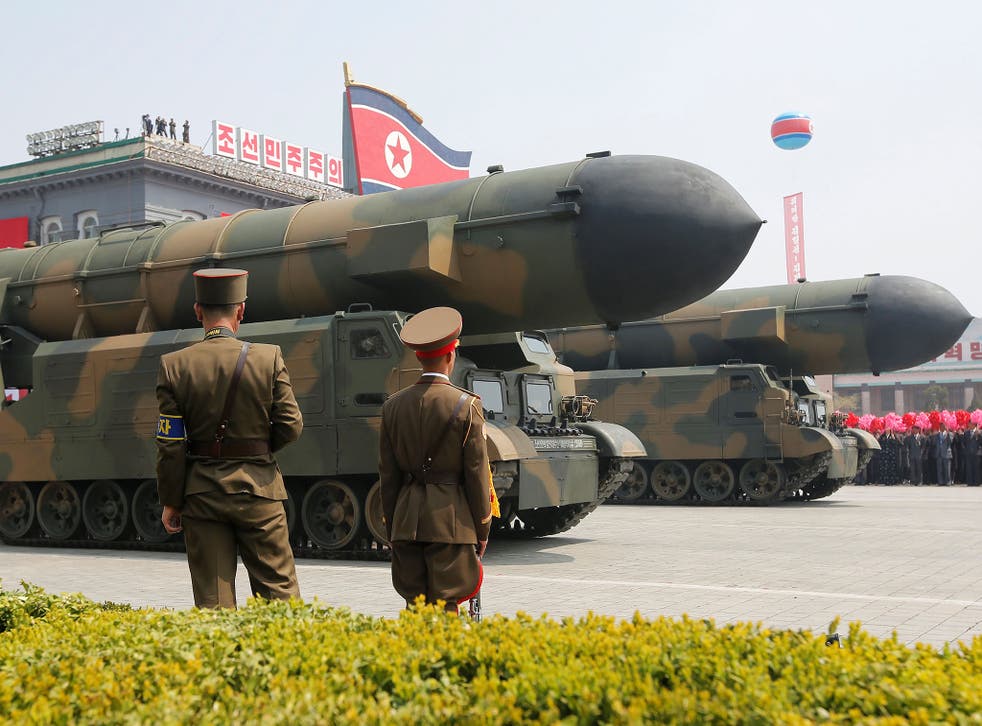 North Korea has test-fired another ballistic missile, raising the stakes in an increasingly tense game of brinkmanship just hours after the US warned of a real danger of a conflict erupting, and the UN began to discuss Kim Jong-un's nuclear programme.
The missile exploded shortly after take-off, the second failed launch in the last fortnight, but Pyongyang continued with its combative rhetoric, declaring that war with America was "imminent" and threatening to use its nuclear arsenal on enemies.
The US Secretary of State, Rex Tillerson, warned of "catastrophic consequences" unless Pyongyang halts its missile programme. Mr Tillerson said he wanted to stress that North Korea's neighbours, Japan and South Korea, were already vulnerable. "The threat of a nuclear attack on Seoul, or Tokyo, is real and it's only a matter of time before North Korea develops the capability to strike the US mainland", he said.
In New York, the French ambassador to the UN said the Security Council is "mobilised" and unanimous on the need to denuclearise North Korea. Francois Delattre added that while there were "nuances" on policy to be worked out there was consensus that Kim Jong-un must give up his nuclear arsenal.
A concerted effort is now under way to get China, which has effectively been North Korea's only ally, to join the international coalition. Donald Trump, who had repeatedly warned that a military option was on the table, claimed that Kim Jong-un has defied and embarrassed Beijing with the launch.
Mr Trump tweeted: "North Korea disrespected the wishes of China and its highly respected President when it launched, though unsuccessfully, a missile today. Bad!" Xi Jinping, he continued, was a "good man" who was "trying very hard" to resolve the crisis.
Japan's Prime Minister, Shinzo Abe, has been in Moscow where North Korea was one of the main topics of discussion with Vladimir Putin. He has, he said, spoken of the urgency of the situation with Theresa May during his current visit to Britain.
Mr Abe said in London on Saturday: "Despite strong warnings by the international community, North Korea went through [with] its ballistic missile launch. It is a grave threat to our country and it is not acceptable."
He added that further missile launches were "fully conceivable" and reiterated the need for concerted international action.
"We'd like to maintain a close coordination with the United States, our ally, to maintain a high state of alert. We'd like to be water-tight to ensure safety for our citizens," said the Japanese Prime Minister.
"We welcome the talks between President Trump and China. As Prime Minister I am focusing on China's response. China, I hope, will play a constructive role; it is my high expectation that China will perform its role properly."
Mr Abe stated that he and Mr Putin were urging negotiations in an effort to stop a slide towards military confrontation. He pointed out that previous attempts to get North Korea to change its ways on its nuclear programme have failed and an united front was needed in dealing with Pyongyang.
Register for free to continue reading
Registration is a free and easy way to support our truly independent journalism
By registering, you will also enjoy limited access to Premium articles, exclusive newsletters, commenting, and virtual events with our leading journalists
Already have an account? sign in
Register for free to continue reading
Registration is a free and easy way to support our truly independent journalism
By registering, you will also enjoy limited access to Premium articles, exclusive newsletters, commenting, and virtual events with our leading journalists
Already have an account? sign in
Join our new commenting forum
Join thought-provoking conversations, follow other Independent readers and see their replies