'Obesity time bomb' prompts dieting regime for Thailand's Buddhist monks
New research suggested that as many as 48 per cent of monks in the county are obsese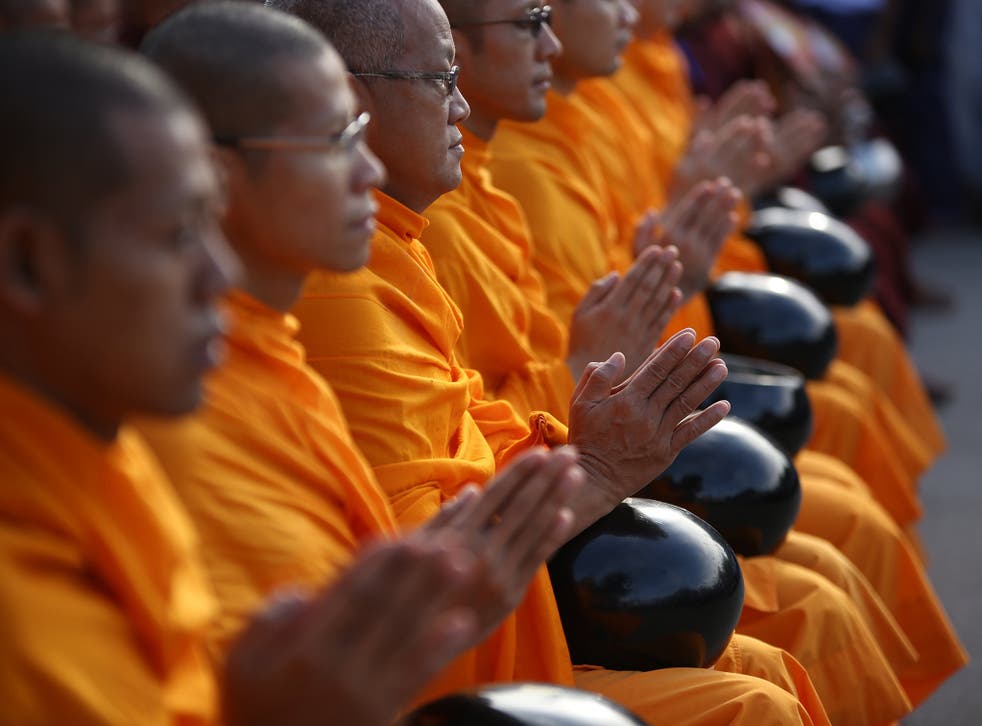 Nearly half of Thailand's monks are obese and suffering from related health problems, according to a major new study by academics in Bangkok.
The research suggested the monk's expanding waistlines were, in part, due to donations offered by the "faithful" – including instant tea, coffee and juice drinks loaded with sugar.
The startling find has prompted public health officials to launch a campaign aimed at helping monks lead healthier lives and reduce expanding medical costs.
Jongjit Angkatavanich, a health and nutrition expert at Bangkok's prestigious Chulalongkorn University, said the study showed that 48 per cent of monks are obese.
"Obesity in our monks is a ticking time bomb," she told the Bangkok Post. Her study found 42 per cent of monks have high cholesterol levels, 23 per cent suffer from high blood pressure, and more than 10 per cent are diabetic.
Ms Angkatavanich added that each year Thailand's government has to cover the costs for monks who are diagnosed with obesity – with expenses in state-run hospitals coming to more than 300 million baht in 2012 – or, nearly £6 million.
Monks tend to drink juices, instant tea and coffee offered by the faithful, Ms Jongjit said, adding these were loaded with sugar and were high in energy. Dishes such as Kaeng kaew wan, tod mun, thong foy and khaotommud which were laden with fat and sugar were popular items that people offered to monks.
Traveller's Guide: Thailand's islands & beaches

Show all 8
The nutrition expert told the newspaper that research has led to a campaign to promote a healthy balanced diet among monks in Thailand. In one pilot programme training classes for cooks and officials at Mahachulalongkornrajavidyalaya University, where around 300 monks reside, were provided.
Over a period of eight weeks Ms Angkatavanich and her team worked with 82 monks from four temples and provided them with healthy food. They were also encouraged to increase their physical activity.
"The results were satisfactory since the monks' overall health had improved", Ms Jongjit said. "They showed monks lost 1kg on average and their waistlines were reduced by 1.4 cm."
Join our new commenting forum
Join thought-provoking conversations, follow other Independent readers and see their replies