Organ trafficker gouges out Chinese boy's eyes for corneas to sell on black market
Six-year-old boy was snatched while playing outside his home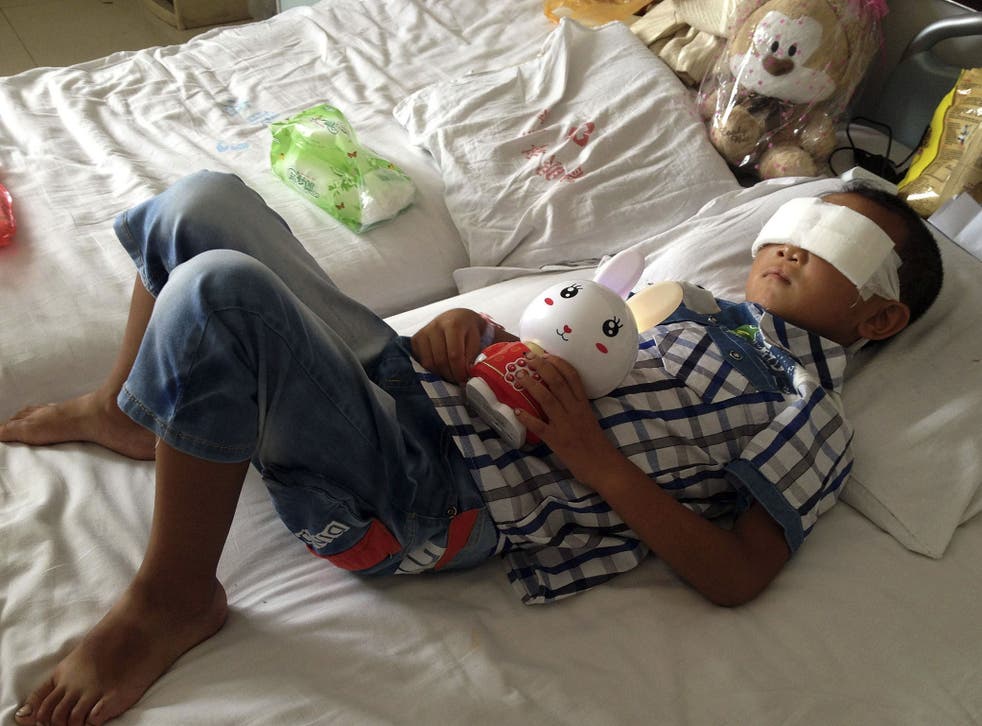 A six-year-old Chinese boy has had his eyeballs gouged out by an organ trafficker who stole his corneas to sell on the black market.
Police say the child, named locally as Binbin, was playing outside his home in Linfen in the province of Shanxi when he was approached by a female organ trafficker, who reportedly warned him: "Don't cry and I won't gouge out your eyes".
The boy was subsequently drugged and taken to a field where he lost consciousness. The woman then removed the boy's eyeballs, either with her fingers or using a crude mechanical device, leaving him covered in blood and screaming in pain.
Binbin was found around four hours later by his frantic parents, who initially thought he had fallen over and cut his face.
It was only after they took him to hospital and cleared the blood from his face that the true extent of Binbin's injuries was revealed.
Binbin's devastated father said: "We didn't notice his eyes were gone when we discovered him – he had blood all over his face. We thought he had fallen down and smashed his face… but his eyelids were turned inside out, and his eyeballs were not there".
Investigators found Binbin's eyeballs close to where he was found, but the trafficker had cut out the corneas and taken them away.
Police have offered a reward equivalent to £10,500 for information leading to the arrest of the woman, who is believed to work for a larger criminal network specialising in the sale of stolen organs.
The illicit trade in human organs is fuelled by a 300,000 strong waiting list for life-saving transplants. Each year only around 10,000 people legally receive organ transplants.
Children's organs are generally more expensive than those of adults, as the wear and tear of life has yet to take its toll on the body parts.
Last year seven people were jailed after a teenager was encouraged to sell a kidney so he could buy an iPhone and an iPad.
Join our new commenting forum
Join thought-provoking conversations, follow other Independent readers and see their replies