Pakistan car bomb blast: Attack on Peshawar's oldest market kills 37
More than 75 injured in third terrorist attack in a week on same city, as total death toll since last Sunday climbs to 130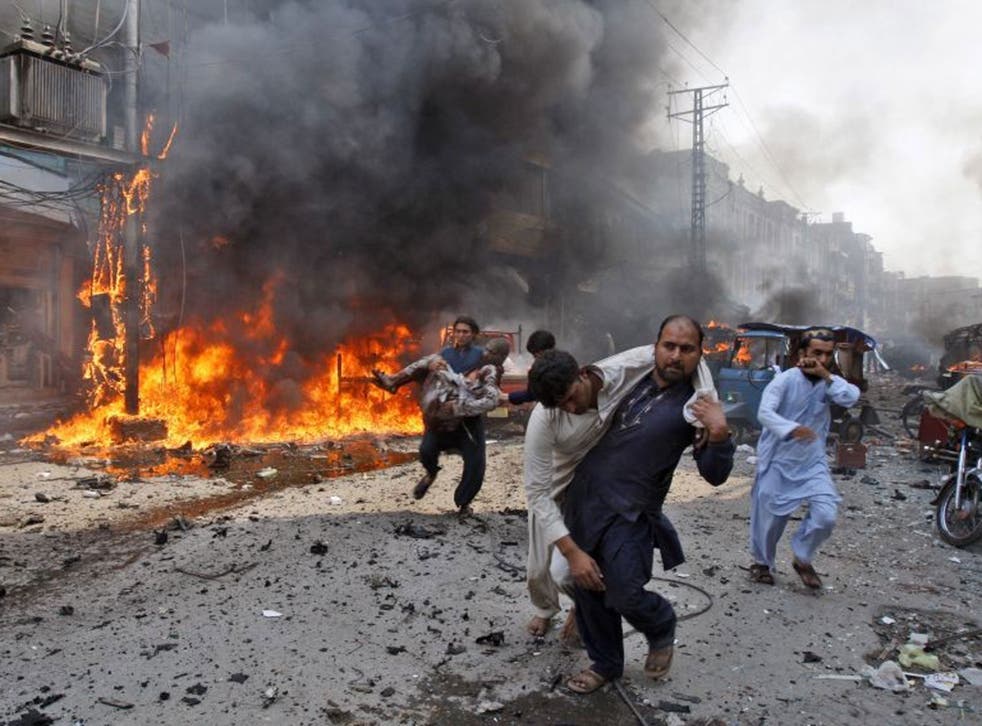 The Pakistani city of Peshawar was bleeding again after a powerful car bomb exploded on a busy street and killed at least 37 people. It was the third such attack within the space a week.
Reports said the 220kg bomb left in a vehicle in the historic Qissa Khawani market was detonated by remote control. At least 75 other people were injured and were taken to the city Lady Reading Hospital where they were being treated.
The Associated Press said that shops and a nearby mosque were also damaged by the force of the blast. Several vehicles caught on fire as result of the explosion. Women and children were said to be among both the dead and the injured.
A book shop owner, Nazar Ali, said he had just opened his shop when the blast happened. "It was a huge blast that was followed by fire in vehicles. Thick black smoke covered the air and splinters spread all over," he said. "I saw people lying dead and bleeding all over."
Sunday's blast was the third such attack within eight days and brought to 130 the number of people who have lost their lives. A week ago, around 85 people were killed and scores more wounded when two suicide bombers attacked members of a Christian congregation at a church in the city.
Meanwhile, on Friday around 19 people were killed when a bomb was exploded on a bus on the outskirts of Peshawar, provincial capital of Khyber Pakhtunkhwa province, which was carrying government employees home for the weekend. 


Many of the old buildings in Qissa Khawani or the "storytellers' market" where today's blast happened, were made from wood and these were quick to catch fire, said police. The market was the site of a massacre by British troops in 1930 when they fired on demonstrators.

Reports said that 13 members of a single family were among the dead. Mohammad Alam said that they had come to Peshawar from a nearby village to invite him to their son's marriage. He said they were in a van near the station when the bomb exploded.


There was no immediate claim of responsibility. A faction of the Pakistan Taliban, the Jundullah group, claimed responsibility for the church attack, saying it had targeted Christians to avenge the deaths of Muslims killed by US drone strikes. 


The recently-elected government of Nawaz Sharif has said it would like to negotiate with Pakistan's largest militant group to end the bloodshed. Critics have said his stance, and that of Imran Khan, the cricketer turned politician who also favours talking with the Taliban, has encouraged such attacks.
Join our new commenting forum
Join thought-provoking conversations, follow other Independent readers and see their replies