Pakistan's pro-Musharraf party concedes defeat in elections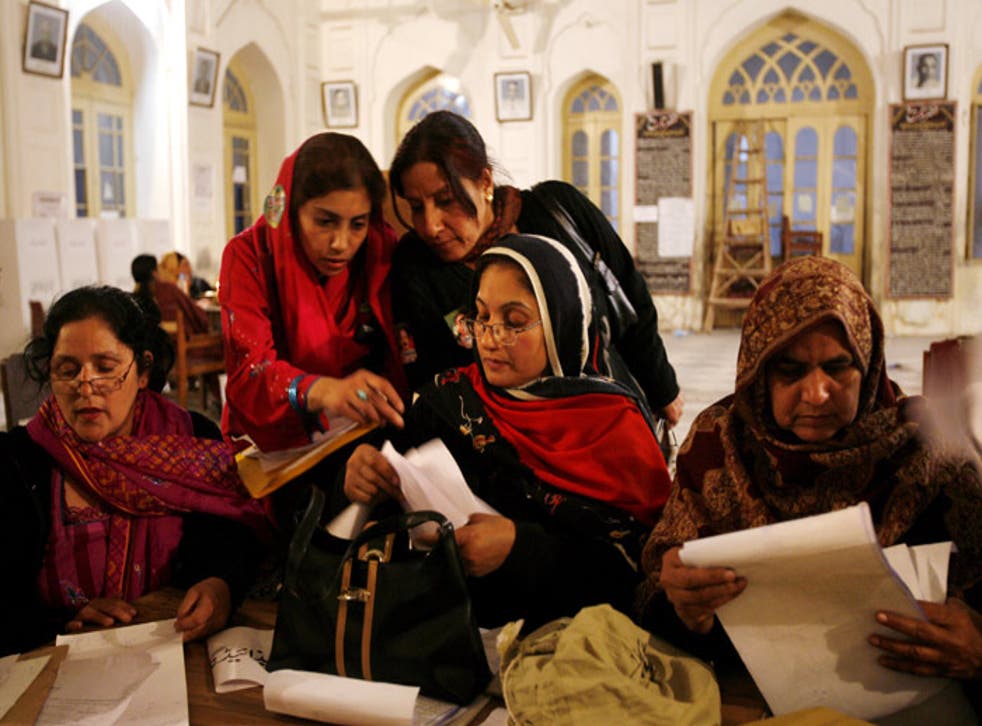 Pakistan's president Pervez Musharraf is facing perhaps his toughest political challenge after his parliamentary allies admitted defeat in an election poised to change the country's balance of power. The result has already raised questions about Mr Musharraf's political future.
Chaudhry Shujaat Hussain, head of the Pakistan Muslim League-Q party (PML-Q), told AP Television News that "we accept the results with an open heart" and "will sit on opposition benches" in the new parliament.
While counting of the votes continues, results show the two main opposition parties - the late Benazir Bhutto's Pakistan People's Party (PPP) and the Pakistan Muslim League-N (PML-N) of Nawaz Sharif - have secured enough seats to form a majority government if they join in a coalition. The Geo TV network said the two parties had so far won 153 seats, more than half of the 272-seat National Assembly, while the PML-Q - aligned to Mr Musharraf - was trailing in a poor third place as voters rejected the increasingly unpopular president.
Which of the two opposition parties will ultimately most benefit from the situation is not immediately clear and both will likely wait to see their full haul of seats before committing to any deal. But what does seem certain is that the PML-N, lead by former prime minister Nawaz Sharif, performed better in Monday's polls than most had anticipated. In his home city of Lahore there were loud celebrations overnight.
Perhaps aware that he could soon be forced to try and work with an opposition government, Mr Musharraf struck a note of conciliation. "I will give them full cooperation as president, whatever is my role," he said, after casting his own ballot in the military city of Rawalpindi. "Confrontationist policies…should end and we should come into conciliatory politics in the interest of Pakistan. The situation demands this."
But if the PPP and PML-N are able to form a government with a majority of two-thirds or more, it would raise even more serious questions about Mr Musharraf's future. Mr Sharif has been pushing for the impeachment of the president and Mr Musharraf has said he would stand down rather than face such proceedings.
If that were to happen it would mark a remarkable end for the leader whose support just 12 months ago appeared unshakably solid. His approval rating - currently at an all-time low - has tumbled following a series of political errors and soaring prices within the country. His support for the US's so-called "war on terror" has also been unpopular.
With security concerns high yesterday, officials estimated that turn-out across Pakistan was low, with perhaps as few as 35 per cent of voters bothering to vote. While at least 24 people were killed in election-related violence, many observers had believed the situation could have been considerably worse.
Going into the election, it was always believed the Punjab province - which accounts for more than half of the 272 parliamentary seats at stake - would be the country's key battleground. Yesterday that appeared to be the case, as the PPP, the PML-N and the "Q" were involved in a three-way fight in many seats.
Yet in numerous seats it was the "Q" that lost out. Among the party's high profile victims were Chaudhry Shujaat Hussain and former ministers Humayun Akhtar and Sheikh Rashid. Former interior minister Aftab Sherpao was headed for a similar fate.
In the town of Warizabad, located in the heart of the Punjab, there was plenty of anecdotal evidence that suggested Mr Sharif's party was doing better than most observers had anticipated. "I put my stamp on the tiger," said Amir Muzaffar, referring to the symbol for Mr Sharif's PML-N party, as he walked out of the voting booth at a local primary school. "I used to vote for ["Q" candidate, Hamid Nasir] Chattha, but look at what's happening to this area, to this country. The prices have risen so high, they're talking to the clouds. And the level of crime here is intolerable."
At the small polling station in the nearby village of Manzoorabad there was another chorus of support for Mr Sharif. "We're all with the tiger here," said one voter. Others praised the former prime minister for overseeing Pakistan's first nuclear tests in 1998 and said he would "eradicate poverty".
An initial report by EU election observers is expected to be released tomorrow but those monitoring the polling stations said there was little obvious evidence of irregularity. "I've seen nothing egregious," said one monitor, leaving a polling station in a residential area of Islamabad.
But campaigners also pointed out that the country's ousted Chief Justice, Iftikhar Chaudhry, remained under house arrest, three months after he was fired by Mr Musharraf after refusing to support his decision to impose a State of Emergency. "The election was rigged on November 3rd," said one of Mr Chaudhry's supporters, Athar Minallah, a lawyer. "Without an independent judiciary there can be no fair election."
The key players
Nawaz Sharif
Ousted during his second term as prime minister by Pervez Musharraf in 1999, Mr Sharif went into exile to avoid jail over tax evasion and kidnapping charges. Last September, he tried to return to lead his Pakistan's Muslim League-N party, only to be deported within hours. He was allowed to return, though not to stand as a candidate. Mr Sharif has campaigned for the restoration of the Supreme Court judges fired by Mr Musharraf.
Pervez Musharraf
A long-time purported ally of the West, Mr Musharraf's popularity is at an all-time low, putting huge pressure on the Pakistan Muslim League-Q party to which he is linked. The president has lifted the state of emergency he imposed in November and stood down as head of the armed forces, saying he wants the country to transition towards democracy. But crucial to the future of Pakistan is the extent to which he will share power.
Asif Ali Zardari
The husband of Benazir Bhutto was named co-chair of the PPP after her assassination, at her wish. Mr Zardari has led an impassioned campaign but many in Pakistan believe him to be guilty of widespread corruption. Anecdotal evidence suggests some potential PPP voters are put off by his leadership. While not a candidate, he could be elected in a subsequent by-election allowing him to become prime minister if the PPP form the government.
Join our new commenting forum
Join thought-provoking conversations, follow other Independent readers and see their replies