Philippines president Rodrigo Duterte calls for reintroduction of death penalty 'in case there is no God'
In a speech the president addressed God directly, asking why he was not intervening to stop war crimes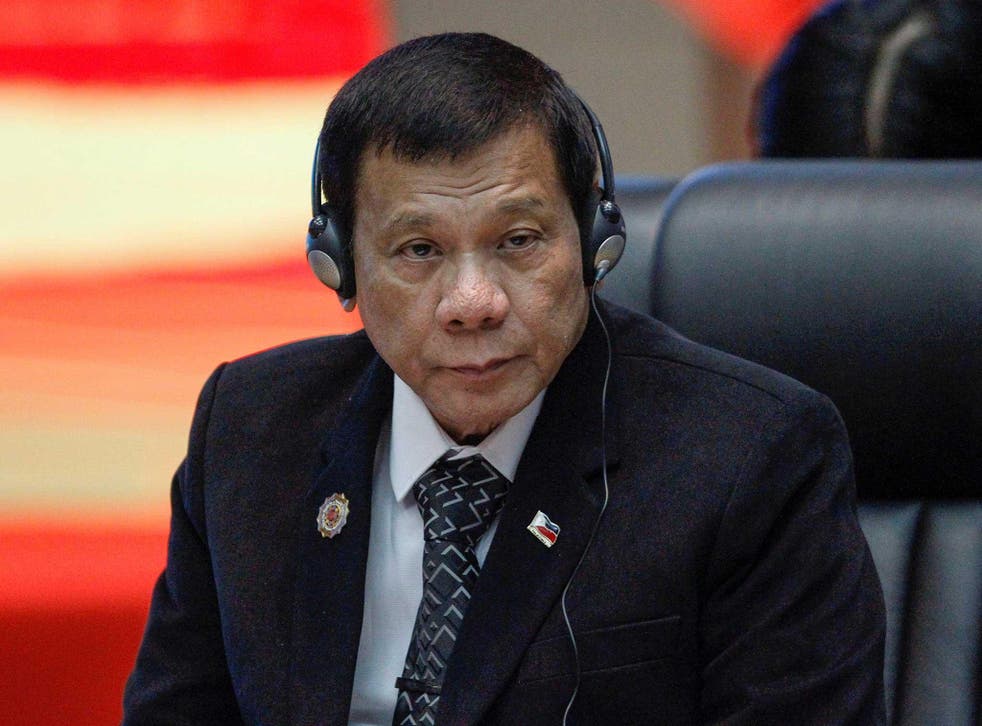 The Philippines president Rodrigo Duterte has called for the death penalty in the country to be reinstated, claiming growing atheism and agnosticism means people have a lack of fear and respect for the law.
The death penalty was officially abolished in the largely Catholic country in 2006, but Mr Duterte said that 'if God doesn't exist', capital punishment is the only way to ensure justice for the victims of terrible crimes.
Speaking in Manila, Mr Duterte also questioned God's existence himself and addressed God directly in his speech, asking "where are you?"
He also hit out at priests and human rights groups who he labelled "bleeding hearts", for saying the death penalty did not deter crime and said it was the fault of previous presidents for not using capital punishment, the Philippines' Inquirer.net reports.
He said: "Every president along the way didn't impose it only because the Catholic Church and all the bleeding hearts would say that only God could kill. But what if there is no God?"
He pointed at Isis and the plight of women and children in war-torn Syria, who he said are burned if they refuse to have sex with Isis militants.
"When a one-year-old baby, 18-months-old baby is taken from the mother's arms brought under a jeep and raped and killed. So where is God? My God, where are you?" asked Mr Duterte.
"I believe in God but that is my perpetual question to him," he added.
"Where were you when we needed you?" He asked.
"It's not enough to say that at the end of the world, he will judge the living and the dead. What would be the purpose of all of that if the heartaches, sorrows and agony have already been inflicted in this world?" Mr Duterte said.
He also drew attention to growing rates of agnosticism and atheism in the Philippines. "It is not only one or two or three," he said. "In this age a lot are questioning [God] now."
This, he said, was responsible for Filipinos' lack of fear and therefore their lack of respect for the law.
Mr Duterte was elected president in June 2016, and has earned a reputation as a loose cannon, after calling Barack Obama a "son of a whore", ahead of a meeting with the US president.
He also threatened to eat a group of Islamist militants alive after they killed 14 people in his home city of Davao.
The most controversial quotes from Rodrigo Duterte

Show all 9
"They will pay. When the time comes, I will eat you in front of people," Mr Duterte said at the time. "If you make me mad, in all honesty, I will eat you alive, raw."
Earlier this month, it was claimed at a senate hearing Mr Duterte had allegedly shot dead a justice department agent with an Uzi submachine gun while serving as mayor of Davao. The claim, made by an alleged hitman, was strongly denied by the President's office.
Register for free to continue reading
Registration is a free and easy way to support our truly independent journalism
By registering, you will also enjoy limited access to Premium articles, exclusive newsletters, commenting, and virtual events with our leading journalists
Already have an account? sign in
Register for free to continue reading
Registration is a free and easy way to support our truly independent journalism
By registering, you will also enjoy limited access to Premium articles, exclusive newsletters, commenting, and virtual events with our leading journalists
Already have an account? sign in
Join our new commenting forum
Join thought-provoking conversations, follow other Independent readers and see their replies