Racism in India blamed for unrest in the streets as African migrants claim they are victims of discrimination
Problems stemming from a culture clash risk tipping over into something more dramatic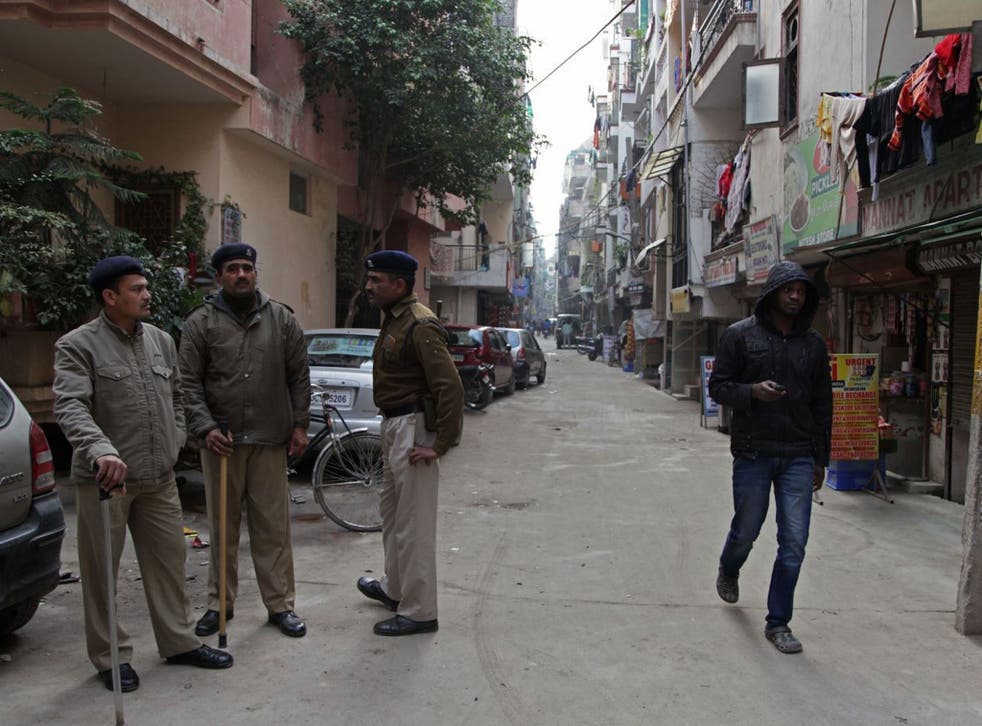 The young man stood in the half-light of the stairwell, not willing to give his full name, not willing either to remain entirely silent about the discrimination he had suffered. He was shivering, perhaps from the cold, perhaps from anxiety.
"We get a lot of problems here from some of the Indians," he said, glancing around him as people passed him. "I know that not everyone is like that...But any African living in India always feels tension."
He added: "As soon as my college course is completed, I will leave. The next day."
The 23-year-old Nigerian, Kevin, is one of hundreds of African residents of Delhi at the centre of a mounting controversy sparked by a government minister who led nighttime raids on women he claimed were linked to a drugs and sex trade. The minister said the police were refusing to take action. The women, two Nigerians and two Ugandans, were found not to be carrying drugs and have filed charges against the minister.
The raid, carried out in front of the television cameras, sent shockwaves through the city. Delhi's newly elected chief minister, Arvind Kejriwal, led a protest, accusing the city's police of corruption and demanding that responsibility for them be moved from the central government to his administration. He backed the actions of his minister.
Yet others accused Mr Kejriwal of vigilantism and said his populist actions were breaking the law. Some commentators said that a nation which was invariably quick to complain of slights against its own citizens, was now behaving in a way that was nothing short of racist. African residents of the area said they had long faced discrimination and abuse.
The raid was carried out ten days ago in the Khirki Extension neighbourhood, a hard-scrabble quarter of narrow alleys on the southern edge of Delhi. The area was once the site of a 14 Century city. The ruins have since been enveloped as India's modern capital expanded. Close by are shopping malls filled with boutiques and two cinemas.
The area's cheap-to-rent rooms, and its location close to two private hospitals, have always attracted migrants from India and overseas who have arrived in waves. There have been Kashmiris, Nepalis, Afghans, people from the north-east of India, people from the states surrounding Delhi. They come to work, study and receive medical treatment.
And as they have come, they have established businesses that cater to their community – an Afghan bakery, a Kashmiri restaurant, an African bar where man sit watching music videos and sipping beer.
People from various African nations have been coming for many years, usually to study. Among those making their homes in the congested, cluttered area are those who lost everything and came in search of sanctuary.
A 28-year-old called John came to India three year ago as a refugee from South Kivu in the Democratic Republic of the Congo, where conflict raged. "I don't know where my father or mother are, or my brothers and sisters. They all disappeared," he said.
He and other Africans said Indian residents of Khirki treated anyone with a black skin in the same way, regardless of their country. He said they suffered discrimination in various forms, from vegetable vendors who tried to charge more than the regular rate, to landlords who insisted on higher rents.
Others said the abuse was more vicious. Ahmed Qabile, another refugee, from Somalia, said he had lived in India for ten years and spoke some Hindi. He had previously lived in southern India, where he said he faced less discrimination.
In Khirki, by contrast, African residents were subjected to abuse and name-calling. "They call us "habsi" [a racial epithet in Hindi]. They use it openly," said Mr Qabile. "There are lots of people who were born here and understand Hindi. If you understand the language it is a lot worse because you understand the racism."
A 37-year-old Nigerian woman, who like many residents declined to be named, said Indian women sometimes treated the Africans with respect but that young boys often shouted out names and threw stones. "They shout out "black monkey" and then they run away," said the woman, who was braiding another woman's hair in a salon.
Some of the problems in Khirki may be a clash of cultures. Several African men said they could not understand why they sparked an angry reaction from Indians simply by saying hello to a young woman. A number of Indians, by contrast, highlighted this as inappropriate behaviour.
Yet on Friday, as armed police patrolled the lanes amid an atmosphere of obvious tension, Indian residents said the problems went beyond that of a cultural mismatch.
On a piece of land adjoining a temple, a group of residents, Hindus and Muslims alike, gathered to air their grievances for the benefit of a local television channel. They claimed that since two years ago there had been a sharp increase in prostitution, drugs, loud music at night, fighting in the street and even public nakedness. They said they police took bribes from the African residents and therefore refused to take action against them.
"There have been many problems. They need to remove all the criminal elements in this area. This is illegal," said Moin Haque, 29, a fashion designer. He dismissed a suggestion that Indian residents were making assumptions about people from an entire continent simply because of their colour. Asked how many people might be involved in illegal activity, he said: "Around 80 per cent of the African people are into bad things."
Another man, Dr A Khan, a physician, said he supported the stand that Mr Kejriwal and his Aam Aadmi (Common Man) party (AAP) were taking action. "I will definitely vote for them at the next election."
The politician who carried out the raid and could be seen on television footage arguing with police is Somnath Bharti, a barrister who now serves as Mr Kejriwal's law minister and in whose constituency Khirki falls.
In an interview in his office, where a poster showing Martin Luther King making his dream speech is prominently posted to the wall, he dismissed a suggestion that his actions were encouraging racism or that he was resorting to mob rule. (On Saturday, the AAP released video clips it claimed showed various African residents committing unlawful acts. It also posted the addresses of some of the women involved in the raid.)
"The Delhi police have not listened to a word. The police been taking money. No-one expects the Delhi police to do any good," he said.
The controversy is playing out as India prepares for a general election. The upstart Aam Aadmi party, which secured power in Delhi last month, is seeking to challenge across the country in the national polls. It remains unclear whether the raid in Khirki will attract more voters than it puts off.
While most Indian residents of Khirki supported Mr Bharti's actions, not everyone did. Sitara, a 40-year-old Indian woman who runs a tea ship opposite an African barber, said the Africans supported various Indian businesses.
"Without them we would not be able to make money – the shops, or people earning rent," she said. "There are some women from some countries who dress provocatively. But if you have a problem with that then it's better to close your eyes."
Join our new commenting forum
Join thought-provoking conversations, follow other Independent readers and see their replies