Rape victim's death sparks lockdown in India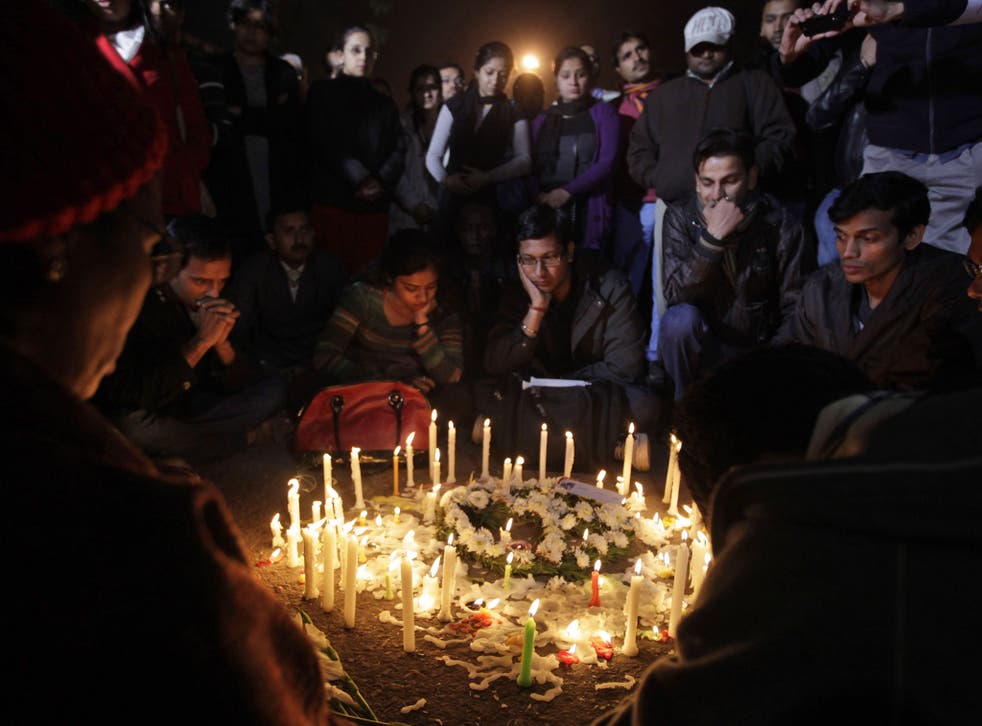 Six men will appear in an Indian court on Thursday facing the prospect of the death penalty after they were charged with the murder of a woman whose gang rape sparked nationwide protests.
India faced an ongoing security lockdown last night as it was riven by public anger and an anguished national debate about the treatment of women. More than a thousand mourners gathered in New Delhi yesterday to express their grief and sympathy for the 23-year-old physiotherapy student and to call for greater protection for women from violence.
India's Prime Minister, Manmohan Singh, who has been criticised for his delay in responding to public outrage, yesterday acknowledged the need for a profound change in the treatment of women, while at the same time seeking to defuse the growing anger: "The need of the hour is a dispassionate debate and inquiry into the critical changes that are required in societal attitudes. I hope that the entire political class and civil society will set aside narrow sectional interests and agenda to help us all reach the end that we all desire – making India a demonstrably better and safer place for women to live in."
The young woman, who has not been identified, died in a hospital in Singapore from multiple organ failure days after she was airlifted out of India in an attempt to save her life. Her death came nearly two weeks after she was repeatedly raped and assaulted with an iron rod, suffering severe organ damage. The attack occurred when the woman was on her way home from watching a film with a male friend who was beaten by the gang. After the attack, the woman and her male companion were thrown, stripped of their clothes, from a moving bus in New Delhi.
Dr Kelvin Loh, chief executive officer of the Mount Elizabeth Hospital in Singapore, said in a statement announcing her death: "She was courageous in fighting for her life for so long against the odds but the trauma to her body was too severe for her to overcome." The Indian government is preparing to fly her body home, along with members of her family.
Outrage and protest about the assault escalated violently last week when police used batons, water cannon and tear gas in clashes with hundreds of demonstrators; one policeman died in the protests. Indian authorities, fearing a new wave of demonstrations yesterday, deployed hundreds of policemen to seal off the President's palace, the Prime Minister's office and key ministries, which have been the scene of battles between police and civilians. They closed 10 metro stations and banned vehicles from some main roads in the centre of the capital.
Although more than 1,000 people gathered at two locations, the demonstrations were peaceful. In one spot, a wreath studded with white flowers was laid on the road, a candle lit and a silent tribute held for the young woman. Near by, members of a theatre group played small tambourines and sang songs urging society to wake up and end discrimination against women.
Intense media coverage of the attack, coupled with protests organised quickly via social media, have forced political leaders to consider wider problems surrounding the treatment of women in India. Sonia Gandhi, the head of India's ruling Congress Party, expressed her grief over the woman's death, expressing her sympathies for the rape victim's family. "The whole country shares their pain. Today, we pledge that she will get justice, that her fight will not have been in vain," she said, adding: "It deepens our determination to battle the pervasive, the shameful social attitudes and mindset that allow men to rape and molest women and girls with such an impunity."
The protesters heckled Sheila Dikshit, chief minister of Delhi, when she came to express her sympathy with them, forcing her to leave the venue. They blamed her for the deteriorating law and order situation in the Indian capital.
Statistics suggest sex crimes are on the rise. New Delhi has the highest rate among India's major cities, with a rape reported on average every 18 hours, according to the police. The number of reported rape cases in the country rose by nearly 17 per cent between 2007 to 2011, according to government data. Only one in four of those accused are convicted.
Ratanjit Singh, a junior Home minister, said the government will shame offenders by publishing a database of convicted rapists along with their photos. This was supported by some women's rights groups, who say that female victims are often blamed for sex crimes in India. Mamta Sharma, head of the state-run National Commission for Women, said the "time has come for strict laws" to stop the violence. "Society has to change its mindset to end crimes against women," she said.
Meenakshi Ganguly, South Asia director of Human Rights Watch, said: "The outrage now should lead to law reform that criminalises all forms of sexual assault, and strengthens mechanisms for implementation and accountability, so that the victims are not blamed and humiliated."
Elsewhere, in Punjab, an 18-year-old woman killed herself by drinking poison weeks after she told police she was gang-raped. State authorities suspended one police officer and fired two others on accusations they delayed investigating the case. The three accused of the rape were arrested only last Thursday, a month after the crime was reported.
Prime Minister Singh said he understood the public's angry reaction to the attack and hoped all Indians would work together to make appropriate changes.
"These are perfectly understandable reactions from a young India and an India that genuinely desires change," he said. "It would be a true homage to her memory if we are able to channel these emotions into a constructive course of action."
Additional reporting by Sanjeev Miglani in Singapore and Tali Kord
Join our new commenting forum
Join thought-provoking conversations, follow other Independent readers and see their replies