On the road to power? Meet Joko Widodo, Indonesia's very own Boris Johnson
He's the governor of a capital city who's preparing himself for the next step up the political ladder. James Ashton in Jakarta meets the man many believe could be the next president of Indonesia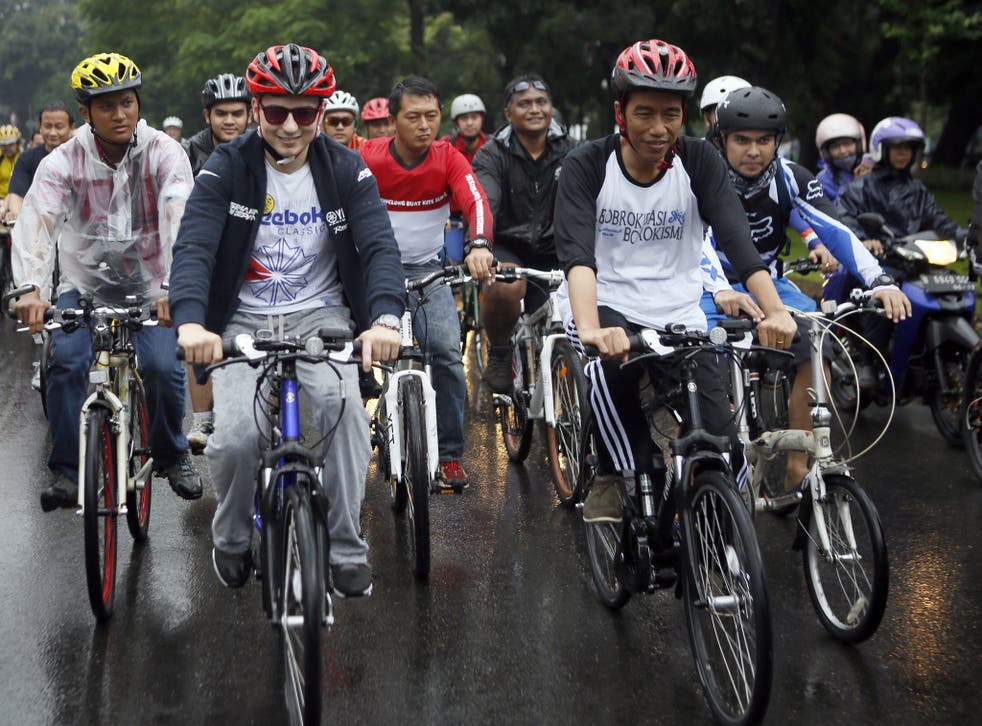 Outside City Hall the crowds have thinned, but students still throng the steps and photographers slouch against tripods. Just in case.
It's another Friday morning in the muggy heat of Jakarta, the capital of Indonesia, whose noisy roads are permanently clogged like the arteries of a heart-attack patient.
We've just missed the man trying to do something about it. Joko Widodo, the governor of Jakarta since 2012, has made Fridays his own cycle-to-work day in the hope of persuading more of the city's 10 million residents – swelling to 28 million if you count the outer suburbs – to give up their cars. But because this is Joko Widodo, or Jokowi as he is known, the journey has become an event for locals and press alike who follow him until he disappears inside the white building.
You suspect he doesn't mind the attention. The provincial furniture salesman only burst on to the political scene nine years ago, gaining a reputation as a man of the people after unscheduled tours of the city's poorest neighbourhoods and spot-checks on local government offices.
Supporters hope he will be Indonesia's presidential candidate this year, and argue he is the country's best chance of tackling the endemic problems of corruption and poverty.
Hold on: a larger-than-life, bicycling city leader who keeps getting linked with higher office? No wonder he is now being called the Boris Johnson of Asia.
But here the similarities end. While Boris tries to build on London's Olympic glory with new construction projects and an influx of international investors and tourists, Jokowi, 52, is grappling with a sprawling city that has outgrown itself.
Within hours of that bike ride, the rains come again. Jakarta's 13 rivers churn and swell. Roads flood, causing traffic chaos. Teenage girls link arms and march through the mud-brown water; young boys swim and splash, while their older brothers earn a few rupiahs diverting motorists from the worst of the deluge.
After 20 years of little maintenance, Jokowi estimates it will take eight years to dredge the city's rivers to get flooding under control. The problem is the river dwellers. There are 34,000 families along Jakarta's biggest river; another 7,000 at one of its largest lakes. Relocation into low-cost housing must take place before the excavators can trundle in.
"Our main problem now is basic human need, then flooding, then traffic congestion," Jokowi said, before departing for Friday prayers. "In Jakarta, the gap between the haves and have-nots is very wide."
He is a light man, with playful dark eyes and a deep chuckle. Dressed in simple white shirt and trousers with a traditional scarf of red with blue squares around his neck, you might think he was being mischievous were it not for the gravity of his message.
It's lucky I have caught him. Jokowi doesn't like to spend long in his rooms, which feature a "crisis centre" bank of TV screens trained on road and river hotspots.
"One or two hours every day is more than enough. The problem is not in the office, the problem is out there," he said. "Every day I go to the people, go to the street. I can ask the people what they want, what they need."
Jokowi is not wrong about the prosperity gap. Jakarta's skyline is strewn with cranes racing to raise new office and residential towers, while down below it's all boxy Hummers driving past sparkling malls featuring Louis Vuitton and G-Star RAW one minute, then tin-roofed shacks under motorway flyovers the next.
The most populous city in South-east Asia lies at the heart of a Muslim nation of 250 million strung across 6,000 inhabited islands and best known for the tourist magnets of Bali and Banda Aceh, which bore the brunt of the 2004 tsunami.
Even though it is 16 years since the removal of the dictatorship of General Suharto, corruption in public life is still rife. It is also less than five years since the city was hit by a series of bomb blasts at the JW Marriott and Ritz-Carlton hotels, where a touring Manchester United side were due to stay later that week.
Yet Indonesia contains untold mineral wealth in its coal, nickel and oil reserves that could boost the economy – if only it had better infrastructure to aid exports.
Such an overseas sales drive was favoured by Jokowi in his business career. His firm sells wooden furniture and flooring almost exclusively for export. That used to mean sales to the US and Europe, but slowing markets meant he turned his attention closer to home. "Now we move [goods] to Korea, Taiwan and Singapore."
It gave Jokowi an international perspective beyond many of his peers. But all that travelling also meant he was relatively unknown at home when he decided to stand for mayor in his home city of Surakarta, often called Solo, which lies 300 miles east of Jakarta on the island of Java.
On bony fingers, he counts off the four candidates that stood for election in 2005: the incumbent mayor, the chairman of the chamber of commerce, the boss of the city's biggest company, "and then me". Somehow he won.
"In my opinion, people don't like the old faces," he said, chuckling again. "So they try the new face."
For his second term, he polled 91 per cent of the vote, up from 37 per cent. Trading up to Jakarta in 2012, a city 20 times the size of Solo, gave his popularity a bigger stage.
It has been helped by measures such a free health-care scheme and another programme to supply school uniforms, shoes, books and bags to the poorest families. In addition, 26 years after the city first planned to instal a mass-transit system, Jokowi got the project approved.
His ability to drive through change and carry the people with him means Jokowi is four times more popular as a potential next President of Indonesia than his closest rival, according to the latest poll, even though he is not yet a candidate.
Whether he becomes one depends on Megawati Sukarnoputri, leader of Indonesia's opposition Democratic Party of Struggle (PDI-P). The current President, Susilo Bambang Yudhoyono, cannot stand for a third term.
Some think Jokowi would be best served as Megawati's running mate and deputy. But most people I canvassed thought he should go for it in his own right.
So is he preparing for a tilt at the big job? "I don't think about that," he said, issuing his stock response with a smile. "I want to concentrate on my job as governor of Jakarta."
Join our new commenting forum
Join thought-provoking conversations, follow other Independent readers and see their replies