Rohingya Muslim woman has leg blown off by landmine as she flees Burma for Bangladesh
Other reports say a boy had his leg blown off near a border crossing
Samuel Osborne
Thursday 07 September 2017 12:17 Comments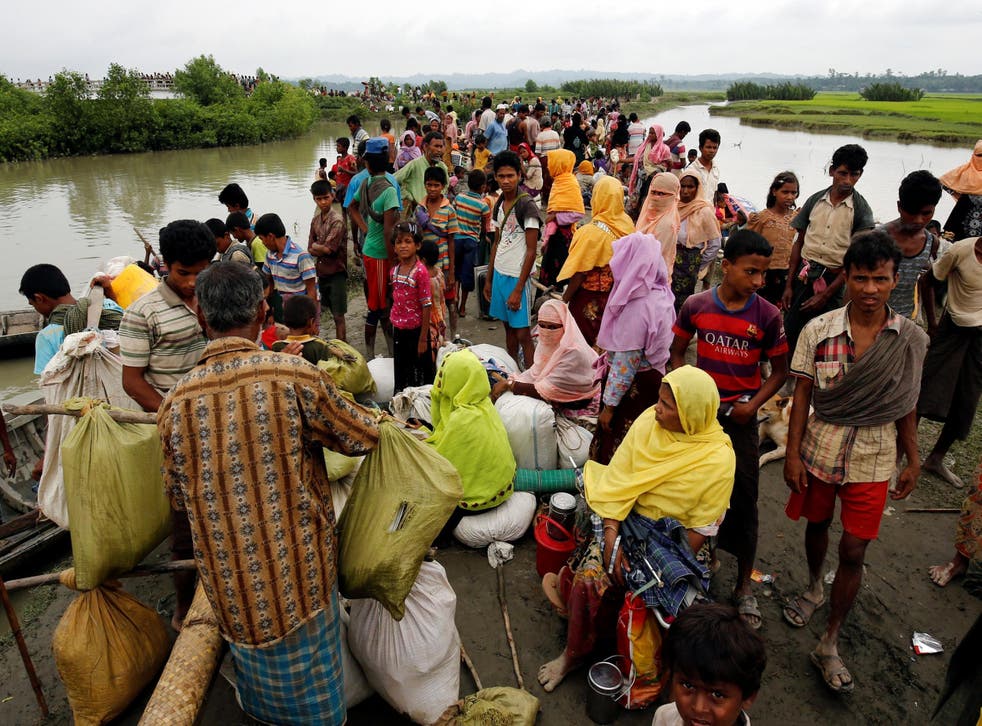 A Rohingya Muslim woman reportedly had her leg blown off by a landmine as she fled Burma for Bangladesh.
A government source in Dhaka told the Mail Online Burma was placing landmines at its border, following reports their purpose may be to prevent the return of Rohingya Muslims fleeing violence.
"They are putting the landmines in their territory along the barbed-wire fence," the source said.
They added: "Our forces have also seen three to four groups working near the barbed wire fence, putting something into the ground.
"We then confirmed with our informers that they were laying land mines."
One of the reported victims was a woman whose leg was mutilated as she tried to cross the border.
Earlier this week, a Bangladesh border guard told Reuters one boy had his leg blown off near a border crossing before being brought to Bangladesh for treatment, while another boy suffered minor injuries.
Video shows Rohingya flee burning villages in Myanmar
About 164,000 Rohingya from the area have fled across the border into Bangladesh in less than two weeks since Rohingya insurgents attacked police outposts in Gawdu Zara and several other villages, the UN refugee agency said.
The military has said nearly 400 people, most they described as insurgents, had died in clashes and that troops were conducting "clearance operations." It blames insurgents for setting the villages on fire, without offering proof.
The Rohingya who have fled Burma, however, all described large-scale violence perpetrated by Burmese troops and Buddhist mobs — setting fire to their homes, spraying bullets indiscriminately, stabbing civilians and ordering them to abandon their homes or be killed.
Burning Rohingya homes can make it less likely that they return.
Tens of thousands of Rohingya were driven from their homes in another wave of violence in 2012. Many of them are now confined to camps, while the land they once held is either vacant or occupied by Buddhist squatters.
Rohingya refugees – in pictures

Show all 15
Burma refers to Rohingya as Bengalis, contending they migrated illegally from Bangladesh, although many Rohingya families have lived in Burma for generations.
With so many Rohingya fleeing Burma, it's unclear how many remain.
Before the recent violence, aid experts had estimated about one million Rohingya were living in northern Rakhine state, but aid agencies have been unable to access the area since.
Additional reporting by agencies
Register for free to continue reading
Registration is a free and easy way to support our truly independent journalism
By registering, you will also enjoy limited access to Premium articles, exclusive newsletters, commenting, and virtual events with our leading journalists
Already have an account? sign in
Join our new commenting forum
Join thought-provoking conversations, follow other Independent readers and see their replies