Shark fin soup off the menu: China's crackdown on extravagant banquets gives sharks a second chance
Sharp fall in shark fin consumption reflects anti-corruption drive, not changing attitudes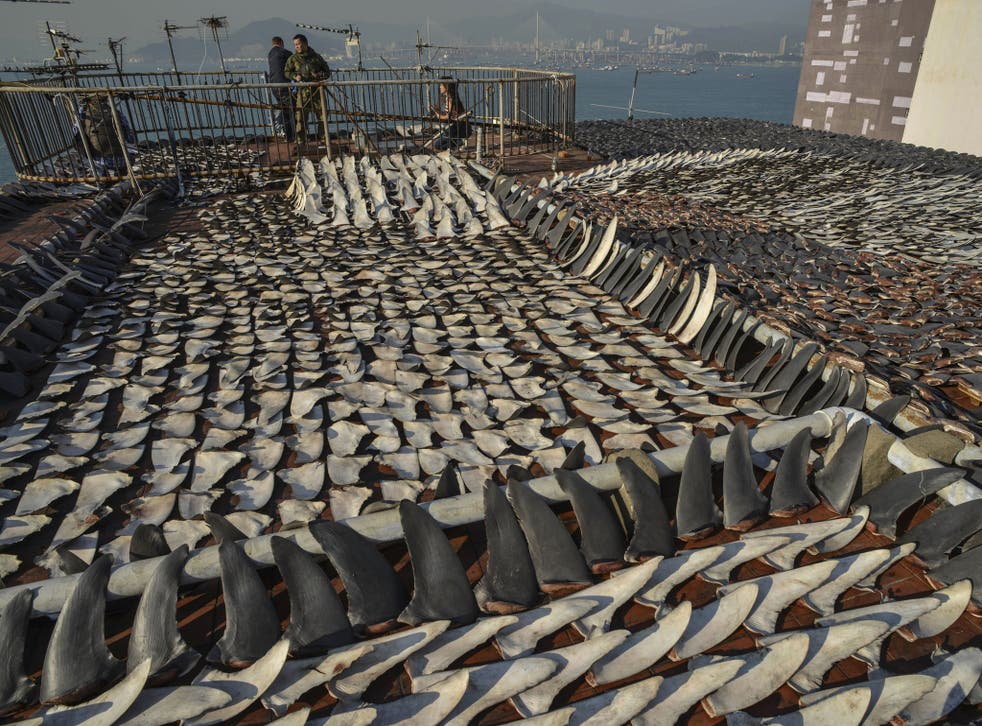 A crackdown on extravagance and corruption within China's ruling Communist Party is causing headaches for officials used to splashing the cash on banquets, but it's proving a lifesaver for sharks.
Consumption of shark fin, the key ingredient in the pricey and extravagant banquet staple shark-fin soup, has dropped by 70 per cent since the end of last year, according to Ministry of Commerce data.
The party leadership launched a campaign in December, vowing to target extravagance and waste, and demanding austerity from cadres and military officials as a means of curbing graft.
Zhao Ping, the deputy director of the Department of Consumption Economy Studies at the Chinese Academy of International Trade and Economic Co-operation, believes up to 50 per cent of the drop in shark fin consumption is a result of cutbacks in government-related dining.
"Many companies host business banquets and their target is the government officials who have money and who have the authority to gain approval for projects," Mr Zhao told the Xinhua news agency. "Since Chinese New Year this year, shark fin soup in the luxury hotels or restaurants has declined 70 per cent and the sales in some of the special shark fin restaurants … have declined by 50 per cent."
And it's not before time, environmentalists say. Up to 100 million sharks are killed each year for their fins alone, and 44 species of shark in Chinese waters are endangered or face extinction.
More than 95 per cent of the annual harvest of shark fin worldwide is consumed in China, Hong Kong and Taiwan.
Wang Xue, a member of a Beijing-based environmental NGO which runs the China Zero Shark Fin project, told the China Daily that her organisation was witnessing a general downturn in demand for shark fin.
Before the anti-graft campaign, at least 100 million yuan (£10.5m) was spent annually on shark fin dishes in Beijing, and official and business banquets were the main culprits, Ms Wang said.
In September 2012, Beijing diners were getting through 7.5 tonnes of shark fin a day, paying up to 1,800 yuan a bowl.
"Less demand will lead to less poaching," Ms Wang said. "We wish to see the declining demand last a long time, instead of being a short-term response to government policy. It needs a transformation of ideas in people's minds."
Aside from the sheer numbers being caught, sharks are often "finned" – meaning they are caught, their fins are cut off and they are returned to the ocean alive, where they will inevitably die, a practice that has angered animal rights activists for many years.
The Chinese basketball legend Yao Ming has done much to change attitudes in China with his public opposition shark fin, as have high-profile campaigns featuring Hong Kong singers and TV stars, but campaigners are concerned that the recent fall in consumption does not represent a sea-change in public attitudes.
Angelo Villagomez, a shark specialist with the Pew Charitable Trusts, a US-based conservation group, told AFP: "We are seeing a reduction in demand from China. Hong Kong is also showing a significant decline in consumption.
"It's not to do with conservation," Mr Villagomez said. "It's related to a Chinese government anti-graft crackdown, which has cut back on dinners where shark fin soup was featured on the menu."
China's State Council said last year it was banning shark fin soup from public events, ostensibly for environmental reasons but probably also because of the connotations of official backscratching.
There are signs on the social media service Sina Weibo that the practice of eating shark-fin soup is becoming less popular.
A typical response on the site to ads for shark fin: "If there is no sale/business, there will be no killing. Let's refuse shark fin."
It's not just shark-fin soup, of course, that has been affected. Since the government started the austerity programme, many upmarket restaurants have reported drastic sales declines.
Sales of birds' nest soup and abalone – both pricey menu items beyond the reach of most Chinese – slipped by 40 per cent year-on-year.
Join our new commenting forum
Join thought-provoking conversations, follow other Independent readers and see their replies