So you think the Taj Mahal's grand? Wait till you see the Taj Arabia…
Building will be four times size of original and stand next to copies of Eiffel Tower and Pyramids other world landmarks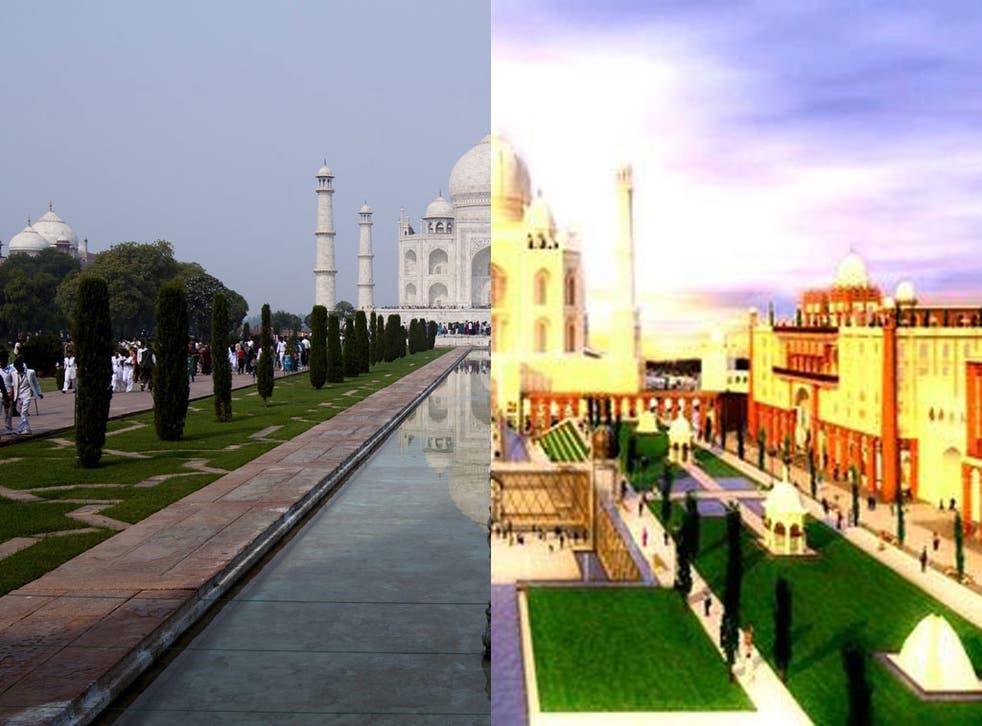 It took thousands of workmen under the control of the Indian emperor Shah Jahan more than 20 years to build the Taj Mahal – a tribute to his beloved late wife. Now a developer in the Middle East wants to build another, larger version in less than two years.
This week developers in Dubai unveiled a plan for the Taj Arabia, a replica of the 350-year-old mausoleum that will be four times the size of the original. They hope it will be used to hold weddings and as a backdrop for Bollywood movies.
The £621m project, which will also feature other architectural highlights from around the world, including the Great Wall of China, the Pyramids, the Eiffel Tower and even a replica of the Leaning Tower of Pisa, will be part of a complex that will contain a 300-room hotel, commercial buildings and shops, officials said.
The developers behind the eye-catching project, Link Global Group, could not be contacted yesterday, but the company's chairman, Arun Mehra, earlier told the Gulf News: "Marriage is a celebration. It needs to be announced and glorified. Currently Dubai is not regarded as a wedding destination. People go to Bali and other exotic places to marry. Now they will come to Taj Arabia.
"Taj Arabia will not be a 100 per cent replica as it has a different purpose. That said, we definitely want to create the same spirit of love and passion in today's modern times when divorce rates are fast picking up."
The Taj Mahal was built in the 17th century by the Mughal emperor Jahan after the death of his third wife, Mumtaz Mahal, who gave birth to 14 children. Located in intricately landscaped gardens in the North Indian city of Agra alongside the banks of the Yamuna river, it is a Unesco World Heritage site, managed by the Archaeological Survey of India. The monument, which boasts a 60ft dome, is reportedly visited by more than two million people a year and is India's most popular attraction after becoming known globally as a monument to love.
At this week's launch of the new project, the Dubai developers claimed several Bollywood producers had already expressed an interest in using the Taj Arabia as backdrop.
There has been no official response from the authorities in Delhi over the impersonation of its prized architectural treasure.
It was reported that an earlier plan to develop a replica in the United Arab Emirates was put on hold because of the global financial crisis.
The developers claim the plan to proceed with the project underscores that confidence has returned to the UAE's property-development sector.
Join our new commenting forum
Join thought-provoking conversations, follow other Independent readers and see their replies