South Korea creates 'women-only' parking spaces which are longer, wider – and marked by pink chalk figures wearing skirts
Government says it is spending more than £50m 'adding female touch' to Seoul city design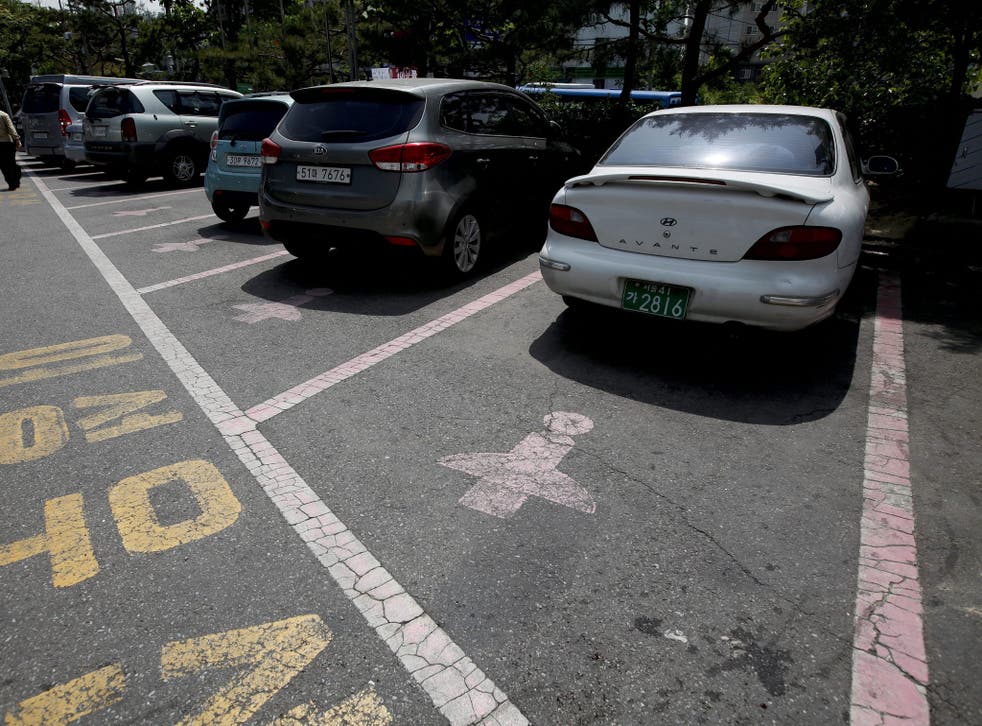 The South Korean government has said it is adding "a female touch" for car users in the capital Seoul – by creating women-only parking spaces which are longer, wider and marked with pink outlines.
Though it seems they will only promote further the stereotype that women are worse drivers, the so-called "she-spots" come as part of an estimated AUS$100 million (£55 million) programme to make the city more female-friendly, according to reports on the website motoring.com.au.
The scheme will also see pavements resurfaced with a "slightly spongy material" that makes them easier to walk on in high heels.
Around 7,000 new toilets just for women will also be installed across the city, and facilities like the new parking places will receive better lighting and be placed closer to shops.
Women-only parking spots have been installed in the past throughout the world – but typically only as a public safety measure. The spaces are usually designated near entrances or exits in poorly-lit car parks, and are not normally expanded for the benefit of female users.
Local media reports in Seoul said it was not clear whether men using the new places – which are further set apart with pink, skirt-wearing chalk figures – would face a fine.
Speaking to the Korea Times newspaper, Chon Eun-hee, the assistant mayor for women and family affairs, said: "It is like adding a female touch to a universal design and make things more comfortable for women."
The Australian motoring website reported that the system was not too far removed from its own "family" spaces making parking easier and more accessible for parents with children.
It said female-only spaces had also been seen in the past in China, Kuwait, Malaysia, Indonesia, Austria, Italy and recently in Germany, where in 2012 a mayor made headlines for introducing the opposite measure – men-only spots.
Triberg's Mayor, Gallus Strobel, told Der Spiegel that two spaces in the town would be too difficult for women because they required drivers to reverse diagonally between a pillar and a wall.
"I am happy, and it looks like we've hit a raw nerve in society," he said. "It's been a great marketing gimmick. Women can come here and prove me wrong, and while they're at it they can see the town's attractions."
Join our new commenting forum
Join thought-provoking conversations, follow other Independent readers and see their replies