The one-horse race for South Korea's presidency is suddenly neck-and-neck
Something has gone drastically wrong for the liberal candidate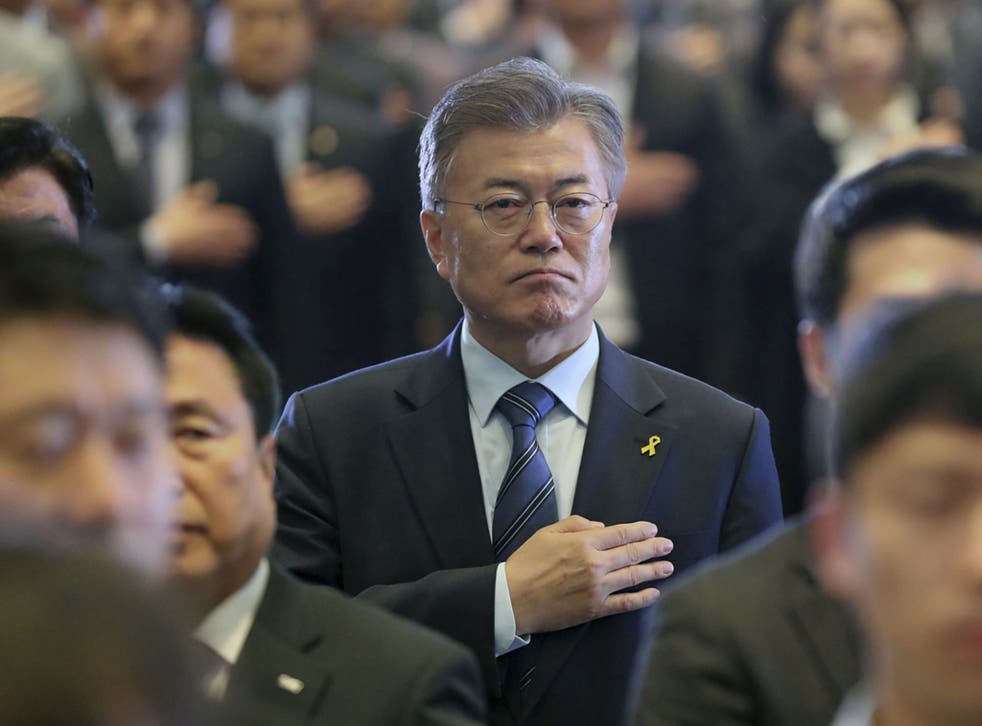 The adage about a week being a long time in politics has never been truer than in South Korea, a tumultuous young democracy where politicians and parties rise and fall almost as fast as a North Korean missile.
This time last week, Moon Jae-in, the Democratic Party nominee for president, had a strong lead in the polls and hardly a rival in sight with just over a month until the 9 May election.
The conservatives were in disarray, having split into two factions following the fall of their leader, former President Park Geun-hye, whose impeachment last month triggered the snap election. Both factions' candidates were polling in the single digits.
Unless something went drastically wrong, the race was Moon's for the taking, analysts said.
Fast forward to this week, and the one-horse race is suddenly neck-and-neck.
Something has gone drastically wrong for the liberal Moon: His support levels have flatlined, while a ragbag of conservatives, centrists, Ban Ki-moon backers and Moon Jae-in skeptics have rallied around Ahn Cheol-soo, a 55-year-old moderate who leads the centre-left People's Party.
Ahn is now regularly polling within a few points of Moon, and some surveys even put him in the lead. A poll published on Monday by the conservative Chosun Ilbo, South Korea's biggest newspaper, put Ahn two points ahead of Moon, with 34 to his rival's 32 per cent. A Yonhap-KBS poll released on Sunday had Ahn at 36.8 per cent against Moon's 32.7 per cent.
"People are disappointed by the politics because politicians compete among themselves instead of seeking to find out what the public wants," Ahn told the Korean Chamber of Commerce in a speech on Monday. "I have always had people in mind when setting up visions and policies."
Ahn, a medical doctor turned computer-doctor tycoon – he invented the anti-virus software used by almost every South Korean – ran for the presidency in 2012, against Moon and Park. Ahn dropped out to throw his weight behind Moon, who lost to Park.
He hadn't been considered much of a contender this time around, until Moon's victory in the Democratic primary last week.
That event, combined with a lacklustre performance by the two main candidates from the conservative side, has caused a coalescing of support around Ahn.
Fans of Ban, the former UN secretary general who made a short-lived attempt at running for president, announced on Sunday that they would support Ahn. And conservatives who had previously supported Park appear to find Ahn more palatable than the 64-year-old Moon, whom they view as a radical.
"It's a question of whether the election is about stopping Moon, or if it's just about being post-Park," says Scott Snyder, a Korea expert at the Council on Foreign Relations. "When the focus was on Park, the Democrats were winning a lot of support. But as it moves to a more careful examination of Moon, the broad ambivalence to him as a leader is returning."
World news in pictures

Show all 50
In an attempt to reach out to a broad spectrum of voters, Ahn has used language that will be familiar to Americans who supported former president Barack Obama. "There's not a liberal Korea and a conservative Korea; there's a people's Korea," Ahn said when winning his party's nomination last week, echoing an Obama refrain.
Ahn has vowed to take a more centrist approach, particularly when it comes to foreign affairs. He has vowed to respect the decision to host a THAAD antimissile battery – good news for the United States, but bad news for China, which is strongly protesting against the deployment.
"At a time when the deployment [of THAAD] is underway, it would not be responsible for a presidential aspirant to oppose it and promise to cancel it if elected," Ahn said in an interview with Yonhap News Agency.
If the alliance with the United States is broken, South Korea will not be able to solve the North Korean nuclear problem, he said.
"We have to consult closely with the Trump administration and to that end, it is important to maintain a trusting relationship," Ahn told Yonhap.
Conversely, Moon has said he would review the previous South Korean government's decision to host the American defense system and would seek a meeting with North Korea's Kim Jong Un in Pyongyang as a priority over going to Washington.
Advisers to Moon say privately that they have been taken aback by Ahn's sudden surge in the polls and are worried about the "veto" that conservatives hold against their candidate.
But Snyder says he thinks that the continued presence of two conservative candidates, even if they are struggling, could split the anti-Moon vote. "I'm sceptical that Ahn will catch up with Moon unless the conservatives really fold their tents," he says.
© The Washington Post
Join our new commenting forum
Join thought-provoking conversations, follow other Independent readers and see their replies