The South Korean reaction: 'Pyongyang has been crying wolf for some time'
South Koreans, who have seen it all before, are carrying on as normal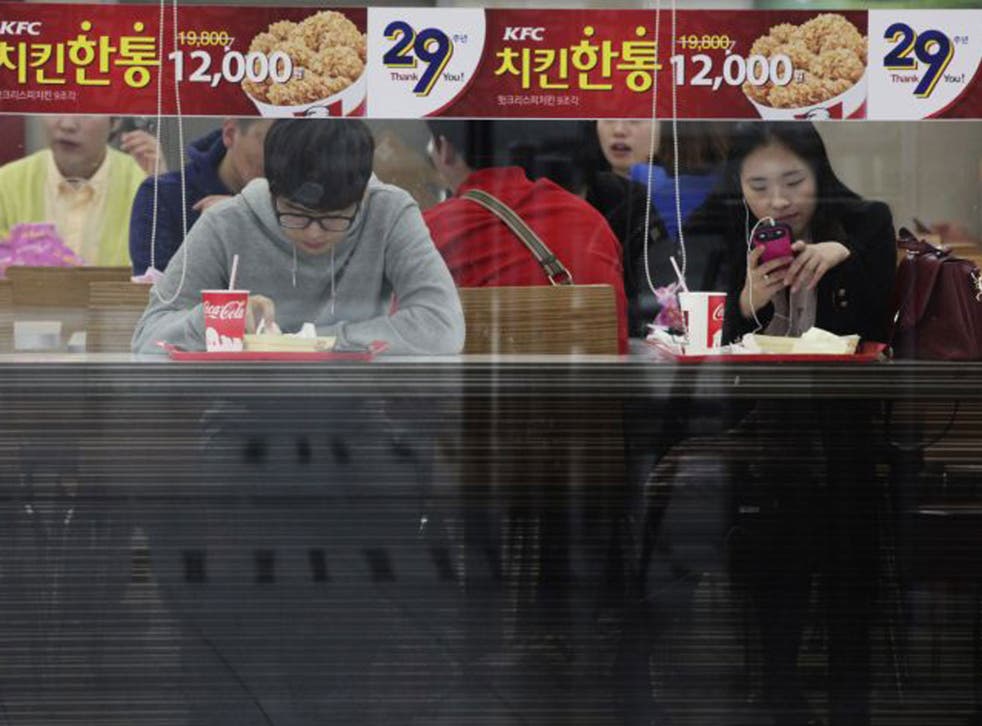 Office workers and shoppers throng the night-time streets of Seoul. The bars and restaurants of downtown Jung-gu are crowded with people winding down for the weekend. Korean television carries the usual noisy mix of melodramatic soaps and garish entertainment programmes.
But just 60km north of here, South Korea's apoplectic neighbour churns out almost daily threats of nuclear war. Reports in Seoul say the North has loaded two mid-range missiles onto mobile launchers in preparation for a possible attack. In response, the South has dispatched two warships to the east and west of the Korean peninsula. US B-52 bombers and stealth fighters are poised to retaliate.
If the 10 million citizens of this capital are concerned, they hide it well. "I'm going for a drink and dinner, then I'll go home to bed," laughs Pak Chin-hwa when asked if he plans to flee the city. In the 1990s, similar threats of war triggered mass panic-buying in Seoul. That was before Pyongyang became a nuclear power.
The Korean peninsula is famously one of the most militarised places on the planet, with one million troops on either side of the 250km Demilitarised Zone that divides it and another 30,000 US troops in the South. American satellites constantly monitor life inside the isolated North, which has carried out three increasingly sophisticated nuclear tests. A war would probably drag in not just the US, but China and Japan too. Seoul might well be its first casualty. Yet, despite the fact both sides appear increasingly locked into a showdown, most analysts say the threat of all-out conflict is unlikely.
"South Koreans are immunised against this sort of thing," says Ahn Yinhay, professor of international studies at Korea University. "The North has been crying wolf for some time... In any case, if war happens, where can we hide? The North has nuclear weapons."
There is a large degree of routine underlying the rhetoric in the current crisis. North-South frictions often spike in spring, during joint US-South Korean military exercises, which Pyongyang considers a prelude to invasion. Tensions were elevated by the very public deployment of American B52 and B2 aircraft, carrying the implied threat of nuclear weapons.
North Korea's national identity hinges around the outcome of the fratricidal US-backed war of 1950-53 that created these two irreconcilable regimes, held apart since by a brittle truce. Pyongyang keeps memories of that war vividly alive, and Washington helps to reinforce them.
Every North Korean child knows the last time B52 bombers were dispatched. For a month in 1976, after a border skirmish, the United States sent bombers up and down the Korean peninsula, veering off at the last moment. "I have never seen the North Koreans so scared," the US Secretary of State Henry Kissinger said at the time.
The North had been demanding a peace treaty with the US since the early 1970s but Cold War politics blocked it. Since then, Seoul and its Washington ally have staged these biannual military drills, a few miles from the DMZ. The drills include a simulated nuclear strike. Despite the end of the Cold War and a decade of détente in the 1990s, both sides are still held in the grip of mutual suspicion and loathing.
In the absence of a permanent peace treaty with Washington and Seoul, the North will continue to use nuclear threats until it gets security guarantees while it rebuilds its economy. Last week, after six decades of "slow-motion war thinly covered by the 1953 armistice agreement", Pyongyang finally snapped, says Leonid Petrov, a North Korea expert at the Australian National University. "By proclaiming a "state of war" with South Korea and the US, Kim Jong-un "is simply reminding the world about this unresolved problem inherited from the Cold War era".
Dr Petrov also says full-scale conflict is unlikely. But with Pyongyang now backed into a corner, few are ruling out the possibility of another deadly skirmish. Two years ago, the North's forces shelled the frontier island of Yeonpyeong, killing four people. A former CIA North Korea analyst, Sue Mi Terry, predicted a similar attack this week.
If that happens, the South's untested new President, Park Geun-hye, will be under irresistible pressure to retaliate, predicts Professor Ahn. "Whatever happens, there will be a response this time," she says. "Whether it escalates or not, most South Koreans really think that we have to respond. And the President understands that."
What that means in practice is unclear. Would Pyongyang pull in its horns or retaliate in kind? North of the border, another untested leader, Kim Jong-un, is also trying to prove his mettle to the military. Analysts say he may decide on a show of strength ahead of a visit to Seoul by the US Secretary of State John Kerry, next Friday. After that, all bets are off.
Join our new commenting forum
Join thought-provoking conversations, follow other Independent readers and see their replies