Sri Lanka revisited: The whitewashing of a war crime by corporate lobbyists
The UN is preparing to condemn Sri Lanka's brutal crushing of the Tamil rebels – unless an army of corporate lobbyists can convince it otherwise
Andrew Buncombe
Friday 24 October 2014 20:04 Comments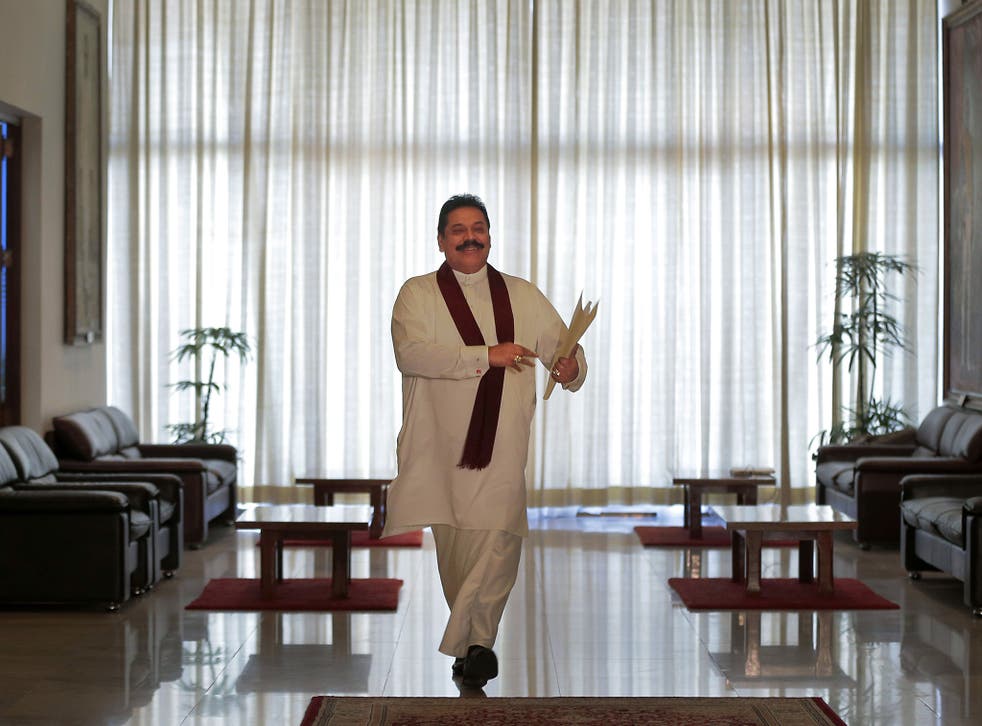 The Sri Lankan government is hurriedly trying to boost the country's image by spending hundreds of thousands of dollars to hire corporate lobbyists as it awaits a UN report into alleged war crimes.
A report in the US says Sri Lanka has recently agreed a contract with its eighth lobbying firm this year to change the way the country is perceived internationally. It also wants the companies to improve contact between Sri Lankan officials and members of the US government.
Five years after the bloody and controversial end of a civil war that resulted in the deaths of thousands of civilians, the government of President Mahinda Rajapaksa says it is incorrectly portrayed in the West. It wants the lobbyists to reach out to "US media, opinion leaders and possibly US officials concerning issues of importance".
The development comes as Sri Lanka is being investigated by a UN team into whether both the government and Tamil rebels committed war crimes during the final stages of the conflict that stretched in total over three decades. More than 100,000 people are believed to have been killed.
The report by the team appointed by UN Human Rights chief Navi Pillay is due to be completed by the time the UN Human Rights Council meets next March. Sri Lanka has refused to co-operate with the inquiry and declined to provide visas to the investigators.
A report in The Hill newspaper said the semi-autonomous Central Bank of Sri Lanka had recently agreed a contract with the Liberty Group, a Washington‑based lobbying organisation owned by a former Congressman from Florida. The year-long deal is worth $760,000 (£472,000) and as part of the arrangement, a second lobbying firm, Levick, has also been brought in. Levick charges $60,000 a month as a retainer. Neither the Liberty Group nor Levick responded to calls but in a statement to The Hill, Levick's president, Mark Irion, said: "Levick's mission is to utilise communications-supported advocacy to tell Sri Lanka's amazing story of recovery after a decades-long civil war against a brutal terrorist organisation, as well as to assist the Central Bank in communicating opportunities for trade and investment between our two nations."
The lobbying groups have claimed their work is valid because the "current international media focus on Sri Lanka is unbalanced". They add: "It is necessary to have a recalibration of US policy, based on a wider and fairer information base, leading to a multi-dimensional and more balanced engagement with Sri Lanka."
In the spring of 2009, the Sri Lankan military crushed the final remnants of the Liberation Tigers of Tamil Eelam (LTTE) militant group, which had fought for a homeland for ethnic Tamils. The group had used suicide bombings against school buses, child recruitment and murder as part of its campaign and was controlling several hundred thousands of civilians as its fighters retreated to a small patch of land next to the coast in north-east Sri Lanka.
An initial inquiry by the UN found that many thousands of civilians were killed in the final stages of the war and there was evidence that suggested both the rebels and government forces may have been responsible for war crimes. It said government troops had fired at makeshift clinics contained with a so-called no-fire zone.
Sri Lanka has always denied the allegations and resisted demands for an independent inquiry. A report by the authorities in Colombo cleared the military of any wrongdoing. At international forums, Sri Lanka has worked tirelessly to build support against any form of sanction and promoted itself as the victim of Western hypocrisy.
Yet earlier this year, the UN Human Rights Council voted to establish an independent inquiry to examine both the role of the Sri Lankan military and the LTTE. Twenty-three countries voted in favour of the resolution, 12 against and 12 abstained from voting.
Following the vote in Geneva, Ravinath Ariyasinghe, Sri Lanka's UN envoy, "categorically and reservedly" rejected the resolution. "The resolution will not only constitute a serious breach of international law but also sets a precedence on the sovereignty of nations," he said.
Levick is apparently the eighth lobbying firm to be hired by Sri Lanka this year. Other firms that have been retained reportedly include R&R Partners, Madison Group and Beltway Government Strategies. It appears different parts of the Sri Lankan government have contracted with different lobbyists, with some being retained directly by the foreign ministry, others by the Sri Lankan embassy in Washington. Neither the Sri Lankan Embassy nor the Sri Lankan government spokesman responded to inquiries.
Fred Carver, of the Sri Lanka Campaign, which works on human rights issues in Sri Lanka, said it was strange eight different firms had been retained.
Michael Kugelman, a South Asia expert at the Wilson Centre, a Washington think-thank, said it was not unusual for foreign countries to retain lobbyists in the capital, though the number hired by Sri Lanka was striking.
"Sri Lanka's government certainly suffers from an image problem abroad," he said. "In many Washington circles, it doesn't take long for discussions about Colombo to lead to allegations of nepotism, corruption, and rights abuses."
Register for free to continue reading
Registration is a free and easy way to support our truly independent journalism
By registering, you will also enjoy limited access to Premium articles, exclusive newsletters, commenting, and virtual events with our leading journalists
Already have an account? sign in
Join our new commenting forum
Join thought-provoking conversations, follow other Independent readers and see their replies