Sri Lanka riots: US condemns anti-Muslim violence after three died and almost 100 injured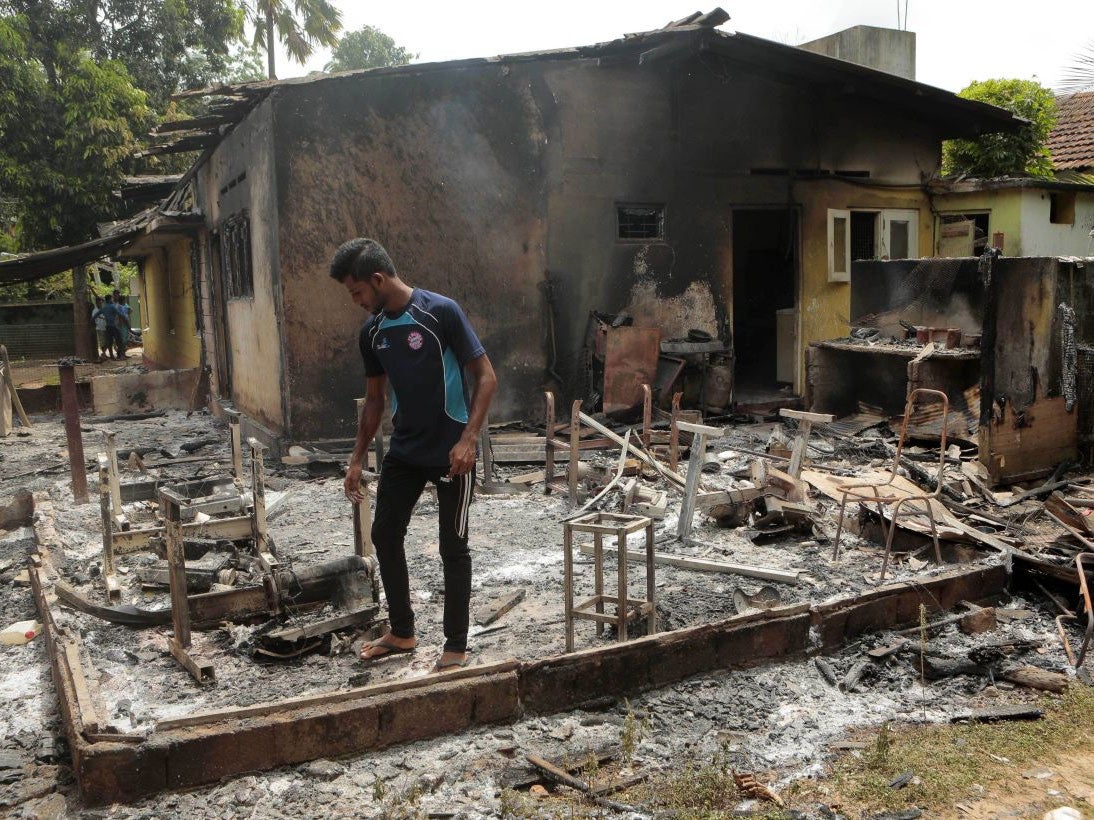 The US has condemned anti-Muslim violence that took place in Sri Lanka over the weekend, after extremist Buddhists killed three people and injured over 75 others.
US State Department spokeswoman Jan Psaki said on Tuesday that Washington was concerned by inflammatory rhetoric advocated by anti-Muslim hard-line groups that had incited the violence.
"We urge the Sri Lankan government to fulfil its obligations to protect religious minorities, including protecting all citizens and places of worship, conducting a full investigation into the violence and bringing those responsible to justice," she told a briefing.
"We also urge all sides to refrain from violence, exercise restraint and respect the rule of law."
Her comments echoed those made by Sri Lanka's Justice Minister Rauf Hakeem, who accused his government of "[failing] to protect innocent people".
The Buddhist Power Force, or Bodu Bala Sena (BBS), which rails against the country's Muslim minority, led the mob in its overnight attack on Sunday, in which three coastal towns were targeted.
Violence in Aluthgama, Darga Nagar and Beruwala was sparked on Sunday afternoon, following a rally lead by the growing group, which is believed to receive state funding – a charge the government denies.
The BBS said its members came under attack when they were protesting peacefully against an assault on a Buddhist monk by a Muslim youth three days earlier.
Many residents also claimed the police directly and indirectly helped the BBS organisation, but police rejected the claim.
Video clips show the group's general secretary Reverend Galagoda Atte Gnanasara pre-empt the chaos, by telling the crowd that Muslim-owned shops were in danger.
Amid the violence, mosques were defaced, while motorbikes and bicycles were piled up and set on fire. Dozens of shops were gutted by rioters, according to reporters and witnesses in Darga Nagar.
Sri Lanka Riots
Show all 5
Sithee Hameeda, a resident of Darga Nagar, told reporters that her family hid in a room in their home as a mob broke into to steal jewellery and cash, before setting the place alight.
"Soon the house caught fire and we ran out because we could not stay with the smoke," she said. "We hid in the marsh and came back only after everything was over. Everything was destroyed. We were left only with the wet clothes we were wearing."
Anti-Muslim violence has become increasingly frequent in Sri Lanka since 2012, and has mirrored events in Myanmar where Buddhist monks started violence in 2012 and 2013 which led to crowds slaughtering Rohingya Muslims.
Amnesty International said the communal violence was the worst seen in Sri Lanka for years. It warned there was a real risk of it spreading further, and called on the Sri Lankan authorities to rein in groups targeting religious minorities.
"Eyewitness reports that police have stood by and refused to intervene in the violence are very troubling and must also be investigated," Amnesty's Deputy Asia Pacific Director David Griffiths said in a statement.
"Security forces have a duty to protect the right of everyone to life and security regardless of their beliefs or identity."
The rampage comes after Colombo government was strongly criticised by the United States and other Western governments and the United Nations for alleged rights abuses in crushing the Tamil Tigers in a 2009 offensive.
The United Nations is launching an investigation into alleged war crimes in the country, but the government has said it will not cooperate with the inquiry and has rejected Western calls for demilitarisation in the former conflict zone.
Additional reporting by AP
Join our commenting forum
Join thought-provoking conversations, follow other Independent readers and see their replies