Stampede at Mumbai funeral leaves 18 dead as as thousands mourn Muslim leader's death
Closure of gates causes fatal crush as thousands pay last respects to Muslim spiritual leader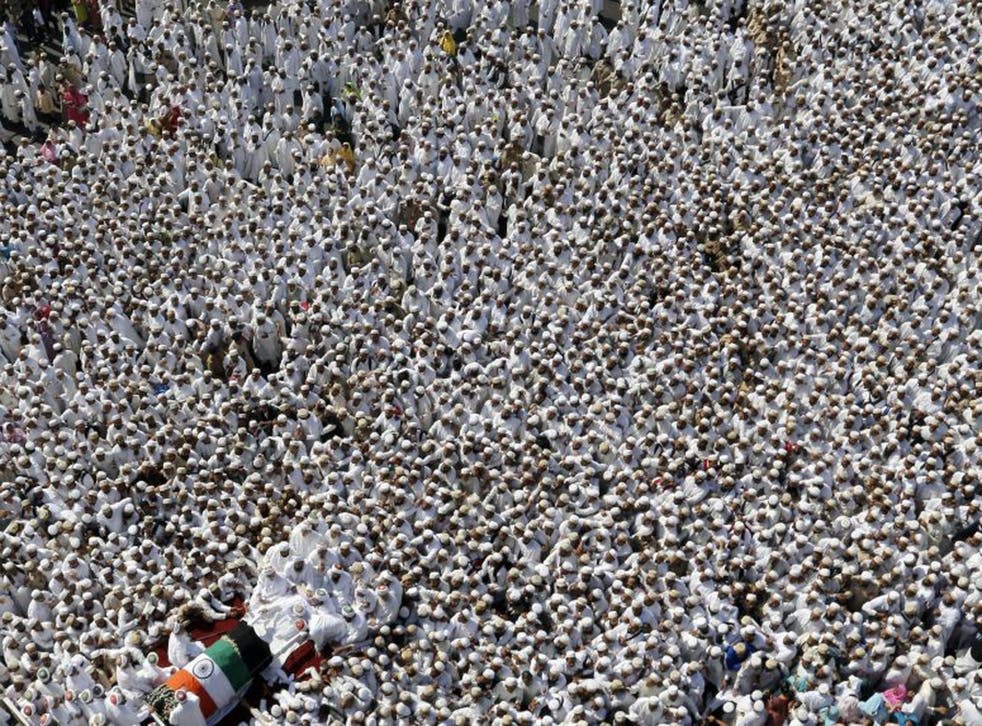 At least 18 people were killed and more than 40 injured in a stampede in India today, as tens of thousands of mourners gathered in the early hours to pay their last respects to a spiritual leader.
White-clad crowds had gathered in Malabar Hill, an affluent area in the south of Mumbai, to visit the house of Syedna Mohammed Burhanuddin, head of the Dawoodi Bohra muslim community, who died on Friday, aged 102.
By around 1am today, the streets were reportedly still filled with wailing and crying mourners, inching their way forward through the narrow road.
Mumbai police commissioner, Satyapal Singh, said the tragedy happened when the gates leading to the spiritual leader's house were closed. Many people were crushed with no way to escape.
Mr Singh said crowd management around the Syedna's house was poor, and the police were badly overwhelmed by the huge number of mourners. "We didn't think the crowd would be so great," he added. "Also, it's an emotional occasion when police cannot take harsh measures to push back the crowd."
Most of the deaths were due to suffocation, according to reports. "The roads were narrow ... it led to suffocation. It was difficult for the people to breathe. Some people fell unconscious. Gates were closed, after which some people fell on each other," Mr Singh was quoted as saying in The Times of India.
"All of a sudden the queues got mixed and confusion followed. One of my relatives passed away in the stampede," Qaid Najmi told The Indian Express. "The lanes in Malabar Hill are very narrow and when the stampede broke out there was little space for movement."
Hours later, the body of the Syedna had been placed in a flower-adorned casket draped with the national flag and was carried through the streets, escorted by police officers.
Prior to that, the Mumbai traffic control department had reportedly issued a notice asking people to avoid the procession route.
Syedna Burhanuddin succeeded his father in 1965 to lead the Dawoodi Bohra community. He was well known as a promoter of education and spiritual values.
Tens of thousands of Dawoodi Bohra muslims from across India and around the world headed to Mumbai for his funeral yesterday. Across the city, shops and businesses owned by Bohra muslims were closed as a tribute to the leader, who died after a cardiac arrest. Thousands joined hands to form a human chain along local roads.
India's Vice-President, Mohammad Hamid Ansari, was said to have been "deeply grieved" at the Syedna's death. "During his long and illustrious life, he championed the causes of education and healthcare, besides giving an unstinting support for environmental conservation and protection. We have lost a living symbol of communal harmony and peaceful coexistence," he said. "I extend my heartfelt condolences to the bereaved family and the entire Dawoodi Bohra community."
Deadly stampedes are fairly common during India's often chaotic religious gatherings and festivals, where large crowds gather in small areas with few safety or crowd-control measures. In October last year, 115 people were crushed in a stampede at a Hindu festival in the central state of Madhya Pradesh. In 2011, more than 100 died at a festival in the southern state of Kerala. Inside Jodhpur's Mehrangarh Fort, more than 220 people were killed in 2008 in a stampede at the Chamunda Devi Hindu temple.
Join our new commenting forum
Join thought-provoking conversations, follow other Independent readers and see their replies