Suicide – or murder? 'Delhi bus gang-rape leader' Ram Singh is found dead in his cell
Death of Ram Singh delivers another blow to India's national pride after crime that shocked the world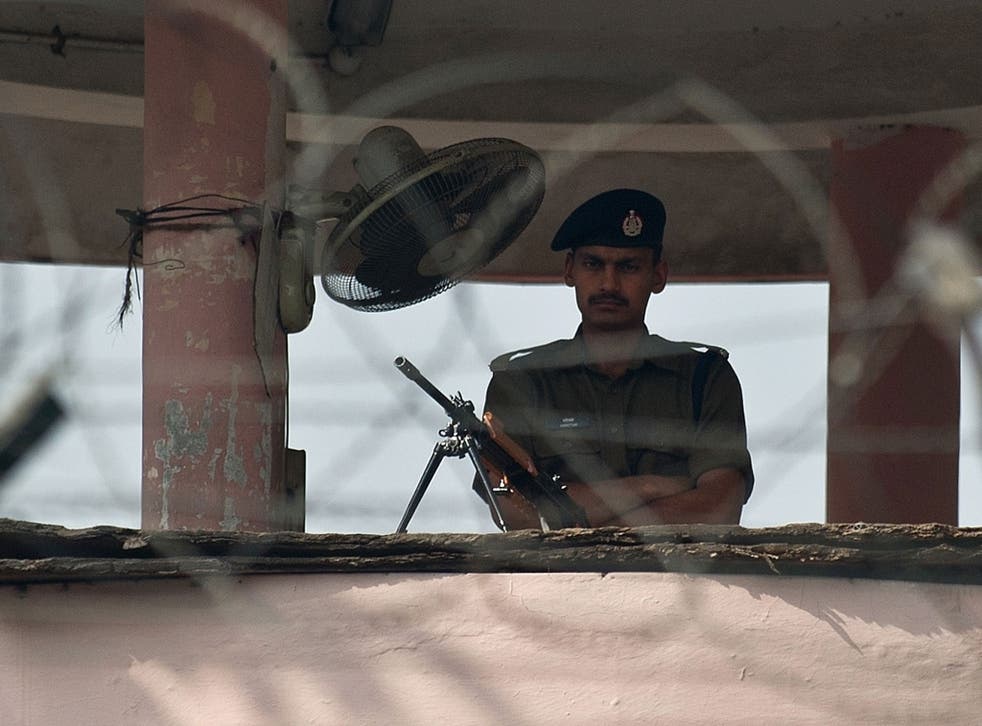 The authorities in India have admitted to a "major lapse" after the man accused of leading the gang-rape and assault of a young student was found hanging in his jail cell inside a high security jail.
Officials say it appeared he committed suicide but the man's family claim he may have been murdered.
In a deeply embarrassing development for officials who have promised to deliver justice following a crime that outraged the country, Ram Singh, a bus driver, was found hanging from a grille in his cell at Delhi's Tihar jail at around 4.45am. He had apparently used threads from his bedding to make a noose.
Officials said an inquiry had been launched to discover whether or not Mr Singh had killed himself and, if so, how his actions were not spotted by jail staff or the three other prisoners sharing his cell.
"There is a major security lapse...Preliminary inquiry suggests he committed suicide. However, we will wait for the enquiry to be completed," said India's home minister, Sushilkumar Shinde.
Police have claimed Mr Singh, 33, led the December 16 attack on the physiotherapy student and her male companion, raping and assaulting her with an iron bar before throwing her naked from the bus. Her friend survived the ordeal but the young woman died two weeks later as a result of her injuries. Five adults and a juvenile have been charged over the attack. All have pleaded not guilty.
Mr Singh, along with four other men charged with the gang-rape and murder of the student, was to have today been brought before a fast-track court that is hearing the case against the adults. The court, from which the media has been banned, was to hear evidence from forensic experts.
But shortly before 5am, the alarm was raised in the prison complex's number three jail. A spokesman for the jail, legal officer Sunil Gupta, said: "This is being inquired into by the judicial magistrate. Only then will we know what happened. He was in a cell with three other accused – accused from a different case. He was not under suicide watch."
Mr Singh's lawyer, AK Anand, said he did not believe his client had taken his own life. He told The Independent that just two days ago, Mr Singh had met his five-year-old son in the court building and had appeared content.
"We do not think he committed suicide. He was bold, he was very happy, two days ago when I last saw him," said Mr Anand. "Why would be commit suicide?....It's foul play on the part of the jail authorities."
Meanwhile, the lawyer for two of the other men charged in the assault said he would Mr Singh's death as the basis for a bail application for his clients. "I will seek bail. They are not safe in Tihar jail," said AP Singh, who represents Vinay Sharma and Akshay Singh.
The family of Ram Singh called for an independent investigation into the suspect's death by India's federal investigation agency. Mr Singh's father, Mangelal Singh, told the Associated Press that his son had been raped in jail and threatened by guards.
Yet he said he visited his son four days ago and he gave no hint that something was especially wrong. He said his son had injured one of his hands several years ago which would have made it impossible for him to hang himself from the grille, eight feet above the cell floor. "Somebody has killed him," he said.
Meanwhile, the family of the physiotherapy student told the AFP they believed the jail authorities at Tihar were guilty of negligence.
"We don't understand how could the police fail to protect Ram Singh. They knew he was the prime accused in my daughter's case," said Badri Singh, father of the young woman. "How could they let him choose the way he wanted to die? The police have failed and I wonder what will happen to the case now."
The woman and a male friend were attacked after boarding a bus driven by Ram Singh as they tried to return home after watching a film. The death of the woman triggered a national debate about attitudes towards women in India.
In a statement taken by police, Ram Singh said that having repeatedly assaulted her, he tried to kill the young woman and her companion so they would be unable to identify their attackers. Later, they cleaned the bus and burned the victims' clothes in an attempt to destroy the evidence.
"He made a mistake – he admitted that to us – but even God forgives one mistake," Kalyani Devi, Ram Singh's mother, told Agence France-Presse. "He was not even given a chance to repent," she said.
Join our new commenting forum
Join thought-provoking conversations, follow other Independent readers and see their replies