Taiwan TransAsia flight GE235 crash: Amazing video shows toddler rescued from wreckage
The child appears unhurt as it is taken to the shore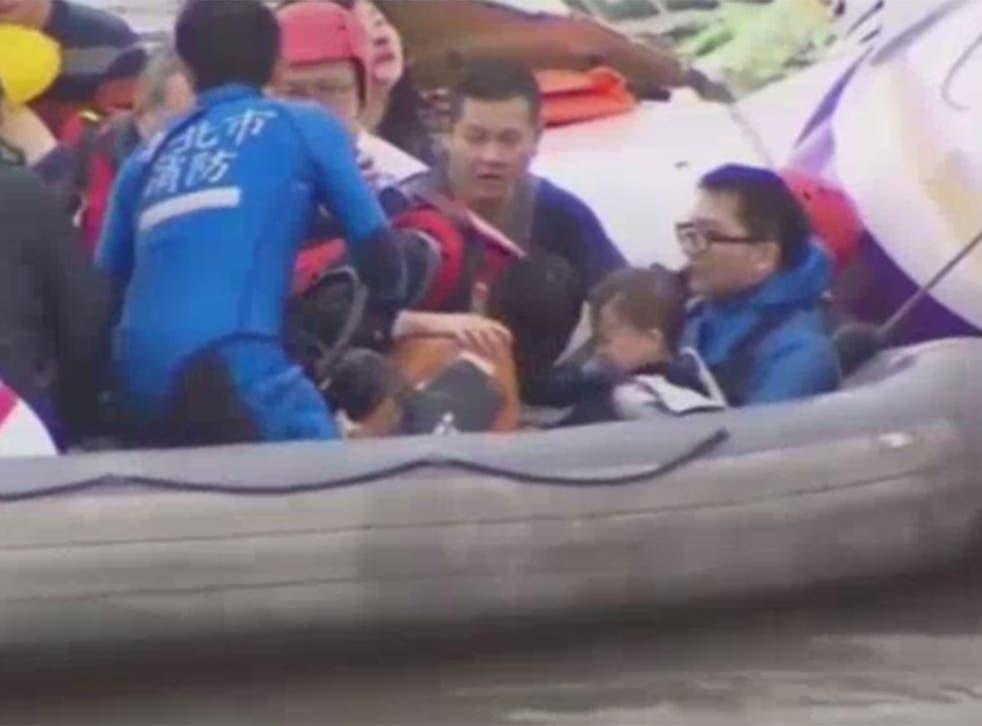 Astonishing footage has emerged showing the moment a young child was pulled alive from the wreckage of the TransAsia flight GE235 crash near the Taiwanese capital of Taipei.
Dramatic pictures taken by a car's dashcam and posted on Twitter showed the plane clipping over a motorway soon after the turboprop ATR 72-600 aircraft took off in apparently clear weather on a domestic flight for the island of Kinmen.
In the video of the rescue, emergency workers are seen gently pulling the young child onto one of the inflatable boats crowding the partially submerged fuselage.
The child's age and gender is not yet known. Television footage also showed survivors wearing life jackets wading and swimming clear of wreckage.
Fifty eight passengers and crew were onboard the flight and at least 11 people have been killed in the crash. Dozens remain missing. However, at least 15 people are believed to have escaped the wreckage.
The last communication from one of the aircraft's pilots was "Mayday Mayday engine flameout", according to an air traffic control recording on liveatc.net.
A flameout occurs when the fuel supply to the engine is interrupted or when there is faulty combustion, resulting in an engine failure. Twin-engined aircraft, however, are usually able to keep flying even when one engine has failed.
Join our new commenting forum
Join thought-provoking conversations, follow other Independent readers and see their replies