Taliban-US peace talks postponed after Afghanistan threatens to boycott negotiations in anger at Taliban's Qatar office
President Hamid Karzai also suspends talks with US on its military presence in after Nato leaves in 2014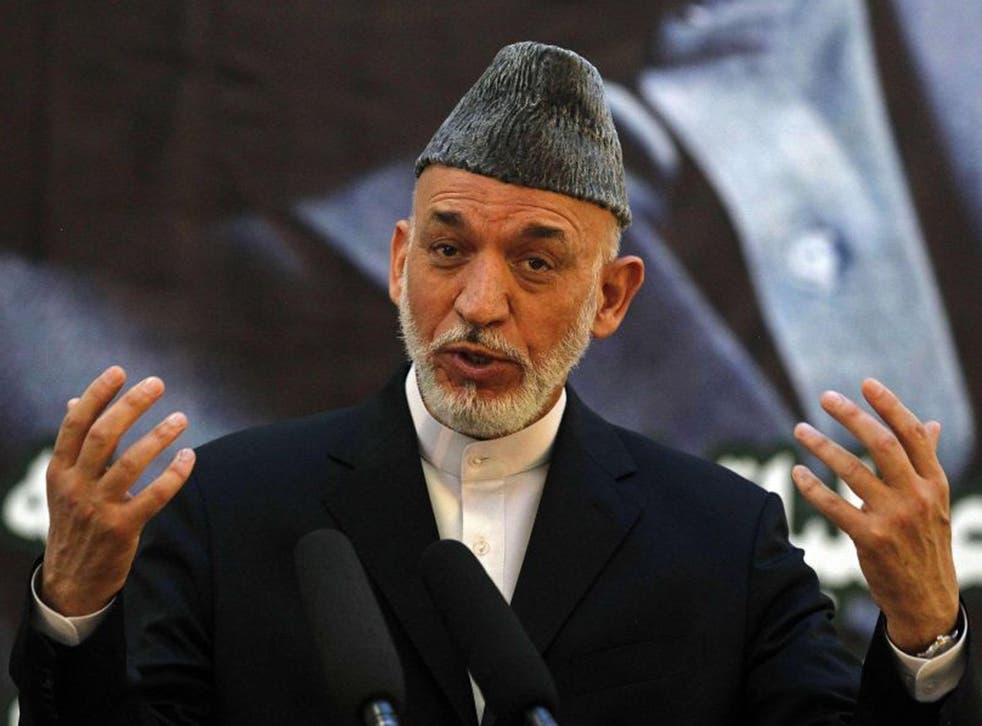 After President Hamid Karzai of Afghanistan broke off security talks with Washington yesterday, a source close to the matter has said that the milestone peace negotiations between the United States and the Taliban will not go ahead as planned today.
Kabul's sudden diplomatic pushback came a day after the White House heralded the "milestone" opening of a Taliban office in Doha as the venue for the first US-Taliban talks due to start today. The intention was for those conversations to be followed as soon as possible by the first contacts between the Taliban officials and Afghan government representatives.
On Tuesday, President Karzai indicated his willingness to send members of the High Peace Council to Qatar. But by today he had changed his mind, complaining about the way the talks process had been unveiled and about the Taliban's use of the name "Islamic Emirate of Afghanistan" for the Doha office.
It appeared that the US had taken a calculated risk in the way it announced the peace process, knowing some aspects would grate with Kabul. "There were going to be some areas of friction, to put it mildly, in getting this thing off the ground," President Barack Obama conceded to reporters during a visit to Berlin. "That's not surprising. They've been fighting there for a long time. There's enormous mistrust."
Nevertheless, the about-turn by Mr Karzai puts an immediate chill on the talks, which have remained a key component of American strategy in trying to pull away from its commitments in Afghanistan. Kabul laid down new conditions for participating, including that they become a purely Afghan process, which implied moving the venue from Qatar to Afghanistan, and that the Taliban renounce the use of violence.
A spokesman for the Taliban had said yesterday that the talks would go ahead as planned today. However, a source close to the matter said today: "There is nothing scheduled that I am aware of." Asked if that meant that the talks would not be going ahead, the source added: "Yes that's correct."
The US team had meanwhile already had informal consultations with Afghan government diplomats in Qatar. Casting an additional shadow was news of a rocket attack by Taliban militants on the Bagram airbase near Kabul that killed four American soldiers.
It wasn't clear how long Mr Karzai would withdraw from the security talks with the US, meant to finalise arrangements for keeping a small US presence in the country after the last of the Nato troops leave next year.
"Until the peace process is completely Afghan, the High Peace Council will neither attend nor participate in the talks in Qatar," Mr Karzai's office said in a statement.
A member of the Peace Council, Shafiullah Nooristani, confirmed the Doha office was a problem. "The agreement was that the office should open only for negotiations, not as a political entity like a parallel institution to the Afghan embassy," he said.
Register for free to continue reading
Registration is a free and easy way to support our truly independent journalism
By registering, you will also enjoy limited access to Premium articles, exclusive newsletters, commenting, and virtual events with our leading journalists
Already have an account? sign in
Register for free to continue reading
Registration is a free and easy way to support our truly independent journalism
By registering, you will also enjoy limited access to Premium articles, exclusive newsletters, commenting, and virtual events with our leading journalists
Already have an account? sign in
Join our new commenting forum
Join thought-provoking conversations, follow other Independent readers and see their replies