Anti-government protesters in Thailand call for nationwide uprising as unrest enters fourth day
Demonstrators vow to take over 'every ministry' of government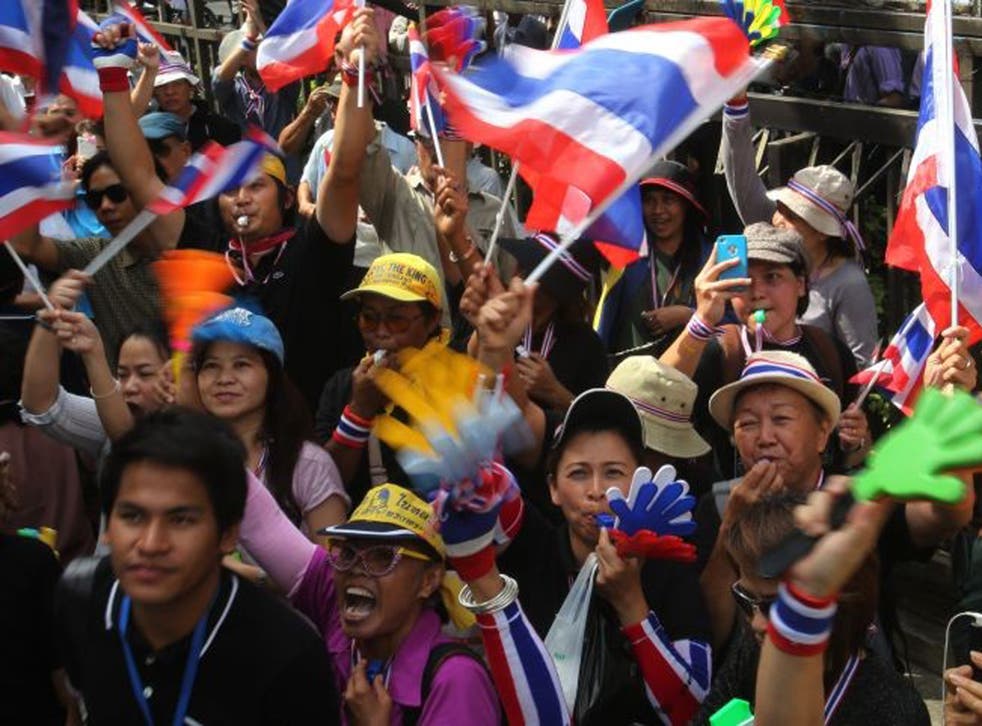 Flag-waving protesters vowing to topple Thai Prime Minister Yingluck Shinawatra took to the streets of Bangkok for a fourth straight day Wednesday, declaring they would take over "every ministry" of the government.
The brash threat is the boldest challenge yet to Yingluck's embattled administration, and it has raised fears of fresh political violence in the divided Southeast Asian nation. But in a city of some 10 million people, the demonstrators appeared to number only in the tens of thousands.
That's far less than the 100,000-plus mustered when they began on Sunday — indicating they are unlikely to bring down the government on their own without more popular support, or judicial or military intervention.
Yingluck has repeatedly said she wants to avert violence and offered to negotiate an end to the crisis. So far, security forces have not even fired tear gas to prevent protesters from forcing the closure of multiple government offices.
"We must not regard this as a win-or-lose situation," Yingluck told reporters at parliament on Wednesday. "Today no one is winning or losing, only the country is hurting."
Late Tuesday, police issued an arrest warrant for Suthep Thaugsuban, a former deputy premier leading the protest movement. He camped out overnight at the Finance Ministry, which has been converted into an ad-hoc protest headquarters since crowds stormed it on Monday, closing it down.
There appeared to be no attempt to detain Suthep, however, as he led some 6,000 supporters out of the Finance Ministry early today. The crowd eventually grew to 10,000 people, while thousands more marched from another base at the city's Democracy Monument and other smaller groups gathered elsewhere, waving Thai flags and blowing whistles.
An army intelligence officer, speaking on condition of anonymity because he is not authorized to speak to the press, estimated the total number of demonstrators at less than 20,000 by midday. But those numbers were likely to grow as supporters joined them on the streets.
On Tuesday, Suthep announced for the first time his goal is to replace the government with a non-elected council, a change he said was necessary to eradicate the political machine of former Prime Minister Thaksin Shinawatra.
Thaksin, Yingluck's billionaire older brother, was ousted by a 2006 military coup and fled the country to avoid a two-year prison term on a corruption conviction. He continues to sharply divide the nation, with his supporters and opponents battling for power.
In broad terms, the confrontation pits the Thai elite and the educated middle-class against Thaksin's power base in the countryside, which benefited from populist policies designed to win over the rural poor.
The anti-government campaign started last month after Yingluck's ruling Pheu Thai party tried to pass an amnesty bill that critics said was designed to absolve Thaksin and others of politically related offenses and allow him to return home. The Senate rejected the bill in a bid to end the protests, but the rallies have gained momentum.
On Tuesday, demonstrators surrounded the Interior Ministry and then cut off the electricity and water to pressure people inside to leave. Security personnel locked themselves behind the ministry's gates, with employees still inside. By Wednesday, just dozens of protesters remained outside, and some employees began returning to work. But several thousand were gathered at the industry and labor ministries.
"Let the people go to every ministry that remains to make civil servants stop serving the Thaksin regime," Suthep said. "Once you take over, civil servants can no longer serve the Thaksin regime. Brothers and sisters, go seize the city hall."
Suthep served as deputy prime minister under a previous Democrat Party administration, which faced mass protests led by Thaksin's "Red Shirt" supporters, who occupied Bangkok's city center for two months in 2010. Those demonstrations ended in an army crackdown which left about 90 people dead and left swathes of downtown in flames.
Pro-Thaksin parties have won every election since 2001, and the Democrats were crushed by Yingluck's ruling party during a landslide vote that brought her to power in 2011.
Suthep has rejected new elections, which the now-opposition Democrats are certain to lose.
"If we take down the Thaksin regime tomorrow, we will set up a people's council the day after tomorrow," Suthep said. "Let the people's council pick a good man to be the prime minister, good men to be ministers. Make it a dream team, make a Cabinet of your dream and the people's government."
Akanat Promphan, a protest spokesman, earlier said the offensive to seize government offices would be extended nationwide today, but the call appeared to be little-heeded.
The anti-Thaksin movement is strongest in Bangkok and the south, while Thaksin's many supporters in other areas might challenge the protesters, raising another prospect for violence.
Yingluck's government is also fending off sharp criticism during a parliamentary no-confidence debate this week. A vote is expected Thursday, although it would be impossible to unseat Yingluck since her party controls the House of Representatives.
AP
Join our new commenting forum
Join thought-provoking conversations, follow other Independent readers and see their replies