Thailand murders: Amnesty demands inquiry into allegations of torture of suspects
Thai police are alleged to have doused some questioned migrant workers with boiling water, in addition to have beaten and threatened them, as doubts are raised over the veracity of the confessions of two Burmese workers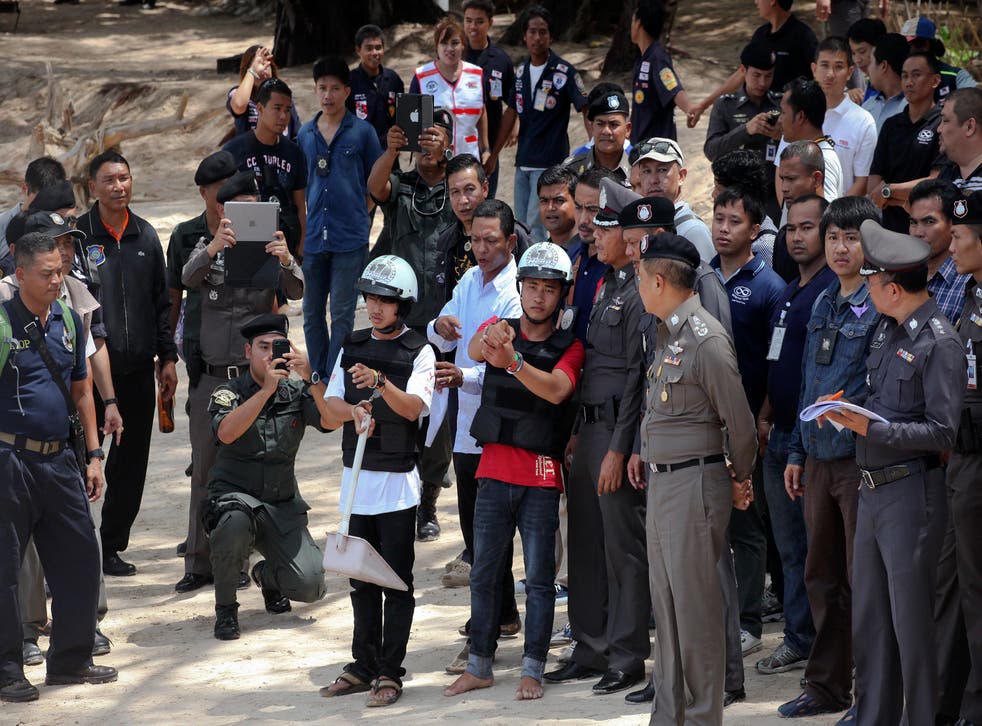 Amnesty International is urging the Thai junta to conduct an independent investigation into allegations that two Burmese workers who "confessed" to the murders of two British backpackers did so under duress and torture.
In addition, the Myanmar [Burmese] Migrant Labour Association is also calling for a review of the investigation, after a further three Burmese nationals were alleged to have been beaten and doused with boiling water while being questioned, according to the Bangkok Post.
Britons Hannah Witheridge, 23, and David Miller, 24, were found slumped next to beach rocks after being brutally murdered on the Thai island of Koh Tao on 15 September.
The backpackers suffered severe head injuries, while Hannah is also understood to have been raped by the perpetrators and an autopsy found that David had drowned in the surf.
Two Burmese workers, only known as Saw Rim and Win, both 21, have been charged with the murder of the tourists and, if convicted, face the death penalty.
In pictures: Thailand beach murders

Show all 12
They were paraded in front of cameras to reconstruct how they allegedly carried out the crimes, while the Thai police chief said a positive DNA match had been made between the migrants and that of the British travellers.
Amnesty says that one of the men had told their lawyer that the police had beaten him and threatened him with electrocution.
Richard Bennett, Amnesty International's Asia-Pacific Programme Director, said: "The Thai authorities must initiate an independent, effective and transparent investigation into mounting allegations of torture and other ill-treatment by police.
"The pressure to be seen to be solving an appalling crime that has garnered considerable attention should not result in the violation of rights, including to a fair trial."
Thai military rulers had been keen to wrap up the case as soon as possible, after the incident negatively affected its tourism industry – 800,000 Britons travel to the sun-soaked country each year.
A spokesperson for Britain's Foreign and Commonwealth Office told The Independent: "We are concerned about the reports of allegations of mistreatment and expect these to be dealt with appropriately.
"The investigation and judicial process remains a matter for the Thai authorities, but we expect it to be conducted in a fair and transparent way.
"We remain in contact with them and have asked that they provide updates to the British Embassy in Bangkok and the Foreign and Commonwealth Office in London."
A lawyer commissioned by the Burmese embassy in Thailand to look into the case reportedly stated that it is "set-up and not based on hard facts".
According to Reuters, a Norwegian-based news organisation called Democratic Voice of Burma quoted lawyer Aung Myo Thant as saying: "From what we have learned, there are inconsistencies with both the forensic report and evidence provided in the case."
The third migrant, who hasn't yet been charged, is still in police custody.
Thailand's police chief General Somyot Poompanmuang refuted the claims in a press conference today: "I insist that all officials in this case have done a good job. A perfect job."
Police Major General Suwat Chaengyodsuk added: "I confirm that there was no abuse of any of the suspects."
Amnesty, however, says that one of the mothers of the alleged beaten migrants has said that those mistreated were told by police not to speak to the media.
"They must also ensure that any alleged confession or information that has been coerced as a result of torture is not admitted as evidence in court, unless to prove that torture has been carried out," Amnesty's Mr Bennett said.
Adding: "All suspects should also be guaranteed their rights to a fair trial – which is of particular importance in a crime that could carry a death sentence."
Join our new commenting forum
Join thought-provoking conversations, follow other Independent readers and see their replies