Thailand unrest: Protesters throw general election into chaos
Country likely to be stuck in political limbo for months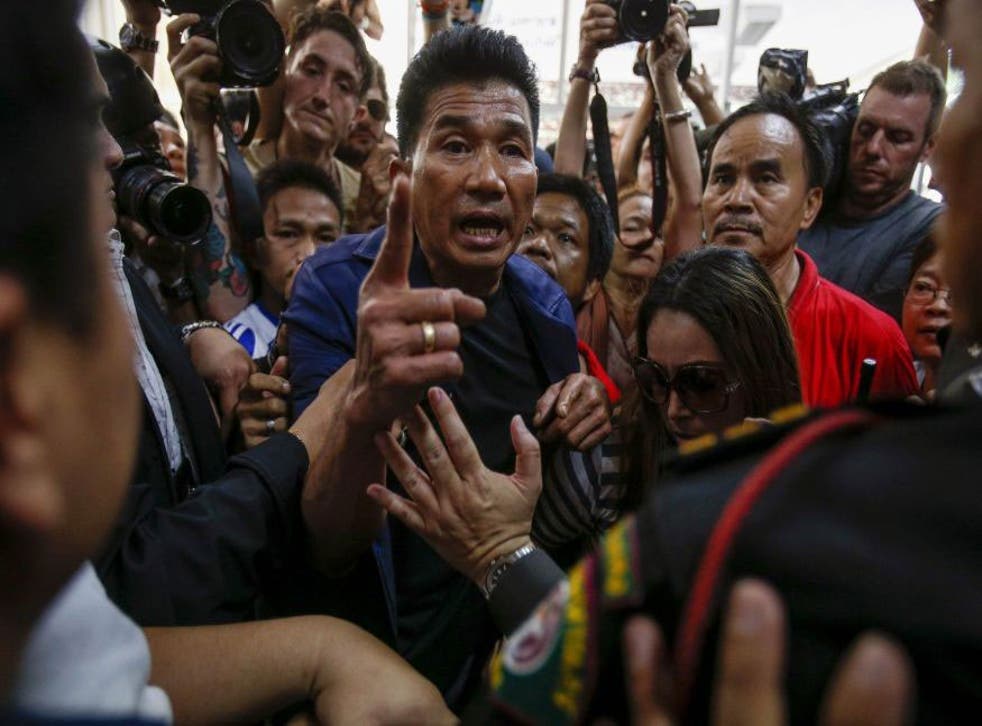 Snap general elections intended to defuse the political crisis in Thailand descended into chaos yesterday as anti-government protesters blocked voting across swathes of the country.
Prime Minister Yingluck Shinawatra is expected to win by a landslide off the back of strong support in the country's north, but an official result is expected to take weeks to come through, after millions of people were left disenfranchised following a boycott of the vote by the main opposition Democrat Party. By-elections are already being planned for the end of February.
"I don't think the election should [have gone] ahead today but I didn't want to lose my right to vote," said Phorntiwa Vijatomane, a tour operator, after casting her ballot in northern Bangkok yesterday. "Nothing is going to change if the same people come to vote for the government again."
Anti-government protests have paralysed parts of Bangkok over the past three months, with sporadic violence leaving at least 11 dead and hundreds more injured. The standoff prompted the government to dissolve parliament and implement a two-month state of emergency in and around the capital.
In pictures: Gunfire and explosions at Thai pre-election protests

Show all 13
The opposition had called for reforms before voting took place, and demands that an unelected caretaker administration take over control of the country from the current government, which they accuse of being corrupt.
Former Democrat MP Suthep Thaugsuban, the leader of the protests, has said he plans to sue the government for holding the elections.
Violence between pro-government "red-shirts" and anti-government "yellow-shirts" has escalated in recent weeks, particularly in Bangkok. A gun battle between rival party supporters left nine people injured on the eve of the election in the northern Bangkok suburb Lak Si. Polls in the area were closed to try to prevent further clashes.
Though yesterday's vote was more subdued, gunshots were also heard in Din Daeng, another district in the capital, as voters forced their way into a polling booth blocked by protesters.
Chuwit Kamolvisit, a massage-parlour tycoon turned politician, was involved in a brawl on his way to vote in Bangkok after he was attacked by a protester.
Government supporters have accused some election officials of co-operating with the opposition in order to block voting.
In central Bangkok's Ratchathewi, voters made their own ballot papers and boxes after a delivery of official equipment was blocked by the anti-government movement.
"The Ratchathewi district chief doesn't want an election so we'll vote by ourselves," read a banner outside the makeshift polling station.
In the south, where the opposition enjoys widespread support, no voting took place in nine provinces, including the beach resorts of Phuket and Krabi.
In Thailand's four southernmost provinces, only partial voting could take place after some of the ballot papers were blocked from being delivered.
The clashes have highlighted further divisions in the country, including a separatist movement in the far south, where a long-term, sporadic uprising has left dozens of people dead including soldiers and teachers.
Thailand has endured eight years of cyclical political crises since a coup in 2006 ousted the popular but divisive former prime minister Thaksin Shinawatra, the incumbent's billionaire brother and a former chairman of Manchester City. He remains in self-exile in Dubai to avoid corruption charges which he says are politically-motivated.
With multiple by-elections on the horizon, there is little sign of the current crisis waning during the weeks to come.
"The political struggle is still ongoing," said Thanet Apornsuwan, a history professor at Bangkok's Thammassat University. "The two forces have been unable to come to any discussion or negotiation."
Analysts have in part blamed the country's troubles on uncertainty surrounding who will succeed ailing 86-year-old King Bhumibol Adulyadej, the world's longest-reigning monarch.
Despite draconian lese majeste laws threatening 15 years in prison for those who discuss the palace, speculation on social media has increased over whether Crown Prince Vajiralongkorn – who is linked to Thaksin – will follow his father as first in line to the throne.
Join our new commenting forum
Join thought-provoking conversations, follow other Independent readers and see their replies