Thousands of dead fish wash up in river less than four miles from site of Tianjin explosion
The fish coincide with warnings that cyanide levels in the waters around Tianjin port have risen to 277 times more than acceptable levels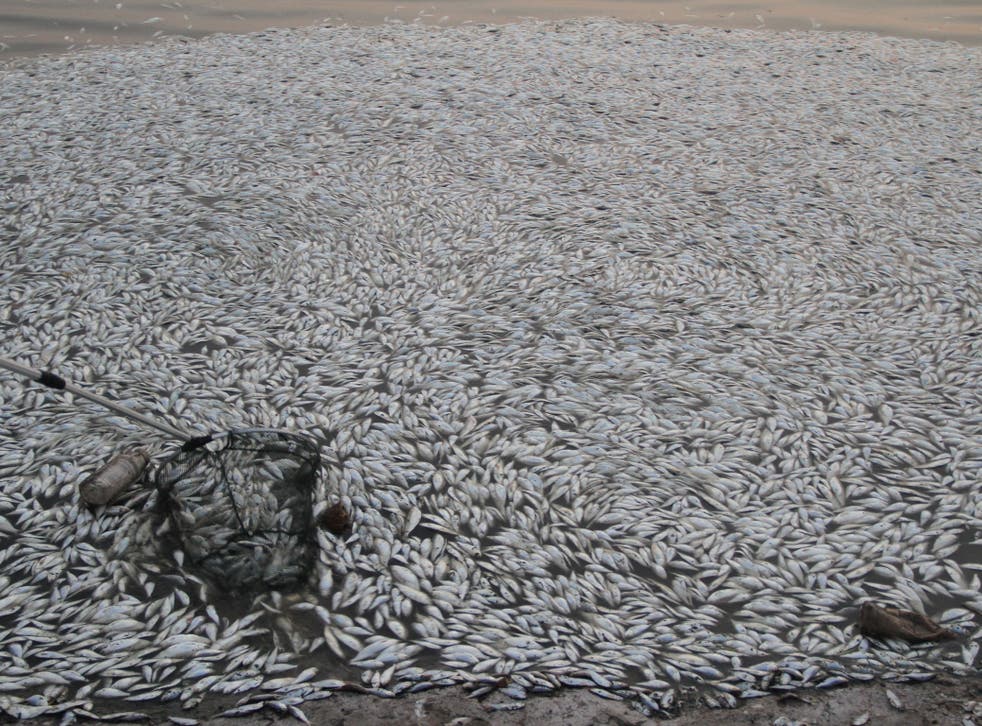 Thousands of dead fish have washed up on the shore of a river near Tianjin, a day after authorities declared drinking water was safe following last week's blasts at a warehouse containing explosive and dangerous goods.
The fish were found less than four miles from blast site and coincide with warnings that cyanide levels in the waters around Tianjin port have risen to 277 times more than the acceptable levels.
State authorities have confirmed that over 700 tonnes of the deadly chemical sodium cyanide were stored at the Tianjin warehouse when it blew up.
Following the blasts, nationwide inspections of facilities handling dangerous chemicals and explosives have been ordered by China's State Council.
Large crowds were gathered on the banks of the Haihe river on Thursday to see the vast numbers of dead fish, the New York Times reported.
Wang Lei, 47, a freight company manager, told the New York Times: "I've never seen anything like it. There has to be a link between the dead fish and the blast. What else could explain the death of so many?"
Tianjin officials have attempted to reassure the public saying that the dead fish were caused by regular seasonal low oxygen levels in the water and were not related to the blasts.
The state-owned China Central Television also reported that tests found no significant presence of cyanide in that section of the river.
Greenpeace have said that tests around the blast site indicate that water supplies were not severely contaminated with cyanide, but that they did not "disprove the presence of other hazardous chemicals in the water".
At least 114 people were killed in the blasts on 12 August, while 65 people remain missing and presumed dead from the disaster.
Over 6,000 people have been displaced by the event and shockwaves from the blast were felt by people in apartments several kilometers away.
The larger explosions were registered as seismic events with the US Geological Survey.
A 3km exclusion zone has been placed around the site and workers were attempting to clear the area before possible rain showers, which could create toxic gas.
Additional reporting by Reuters
Join our new commenting forum
Join thought-provoking conversations, follow other Independent readers and see their replies