Thousands evacuated ahead of typhoon Noul's landfall in Philippines
Storm is expected to hit populated island of Luzon early Sunday morning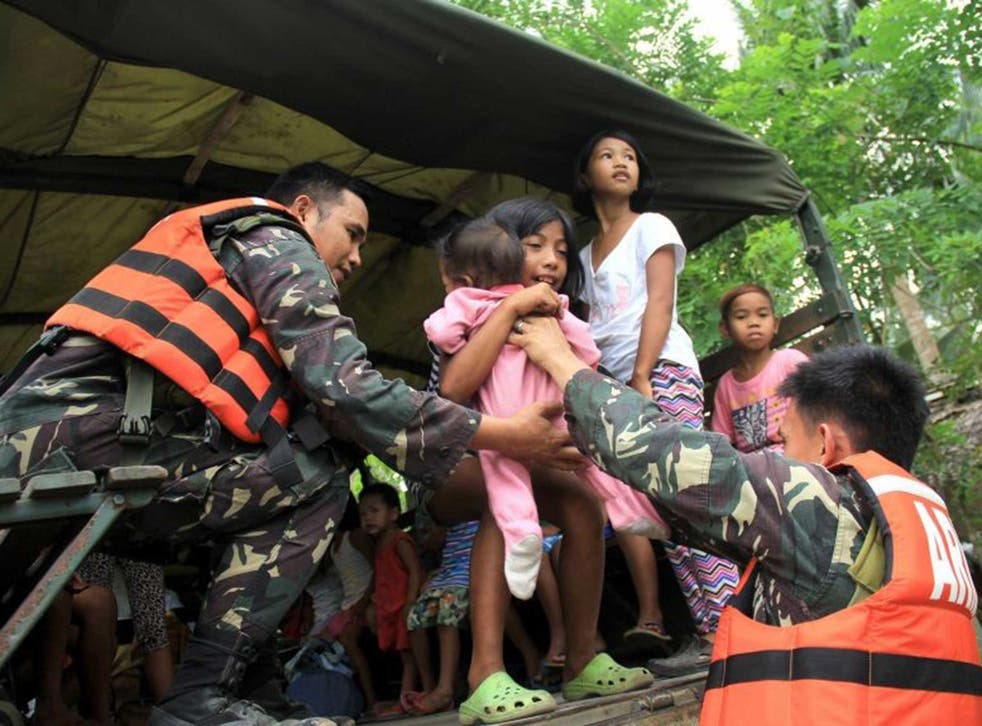 Thousands of people have been evacuated ahead of a typhoon with winds up to 100mph expected to sweep across the Philippines.
Typhoon Noul, blowing consistently over 100mph and with gusts of 122mph, is expected to make landfall at around 5am tomorrow morning – bringing widespread misery to locals on the populated Luzon island in the north-east of the country.
In addition to the dangerously strong winds, forecasters are warning that heavy rain could prompt landslides in mountainous regions as well as a 2.5m storm surge along the coast.
More than 11,000 people have reportedly been moved in preparation for the storm, many into shelters erected in two towns near volcanic Mount Bulusan – which already erupted twice this week.
Local Luzon mayors are standing by to decide whether to issue further evacuations as state forecasters issued storm alerts in 19 areas across the island.
"There could be lahar (mud and rock) flow, mudslides, that could sweep away houses in the area if there is heavy rain ... that is the danger," weather bureau division head Esperanza Cayanan told a briefing at the National disaster agency.
Meanwhile, ferry services have been shut leaving approximately 6,000 people stranded in ports, according to the National Disaster Risk Reduction and Management Council.
Within 200-miles Noul's heavy rainfall could be expected to bring down power lines, uproot trees, remove roofs from thatched homes and damage important local crops, such as rice and corn.
The typhoon, the fourth to hit the country this year, is expected to weaken as it moves across the cluster of island before hitting the Japanese island of Okinawa on Tuesday, Al Jazeera reported.
On average the Philippines are hit by 20 typhoons every year, with super typhoon Haiyan, which killed more than 8,000 people, being the most calamitous recently.
Additional reporting by Associated Press
Join our new commenting forum
Join thought-provoking conversations, follow other Independent readers and see their replies