Tiananmen Square 'suicide crash' blamed on Uighurs
Police have been engaged in a citywide manhunt for two suspects, reportedly from the ethnic Muslim minority from the restive Xinjiang province in the far west of China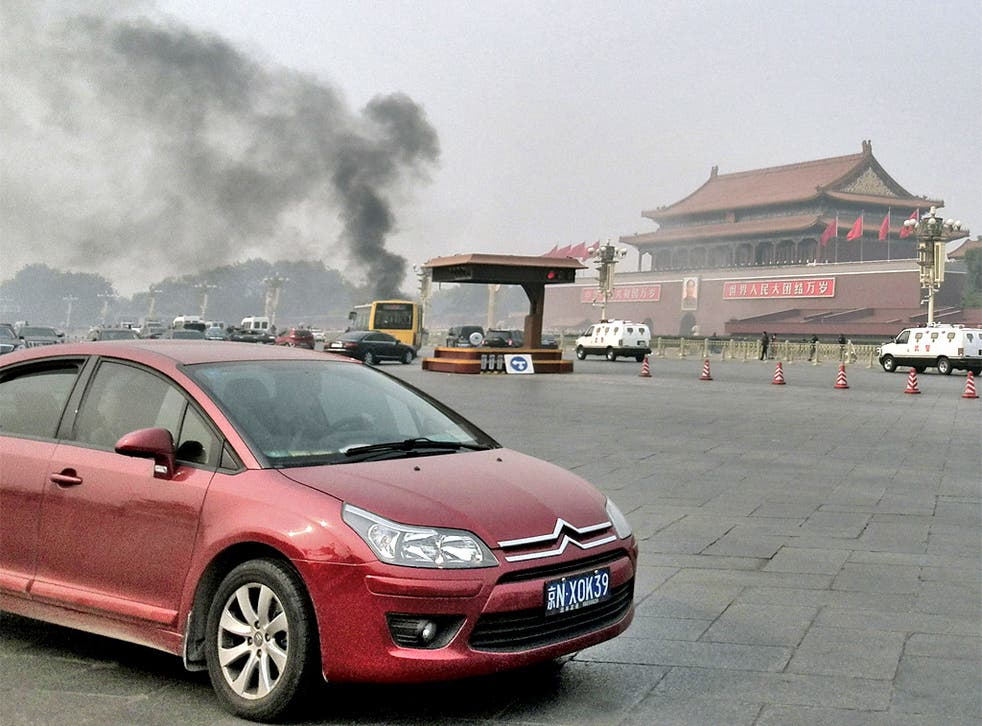 Chinese authorities are seeking information on two men in connection with a fatal car crash at Tiananmen Square on Monday, which is now believed to have been a suicide attack carried out by separatists.
Three men drove a 4x4 vehicle into a crowd at the sensitive attraction at Beijing's Forbidden City. The car burst into flames before it crashed, killing the passengers and two tourists.
Eyewitnesses spoke of a banner visible in the back of the white SUV as it ploughed into the bystanders milling around almost directly below the portrait of modern China's founding father Mao Zedong. The vast Tiananmen Square was the site of a bloody crackdown on pro-democracy protesters in 1989. These days it has the heaviest security of any site in China.
The square is beside the central leadership compound of Zhongnanhai, and on one side it has the Great Hall of the People, where the parliament meets once a year, and it is also home to Mao's mausoleum. Police have been engaged in a citywide manhunt looking for the two suspects, who are reportedly ethnic Uighurs, a Muslim minority from the restive Xinjiang province in the far west of China, bordering Central Asia.
"It looks like a pre-meditated suicide attack," a source with direct knowledge of the matter, speaking on condition of anonymity, told Reuters. Police released no word about a possible motive for Monday's incident, but a police notice sent round to hotels in the city said a "major case had taken place on Monday" and named two residents of Pishan county and Shanshan county in Xinjiang as likely suspects. It was unclear whether the two were believed to have perished in the car or were still at large.
Xinjiang's eight million Turkic-speaking Uighurs are a Turkic Muslim ethnic group that shares cultural links to central Asia, and is quite distinct from China's majority Han. Many feel overwhelmed by Han Chinese influence, a migration they describe as cultural imperialism driven by Beijing.
The Communist Party tightly controls expressions of Islam and other religions throughout China. A simmering separatist campaign in the region has occasionally boiled over into violence during the past 20 years, although the unrest has never reached the nation's capital.
Uighurs are also not known to have previously carried out any suicide attacks.
Join our new commenting forum
Join thought-provoking conversations, follow other Independent readers and see their replies