US envoy says mistakes of the West 'prolonged Afghan war' and cost lives
Senior official gives candid assessment of the 12-year conflict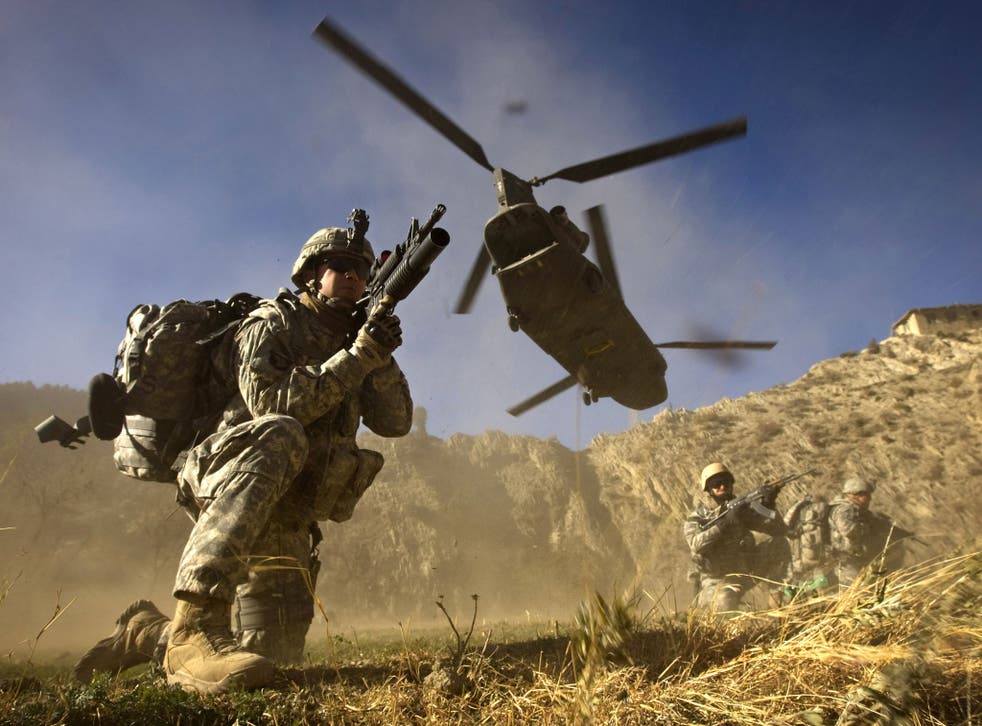 Mistakes committed by the West in Afghanistan unnecessarily cost lives and prolonged the bloody war, a senior member of the US administration has acknowledged in a candid assessment of the 12-year-old mission.
James F Dobbins, Barack Obama's special representative to Afghanistan and Pakistan, also stated that it had been wrong to sideline Iran and Russia after both supported the intervention by America and Britain in 2001. He added that Tehran and Moscow will have a part to play in rebuilding the country after the departure of Nato troops.
Reconciliation efforts with the Taliban should also have started much earlier, said the envoy. Instead the decision was taken to invade Iraq, which allowed the Afghan insurgents to regroup and rearm in neighbouring Pakistan and this was at a time when failure to install an international force of an adequate size had already begun to undermine security.
If these mistakes had not been made "the insurgency would have either been avoided or attenuated and clearly many lives, Afghan as well as allied, would have been saved", said Mr Dobbins.
The critical analysis has particular resonance as Ambassador Dobbins is regarded as one of the most experienced American diplomats on Afghan affairs. Following the 11 September attacks in 2001 and the decision to take military action, he was asked by President George W Bush to help organise a coalition government to replace the Taliban and subsequently led Washington's team at the Bonn Conference where this was finalised. On 16 December 2001 he personally raised the Stars and Stripes as the US embassy was reopened in Kabul.
The veteran official had also been asked to carry out a number of other troubleshooting assignments by both Presidents Bush and Clinton as special envoy to Kosovo, Bosnia, Haiti and Somalia. He also served as American ambassador to the European Union.
Speaking in London yesterday Mr Dobbins said: "I think we made several mistakes back in 2002. I think it was probably a mistake to delay a serious effort at reconciliation until 2011. I think an effort to integrate the Taliban who were willing to come over, who were willing to accept the constitution evolving at the time, these initiatives would have been better if they were taken earlier."
He continued: "If an international peacekeeping force under UN or some other international mandate had been deployed earlier on I think it would have aided the process of stabilisation, economic investment and allowed improved security in those early years when the situation was far more favourable than it subsequently became.
"Of course the decision to move on to Iraq made it more difficult for us to turn our focus back on Afghanistan when the situation eroded there. So by 2005-6, when it was very clear that much more needed to be done in Afghanistan, we simply didn't have the resources to do so. I think it's possible [without the mistakes] we would never have had an insurgency. It's certainly likely that had we done these things the insurgency would have been significantly attenuated.
"Had we focused on denying the Taliban the kind of opportunities it had to reorganise, to recruit, to train to raise funds, pretty much free of interference [in Pakistan] because we were focused on other things… I think all of those things would have made a difference had we kept a priority on Afghanistan during those early years."
Referring to the help given by Iran, Russia and others in 2001 to the US over Afghanistan, Mr Dobbins said that "the coalition created at the time should not have been allowed to dissipate in the ensuing months".
Tehran, the ambassador pointed out, has legitimate concerns in Afghanistan. "Their interests are not incompatible with that of the current Afghan government. They don't like the Taliban, they are worried about drugs, and they want protection for the Shia minority."
Mr Dobbins admitted that the Taliban remained "a resilient force capable of mounting acts of violence". But he insisted there was no reason to fear that Afghanistan would descend into civil war or sectarian strife following Western withdrawal. "A lot will depend on the upcoming elections; but all the candidates say they are standing for unity and not division" he said.
"The Afghan forces have performed well and they have proved that they can provide security for their country. The Afghan people have showed they want democracy and stability."
DRONE KILLS PAKISTANI TALIBAN CHIEF
Mehreen Zahra-Malik (Reuters) in Islamabad
The head of the Pakistani Taliban has been killed by a US drone strike, according to Reuters. Hakimullah Mehsud, who was believed to be in his mid-30s and one of Pakistan's most wanted men, has been reported dead several times before.
But this evening, several intelligence, army and militant sources across Pakistan stated he had been killed in the lawless North Waziristan region.
Mehsud's Pakistani Taliban is an umbrella of militant groups separate to but allied with the Afghan Taliban.
Mehsud took over the Pakistani Taliban in August 2009 after a drone strike killed the previous leader, his mentor.
Four security officials confirmed his death to Reuters. His bodyguard and driver were also among the dead, they said.
"Among the dead, who are in large numbers, are Hakimullah's personal bodyguard Tariq Mehsud and his driver Abdullah Mehsud, two of his closest people," said one intelligence source, adding at least 25 people were killed in the strike.
Join our new commenting forum
Join thought-provoking conversations, follow other Independent readers and see their replies