Woman sexually assaulted by two men is then beaten up for protesting about it
Man arrested after victim hit repeatedly with a stick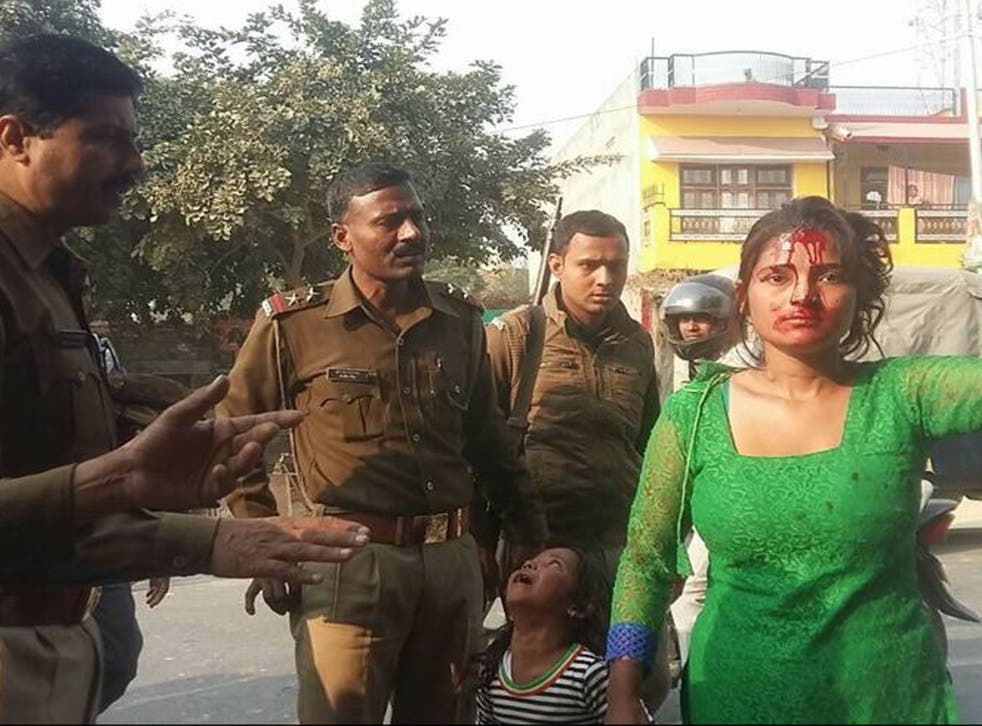 A woman has reportedly been beaten for resisting molestation by two men in a town in the east Indian region of Mainpuri.
One man has been arrested and an investigation is underway to find two more people in connection with the incident.
Video of the altercation which was shared on Facebook shows a struggle involving the woman and a man in a striped shirt.
Another man begins to hit her violently with a stick on the head, back and shoulder.
In pictures from after the incident, the woman's head is shown bleeding and her young daughter, who was at the scene, is shown sobbing in distress.
The woman was with her husband in a busy market in the village of Kishani when one of the men pulled at her dupatta – a cloth arranged over the chest and shoulders – and groped her, according to reports.
She said she had asked the men for directions when they insisted she enter a building with them.
"I asked him to talk with respect. But he started abusing us and started fighting. The person used a stick to beat my husband, but hit me instead," the victim told Asian News International.
World news in pictures

Show all 50
Police Superintendent Sunil Saxena told the agency, "We have registered the case and after that the medical checkup was done.
"We have taken the preventive action by arresting the accused.
"The accused was arrested within hours of the incident and after that a special team has been made to arrest the remaining culprits.
"We have made a team which includes the surveillance team and sub-inspectors. I am monitoring that; soon we will complete the remaining proceedings."
Uttar Pradesh, among other states in India, is holding elections in the coming months and the videos have been used by opposition to the ruling Samajwadi Party, who claim they are not doing enough to tackle crime in the region.
"There is a complete breakdown of law and order. The chief minister can launch as many new schemes as he wants, but till the police and people are scared of unruly elements who have state protection, nothing will work," said Vijay Bahadur Pathak, a senior BJP.
Register for free to continue reading
Registration is a free and easy way to support our truly independent journalism
By registering, you will also enjoy limited access to Premium articles, exclusive newsletters, commenting, and virtual events with our leading journalists
Already have an account? sign in
Register for free to continue reading
Registration is a free and easy way to support our truly independent journalism
By registering, you will also enjoy limited access to Premium articles, exclusive newsletters, commenting, and virtual events with our leading journalists
Already have an account? sign in
Join our new commenting forum
Join thought-provoking conversations, follow other Independent readers and see their replies