Women in Indonesia subjected to painful 'virginity tests' to join police force
Human rights watchdog says female recruits face degrading and invasive tests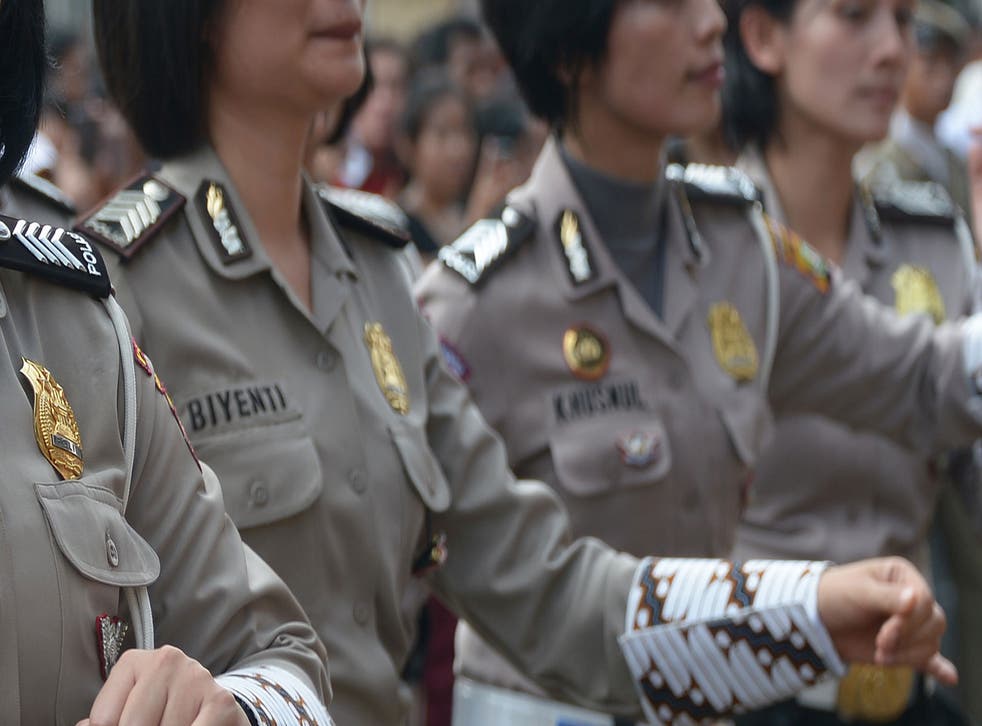 The Government in Indonesia is subjecting female recruits for its national police to painful and traumatic "virginity tests", a human rights watchdog has found.
Women in Indonesia are required to complete an "obstetrics and gynaecology" exam as part of the recruitment process to enter the force.
Indonesia's National Police jobs website states that in addition to medical and physical tests, women hoping to become policewomen must also undergo virginity tests.
A note on the website adds: "So all women who want to become policewomen should keep their virginity." Women who are married are not eligible to apply.
The "discredited and degrading" exam is given early in the recruitment process to determine if the woman's hymen is still intact, according to Human Rights Watch (HRW).
Female recruits who "fail" the test are not necessarily disqualified from the recruitment process, but HRW says the practice contravenes national police principles that the process of recruitment must be both "nondiscriminatory" and "humane".
It says the virginity tests also violate international human rights policy.
The organisation interviewed female police recruits and officers from six Indonesian cities, who described the test as distressing, with one applicant saying: "They inserted two fingers. It really hurt. My friend even fainted because ... it really hurt, really hurt."
Another 19-year-old woman said she was "humiliated" by the virginity test. "Why should we take off our clothes in front of strangers?" she asked. "Yes, [the virginity testers] were women, but they were total strangers. It was discriminatory. It is not necessary. I think it should be stopped."
An 18-year-old woman said she was told ahead of the internal examination that any applicants who did not want to be tested could resign from the selection process – meaning they would not be able to enter the force.
She also described candidates fainting "due to the stress" of the test.
Nisha Varia, associate women's rights director at HRW, said the use of virginity tests is "a discriminatory practice that harms and humiliates women".
"Police authorities in Jakarta need to immediately and unequivocally abolish the test, and then make certain that all police recruiting stations nationwide stop administering it."
An Indonesian police spokesman said the test was no reason to "respond negatively" to the force's requirements.
Maj Gen Ronny Sompie claimed the exam was used to establish whether applicants have contracted a sexually transmitted infection. "All of this is done in a professional manner and [does] not harm the applicants," he added.
Join our new commenting forum
Join thought-provoking conversations, follow other Independent readers and see their replies