Australia bushfires: Dozens of homes destroyed as residents flee locked-down city
'Right now WA is battling two different kinds of emergencies – a dangerous fire emergency and a Covid-19 lockdown emergency'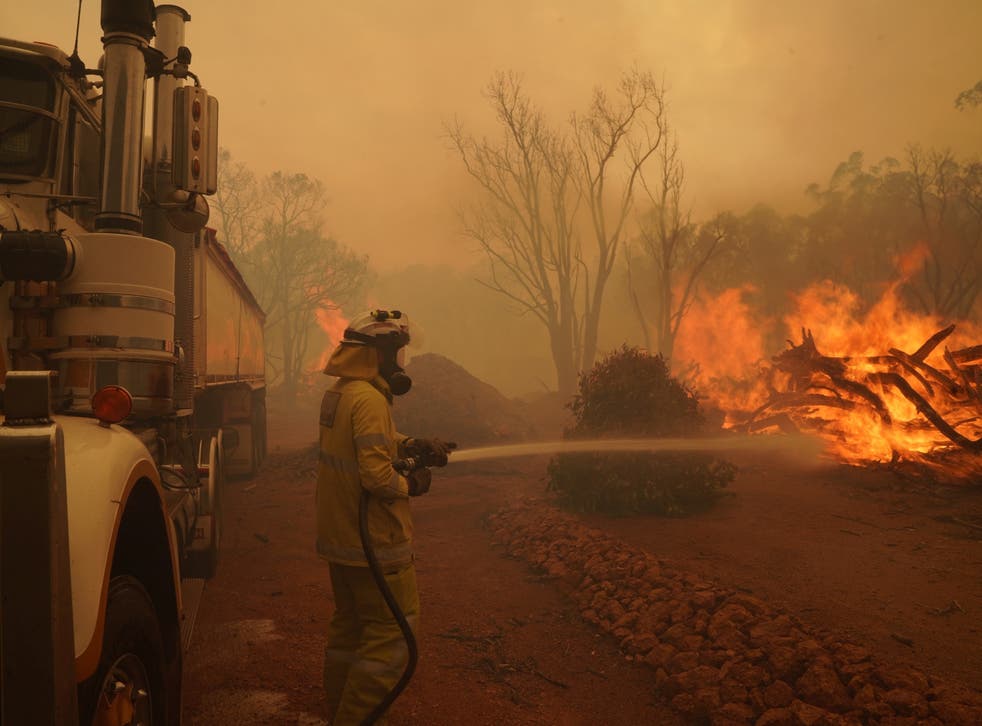 A huge wildfire burning out of control northeast of the city of Perth in Australia has razed dozens of home, threatening more as nearby residents scramble to evacuate the region.
The blaze spans across 7,000 hectares (17,000 acres), with an 80km (50 mile) perimeter. It began on Monday and raged through the night near the town of Wooroloo, also affecting the shires of Mundaring, Chittering, Northam, and the city of Swan.
Although much of Western Australia is under a strict five-day coronavirus lockdown, people have been told to flee to safety as the state faces an "extremely concerning and serious" situation.
Mark McGowan, Western Australia Premier, said: "Right now WA is battling two different kinds of emergencies – a dangerous fire emergency and a Covid-19 lockdown emergency.
"It is going to be an extremely challenging day for everyone involved. Please do everything you can to keep you and your family safe and look after each other," he added.
However, residents in a 25km stretch from Wooroloo to the Walyunga National Park were told on Tuesday that conditions had become too dangerous to leave their homes.
A warning said: "You must shelter before the fire arrives, as the extreme heat will kill you well before the flames reach you."
Western Australia state Department of Fire and Emergency Services commissioner, Darren Klemm, hailed firefighters for doing "a remarkable job in some of the most challenging conditions that we've experienced in the metropolitan region for some time".
"Tragically, 59 properties have been lost in this fire and that number may increase as we continue to assess the extent of the damage," he added.
According to Mr McGowan, 80 per cent of all properties at Tilden Park near Gidgegannup on the northeast rural fringe of Perth have been lost.
A large aerial tanker was en route from the Australian east coast to help fight the blaze, he said.
According to the Australian Broadcasting Corporation, six firefighters sustained minor injuries but no other injuries have been reported.
The cause of the blaze has not yet been determined. Peter Sutton, superintendent of the Department of Fire and Emergency Services, said about 250 firefighters have been battling the blaze, but added that it has been "near on impossible… to suppress this fire".
In late 2019 and early 2020, southeastern Australia was ravaged by devastating wildfires caused by a prolonged heat wave. Studies have linked the extreme heat wave to climate change, with climate scientists saying such intense heat waves in the region are about 10 times more likely to occur now than in 1900.
Additional reporting by agencies
Register for free to continue reading
Registration is a free and easy way to support our truly independent journalism
By registering, you will also enjoy limited access to Premium articles, exclusive newsletters, commenting, and virtual events with our leading journalists
Already have an account? sign in
Register for free to continue reading
Registration is a free and easy way to support our truly independent journalism
By registering, you will also enjoy limited access to Premium articles, exclusive newsletters, commenting, and virtual events with our leading journalists
Already have an account? sign in
Join our new commenting forum
Join thought-provoking conversations, follow other Independent readers and see their replies