Australia: Indigenous weekend blighted by racist slur after 13-year-old girl calls top sportsman Adam Goodes 'an ape'
The incident happened on Friday evening during a football match celebrating the contribution of Aborignal players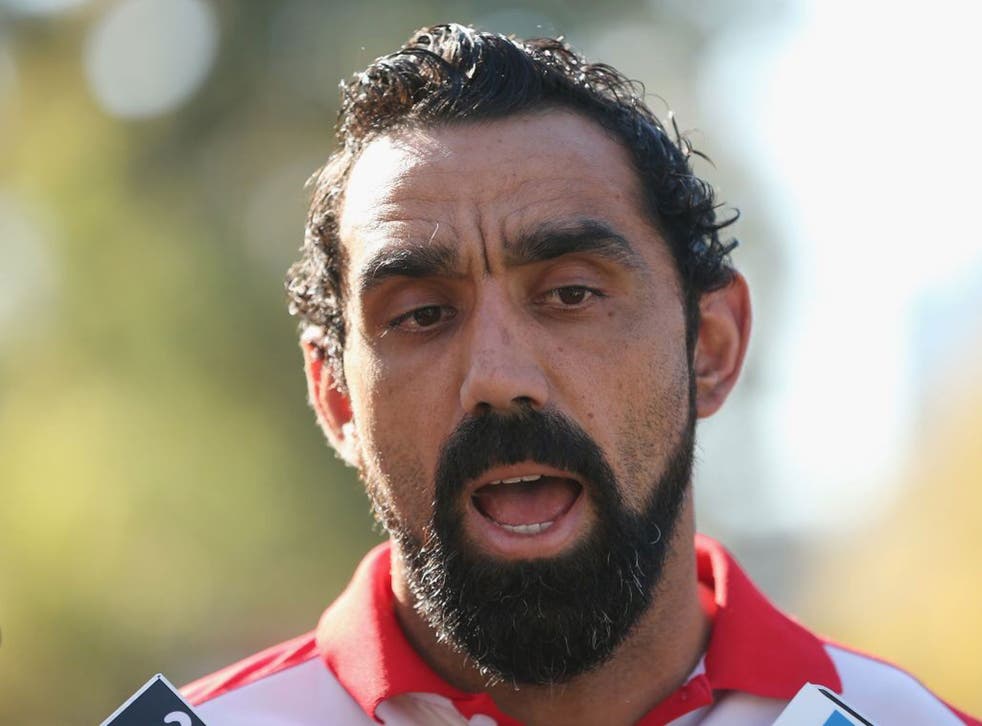 A weekend aimed at celebrating the contribution of Australia's indigenous community has been marred by an incident in which a 13-year-old girl called Sydney Swans star Adam Goodes an "ape".
The incident happened on Friday evening during a football match celebrating Aborignal players.
The girl has since apologised for the comment and Goodes, one of the country's top sportsmen, has urged support for the young fan.
The timing of the row couldn't have been worse, coming as it did during the Australian Rules football "indigenous round" weekend which was intended to show a united front against racism.
The weekend of events ends today with national 'Sorry Day' which acknowledges the historical mistreatment of Aboriginal people.
Mr Goodes, who has won the title twice with Sydney Swans, said he was 'gutted' following the alleged racist taunt during his side's win over Collingwood.
Julia Surowka, 13, fired the slur at Goodes when he came near the boundary in the final minutes of the Swans game against Collingwood at the MCG.
Goodes immediately pointed the girl out to security who escorted her from the ground.
He left the field visibly upset saying later: "To hear a 13-year-old girl call me an ape ... and it's not the first time on a football field I've been referred to as a monkey or an ape ... it was shattering,"
"I turned around, and when I saw it was a young girl I was like – really? How could that happen?"
The star has, however, since cautioned against a backlash saying that he wanted to avoid a "witchhunt".
"The person who needs the most support right now is the little girl. She's 13. She's uneducated," he said.
He also said he thought it unlikely that the girl, who wrote him a letter of apology, understood the real meaning of the insult.
Goodes has since tweeted: "Just received a phone call from a young girl apologizing for her actions. Lets support her please".
In a personal letter to Goodes, which was published in the Sunday Herald Sun, the young girl apologised writing: "Dear Adam, it was good to talk to you on the phone. I'm sorry for being racist, I didn't mean any harm and now I'll think twice before I speak."
Join our new commenting forum
Join thought-provoking conversations, follow other Independent readers and see their replies