Australian government uses military to repel 'boat people' but is silent on claims of savage treatment
Tony Abbott's administration was elected on a promise to 'stop the boats,' but hunger strikes and claims detainees have sewn their lips together have citizens asking 'at what cost?'
Kathy Marks
Wednesday 15 January 2014 20:17 Comments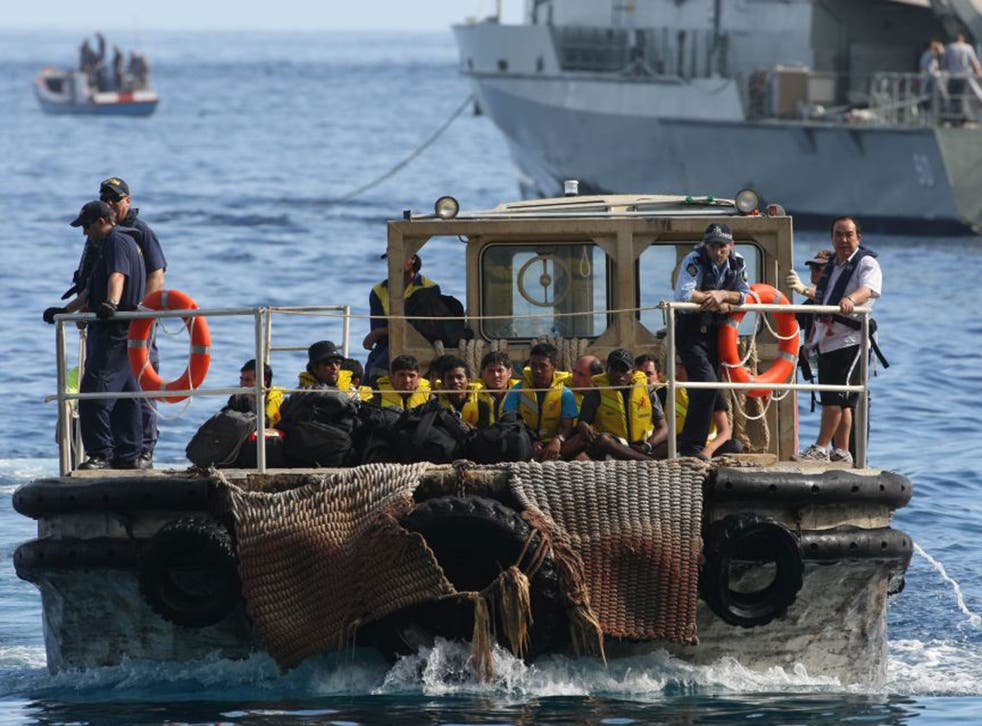 Australians who tuned into breakfast TV one morning recently were in for a shock. There on screen was their Prime Minister, grave-faced, talking about being "at war" and the importance of not "giving out information of use to the enemy".
Had Australia been invaded overnight? Were foreign troops about to land on Sydney's beaches? And who on earth was "the enemy"? Surely not New Zealand? Or Fiji?
Viewers who froze half-way through their cornflakes quickly learnt that the threat came not from one of Australia's neighbours, but from "people smugglers" and the desperate souls trying to reach here in leaky boats - asylum-seekers.
Tony Abbott, whose government was elected on a promise to "stop the boats", made the early-morning appearance to justify the secrecy shrouding the military-led operation to keep this enemy at bay.
Last year, the government stopped giving daily updates on boat arrivals. Instead, the Immigration Minister, Scott Morrison, and the head of "Operation Sovereign Borders", Lieutenant-General Angus Campbell, staged surreal weekly press conferences where, as one journalist put it, they would "stand up and answer questions, or, in many cases, not answer questions".
Now even those briefings, or non-briefings, are to cease. Unless something really major happens - a mass drowning, say - the government will confine itself to press releases, Mr Morrison announced.
Australians might be wondering whether it is true that the Navy has in recent weeks intercepted and turned five boats around mid-ocean, towing two of them back to Indonesia, as has been reported.
They might be curious about a hunger strike by detainees on Australia's Indian Ocean territory of Christmas Island, including claims that half a dozen people have sewn their lips together. Or about reported incidents of attempted suicide and self-harm in Australia's "offshore" detention centre on remote Manus island, in Papua New Guinea.
But they won't find out anything, unless - as has happened with the boat turnarounds - information emerges from Indonesia, a nation not known as particularly transparent. Australian journalists are given this response, or a variation: "For operational security reasons, the government does not disclose, confirm or otherwise comment on reports of on-water activities in relation to Operation Sovereign Borders."
No wonder that a frustrated Mark Dreyfus, the shadow Attorney-General, called on Mr Morrison last week to "front up and explain what the government is doing", adding: "I think it's shameful that we are learning more from the Jakarta Post and from Indonesian authorities than from our own government."
Sailors involved in "on water activities" have effectively been placed on a war footing, legally exempted from their usual obligation to ensure their own safety and that of asylum-seekers. Claims that Somali and Sudanese asylum-seekers were manhandled and verbally abused have been rejected by Lieutenant-General Campbell - although an internal investigation did not interview the complainants.
Meanwhile, the security company running the Manus centre is investigating a Facebook post by a supervisor, Darren Powell, who wrote: "One of these jokers [a detainee] just swallowed a pair of nail clippers, RALMFAO. The letters stand for "rolling around laughing my freaking arse off". Mr Powell has completed a suicide intervention skills workshop.
Mr Morrison said he would not comment on reports of attempted suicide, for fear of provoking copycat incidents. Julian Burnside, a prominent human rights lawyer, called that "complete bulls***".
Sixty per cent of Australians, according to a recent poll, believe border protection policies ought to be harsher.
In reality, the government's strategy is working - no boat has reached Australia for more than three weeks. But at what cost?
Register for free to continue reading
Registration is a free and easy way to support our truly independent journalism
By registering, you will also enjoy limited access to Premium articles, exclusive newsletters, commenting, and virtual events with our leading journalists
Already have an account? sign in
Join our new commenting forum
Join thought-provoking conversations, follow other Independent readers and see their replies