Bali Nine executions: Indonesia puts drugs smuggling ringleaders to death – ignoring global outcry
Traffickers are put to death after families' last-ditch appeals for clemency fall on deaf ears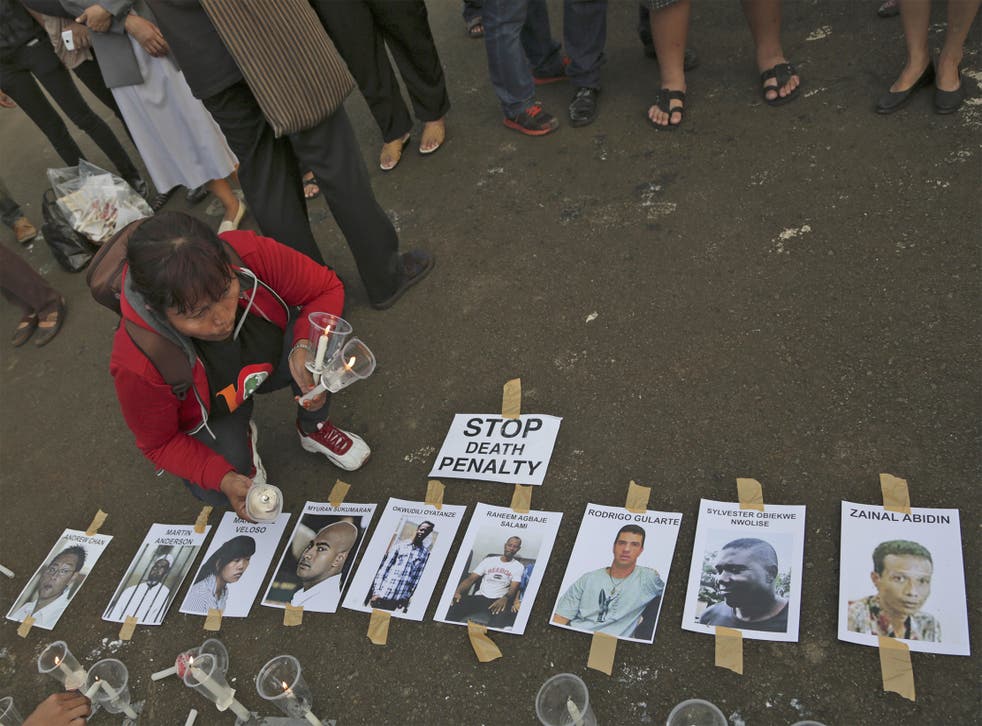 In the darkness of a forest clearing on an island with many ghosts, Indonesia killed eight healthy men. Each of the condemned was tied to a post and given the option to stand, sit or kneel. Then 12 paramilitary police trained rifles on their chests.
Shrugging off an international outcry, last-minute pleas for mercy and the heartbreak of their families, the country finally executed eight convicted drug traffickers – seven of them foreigners – after subjecting them to a three-month wait.
Among those facing the firing squad were two Australians – Andrew Chan, 31, and Myuran Sukumaran, 34 – who embodied the power of redemption. They were found guilty in 2005 of being the ringleaders of the "Bali Nine" gang, which was caught trying to smuggle 8.3kg of heroin out of Bali, and sentenced to death the following year. In jail, they found religion (Mr Chan), art (Mr Sukumaran) and an impulse to share their wisdom (both) with fellow prisoners.
Bali Nine pair executed

Show all 22
However, President Joko Widodo, who shortly after taking office in October claimed that Indonesia was facing a "national emergency" of drug abuse, was unmoved. There would be no mercy for any of the 64 drug criminals on death row, he said, calling the death penalty "shock therapy".
Like Nigeria and Brazil, whose nationals were among those killed on the prison island of Nusakambangan, Australia is weighing its response. But relations with its large northern neighbour are bound to be strained, not only by the executions but by Indonesia's treatment of the men before they were put to death.
On Monday, photos were released of nine coffins, and of a mortician inscribing wooden crosses with the names of the condemned and their execution date. Today, the coffins, shrouded in white satin, arrived on the island, each carried in its own ambulance.
However, it was not until two hours before the expected hour that officials confirmed that the executions would go ahead. In the afternoon, they approved "spiritual advisers" chosen by Mr Chan and Mr Sukumaran to be with them in their final hours – after rejecting them earlier in the day.

As the men's families arrived at Cilacap, in central Java, to catch a ferry to Nusakambangan for an agonising final farewell, they had to push through a scrum of camera crews. Mr Sukumaran's sister, Brintha, collapsed and had to be carried. The families were then told conflicting times when they had to leave. After their visit, they made one final, hopeless plea to Mr Widodo. "I just had to say goodbye to my son and I won't see him again," wept Mr Sukumaran's mother, Raji. "He is healthy and he is beautiful... Please don't kill him today."
Mr Chan's brother, Michael, added: "I saw something today that no other family should ever have to go through. Nine families inside a prison saying goodbye to their loved ones. It's torture."
The Australian government had lobbied intensively behind the scenes, as well as issuing high-profile, emotive pleas. It offered a prisoner swap and funds for drug rehabilitation. The Prime Minister, Tony Abbott, even tried emotional blackmail, reminding Indonesia of Australia's generous aid effort after the 2004 tsunami.
As vigils for the condemned were held around Australia, the Foreign Affairs Minister, Julie Bishop, said she was "deeply disturbed" by the day's events, particularly "the ghastly process that the families have been put through". She also warned of "consequences" for Australia's relations with Indonesia.
The clock had been ticking for Mr Chan and Mr Sukumaran since six death-row prisoners, including a Brazilian and a Dutchman, were executed in January. Today, they died along with Zainal Abidin, an Indonesian, Rodrigo Gularte, from Brazil, three Nigerians – Sylvester Obiekwe Nwolise, Raheem Agbaje Salami and Okwudili Oyatanze – and Martin Anderson of Ghana.
In all, 10 had faced execution, but Serge Atlaoui, a Frenchman, and Mary Jane Veloso, a Filipina, won temporary reprieves. The Australians died before their final appeal was even heard by the constitutional court, and before an inquiry into claims that their trial judges offered lenient sentences in exchange for bribes.
Some believe that Mr Widodo's tough stance was motivated by his sliding fortunes at home. Indonesians strongly back the death penalty, particularly for drug criminals.
Join our new commenting forum
Join thought-provoking conversations, follow other Independent readers and see their replies