Sydney gunman Man Haron Monis claimed he was 'tortured' for political beliefs
Monis claimed to be under 'constant attack' by Australian government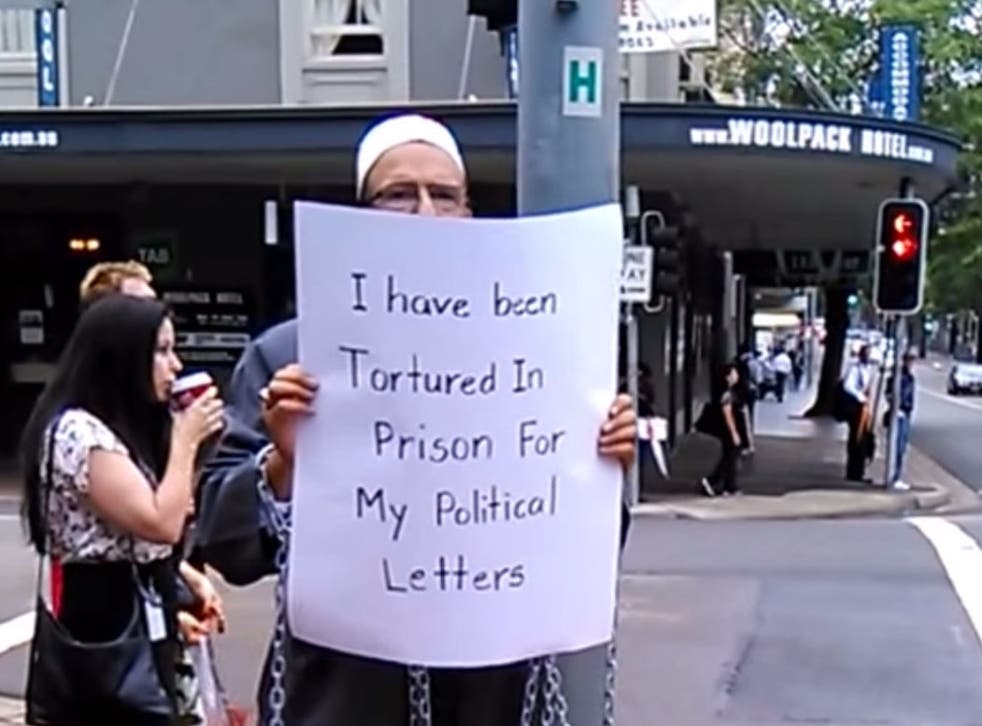 The gunman at the heart of the Sydney 16-hour siege claimed he was "tortured" for his political beliefs while being held in custody.
Man Haron Monis was free on bail when he used a shotgun to hold 17 people hostage at the Lindt Chocolat Cafe during rush-hour on Monday morning.
He and two hostages died in a barrage of gunfire when police stormed the café in the early hours of Tuesday morning.
Monis, a self-styled cleric who claimed asylum in Australia in 1996, had been known for sending "offensive and deplorable" letters to the families of Australian troops killed in Afghanistan.
He had also complained of being tortured in prison for his political beliefs and said he was fighting for Islam and for peace.
A Facebook page belonging to Monis included pictures of him holding signs saying "I have been tortured in prison for my political letters" after appearing in court in January. The page was removed on Monday night.
"The more you fight with crime, the more peaceful you are," he wrote recently on his website, according to the Site Intelligence Group. In another post he wrote: "I am one of the witnesses for the barbarism of the Australian government."
Terror in Sydney: how the siege unfolded

Show all 7
Monis was facing more than 40 sexual and indecent assault charges relating to time he spent claiming he was a "spiritual healer" in western Sydney, The Sydney Morning Herald reports. In December last year, he was charged with being an accessory to the murder of his ex-wife and bailed.
He claimed to have been under "constant attack" by the Australian government and said false charges including sexual assault had been made against him for "political reasons".
His former lawyer Manny Conditsis told the BBC Radio 4's Today programme that Manis had strongly denied being involved in his wife's murder.
He said the 50-year-old believed he was "being victimised and singled out" for his "lobbying against the government".
Mr Conditsis told the programme: "What he said happened is that he was placed into a cell which had a concrete bed, they removed the mattress, there was excrement thrown around the walls and the floor - not by inmates, according to him, but by prison guards.
"He was then forced to stand in and about the excrement and every time he tried to sit down over a period of 24 hours he would be bashed. That's what he told me."
Australia's Prime Minister Tony Abbott branded Monis a "deluded and sick individual", but said he was not on a terrorism watch list before he took customers in the café hostage.
Australian authorities are now facing questions about why he was allowed out of jail given the seriousness of the charges against him.
Speaking at a press conference, Mr Abbott told reporters: "How can someone who has had such a long and chequered history not be on the appropriate watch lists and how can someone like that be entirely at large in the community.
"These are questions that we need to look at carefully and calmly and methodically."