Rare albino humpback whale spotted off the coast of Queensland in Australia
It was spotted on Monday
Hardeep Matharu
Tuesday 11 August 2015 12:15 Comments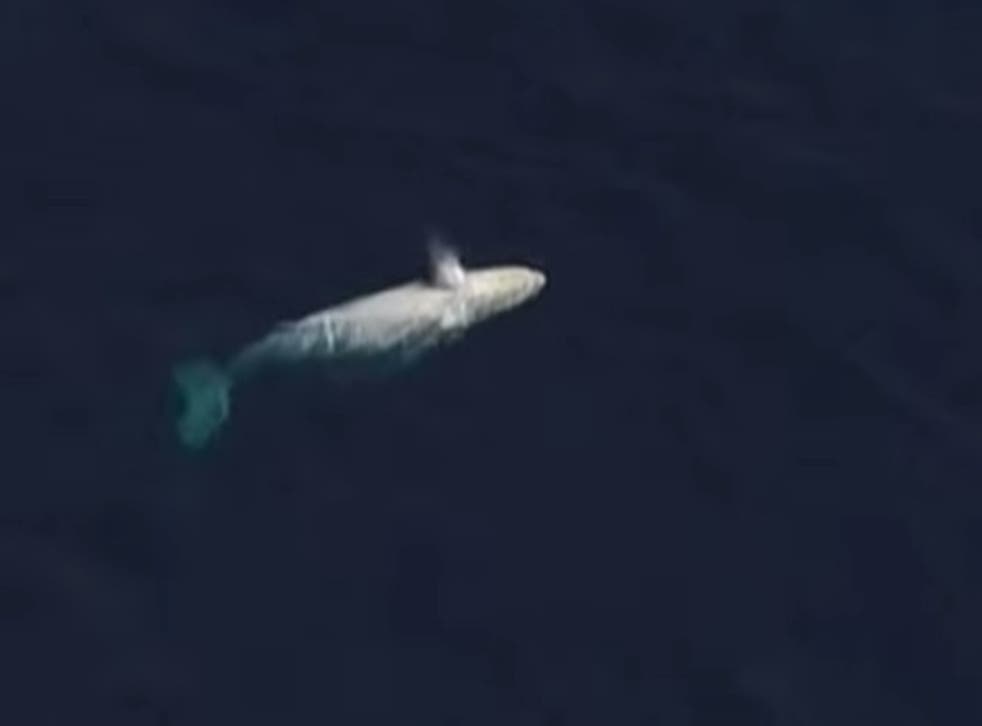 A rare Albino humpback whale has been spotted off the coast of Australia.
The mammal, migrating from the Antarctica to warmer waters in the north, was spotted by tourists who had paid charter boats in Queensland, in Australia's Gold Coast, on Monday.
Aerial footage taken by news cameras captured the moment the huge, unusual animal emerged from under the surface.
The sighting caused speculation as to whether the whale was in fact Migaloo, a world-famous albino humpback which was first seen in 1991 and is known to be one of the three white whales which live in the waters of Queensland.
But Trevor Long, Sea World marine services director, told ABC Radio that this was another albino whale, nicknamed the "Son of Migaloo".
Mr Long said this animal was smaller and younger than Migaloo and was the other white whale which has been regularly sighted off the east coast of Australia since 2011, according to the Daily Telegraph.
A study in 2011 found that Migaloo lacked a gene for making an enzyme involved in making melanin, one of the primary dark pigments found in mammalian skin, explaining its light tone.
This particular variation type is reportedly hereditary, meaning it is possible that Migaloo could pass it on to an offspring.
National Geographic Traveler Photo Contest 2015 winners

Show all 9
Register for free to continue reading
Registration is a free and easy way to support our truly independent journalism
By registering, you will also enjoy limited access to Premium articles, exclusive newsletters, commenting, and virtual events with our leading journalists
Already have an account? sign in
Join our new commenting forum
Join thought-provoking conversations, follow other Independent readers and see their replies