Sydney busker vs preacher: Street musicians drown out 'hateful' anti-gay religious preacher with 'Girls Just Want To Have Fun'
'Some boys take a beautiful boy and they hide him away from the rest of the world'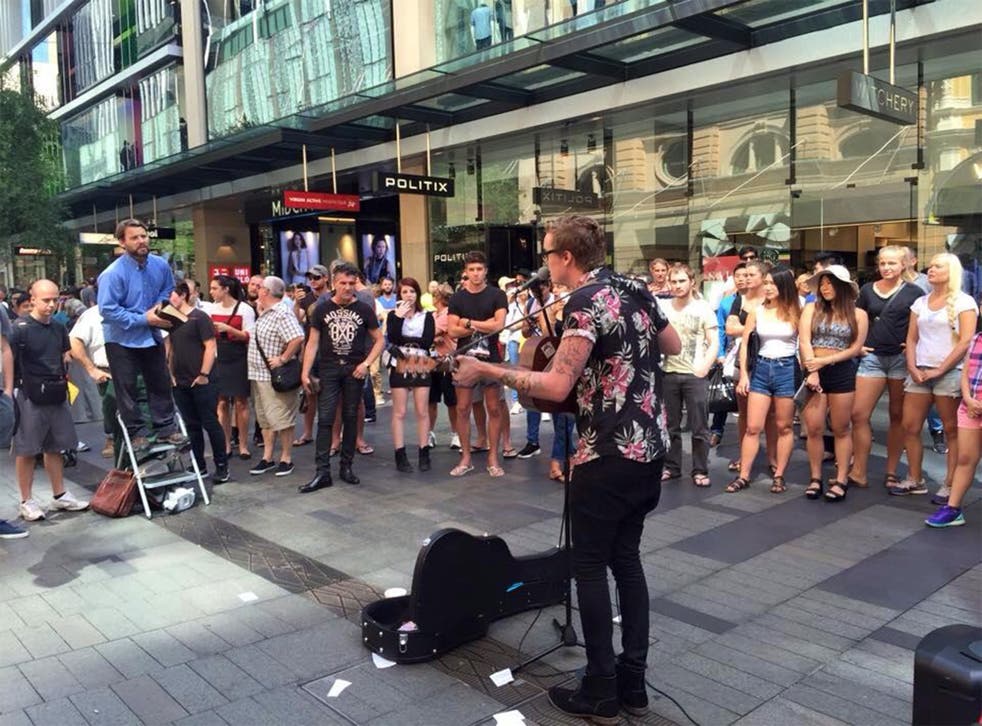 A busker in Sydney has found social media fame after drowning out a preacher he says was shouting "very derogatory, hateful words about gay people" with a rendition of Cyndi Lauper's "Girls Just Want To Have Fun".
Axel Winter, 24, said he felt he "had to do something" when the preacher, standing on a step ladder with a microphone and bible, declared that "today is the day that God hates you the most if you're homosexual".
Along with a group of friends, Winter decided to set up no more than a few yards away from the preacher and began a Saturday afternoon showdown that has now been watched by tens of thousands of people across Facebook, YouTube and Twitter.
"He was saying some very demeaning things, like 'today, God hates you the most if you are a homosexual,'" Mr Winter told The Independent.
According to Winter, the crowd at the Pitt Street Mall had started to turn aggressive towards the preacher and so he and his friends encouraged people to ignore him and listen to their music instead.
"I then proceeded to take a stand, so I took my gear over behind him and asked the crowd to ignore his words of hate and come and sing some words of love."
The busker thanked those who were there on Saturday to help "take a stand for equality".
"Yesterday, a man tried to yell hateful religiously inspired things about gay people in Pitt street mall," he wrote on Facebook at the weekend.
"So, myself and the other buskers moved my stuff behind him and drowned out his negativity. The crowd cheered and sang along and soon enough he was gone.
"Whether you're homosexual or transgender or even just confused, you're still my friend. Bless you people, bless you."
The young Australian singer, who was raised in foster care and credits his mother - who died when he was just 18 - as his biggest inspiration, continued: "I'm absolutely overwhelmed by everything," adding he was "speechless" over the reaction to the video.
The Mardi Gras festival, which runs from the end of February to the end of the first week of March, is one of the largest celebrations of LGBT rights and freedoms in the world. Hundreds of thousands travel to take part in the parades, parties, drag races, and panel discussions.
It is also a significant tourist draw for the city, generating around A$30 million for the state each year.
Join our new commenting forum
Join thought-provoking conversations, follow other Independent readers and see their replies