Sydney siege: Two hostages and gunman dead in crisis at Lindt cafe which ended in dramatic hail of gunfire
The Police Commissioner stressed today: "This should never change or destroy the way of our life."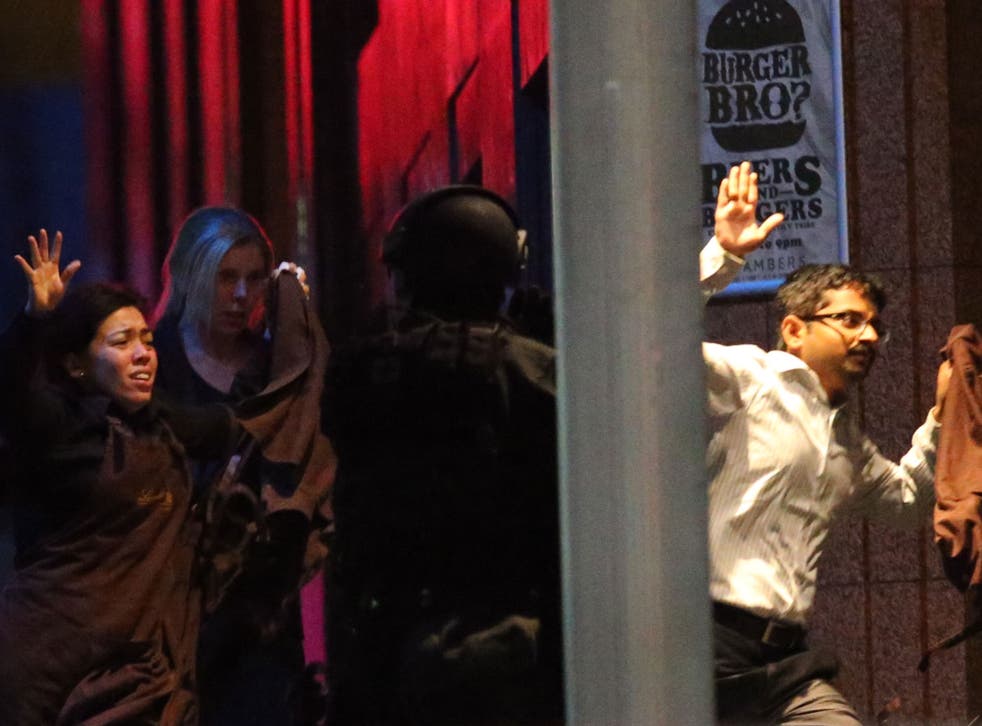 The self-styled Islamic preacher who held at least 17 people hostage in a Lindt Cafe on Sydney's Martin Place today is dead, as well as two of his hostages, police have confirmed.
Moments after at least five hostages fled the building in terror, army commandos stormed the Sydney café where they fired automatic weapons and threw stun grenades, to a dramatic siege which lasted more than 16 hours.
Loud yelling and screams were heard amid a series of explosions and rapid gunfire as the commandos moved into the building. They were followed by a bomb squad and detection robots, who later reported that they found no explosives on the premises.
In the wake of the harrowing siege which police have confirmed is over, Australian Prime Minister tweeted: "Our thoughts and prayers are with the families of the two deceased hostages, the wounded and the other hostages. #sydneysiege".
Speaking at a press conference, New South Wales Police Commissioner Andrew Scipione said his force had launched an investigation into the events.
He went on to confirm that two hostages - a man, 34, and a woman, 38 - had died during the incident. Gunman Man Haron Monis, 50, was killed during a confrontation with police in the café, Scipione told reporters.
However, he would not disclose whether the two hostages died in crossfire or whether they were shot by Monis.
The Australian Associated Press have reported that the 38-year-old who died is Katrina Dawnson. The barrister and mother-of-three worked at Eight Selborne chambers in the central business district, situated near the Lindt cafe.
The male hostage shot in the siege was 34-year-old Lindt cafe manager Tori Johnson, according to the ABC.
Of the 17 hostages which have been accounted for, four were injured, while six others escaped the incident unscathed, he said, adding a male police officer suffered a gunshot wound to the face.
"He is well and grateful to be alive, let me assure you," Mr Scipione said.
The survivors, some of whom had "medical conditions", are now at a hostage reception where they are being "well cared for" with their families nearby. They will later be questioned by police, said Scipione.
Addressing reporters in the aftermath of the incident which shook Sydney, he urged people not to "speculate" or "develop theories" about what happened inside the café, and said police believed more lives could have been lost if officers had not entered the building.
Thanking the police whom he said were faced with "tough, exacting work", the commissioner stressed: "This was an isolated incident, it is an isolated incident. Do not let this sort of incident bring about any loss of confidence about working or visiting in our city.
"It was the act of an individual. This should never change or destroy the way of our life. This won't change our lives, this will not change the things we hold dear in this country."
"We're Australians, we support mates, we help friends, this is exactly what we should be doing at this time," he said.
Officials at a hospital in Sydney said that a hostage is receiving treatment for gunshot wound to the leg. The woman in her 40s was in serious but stable condition at Royal North Shore Hospital, spokeswoman Jenny Dennis said. She was admitted shortly after police stormed the cafe.
Moments after the flashes and explosions happened, paramedics could be seen running towards the café as hostages fled from the building with their arms aloft at 2am local time.
Monis, who has been reported as either 49 or 50-years-old, is believed to have been bailed last year for accessory to the murder of his ex-wife and mother of his two children, The Age reported. He moved to Australia in 1996 where he assumed the title of "Sheikh Haron".
Well-known to the authorities since he was found to have written hate letters to the families of Australian soldiers killed in overseas conflicts, Monis operated an extremist website, YouTube channel, Facebook and Twitter pages in which he described his various police charges as part of a witch hunt against him.
In 2013, Monis pleaded guilty to 12 charges in relation to what police called "offensive and deplorable" letters sent to the families. Monday's seige follows an unsuccessful attempt to have these charges overturned in the High Court on Friday, The Age reported.
On top of this, Monis was banned in 2010 from writing similar "letters of condolence" to British soldiers killed in that conflict.
It is believed Monis was out on bail after he was arrested earlier this year over sexual assault allegations stemming from 2002.
Police in that case alleged that he put adverts in his local paper claiming to be a spiritual healer with expertise in astrology, numerology, meditation and black magic, and indecently and sexually assaulted a woman who visited him.
It is alleged he told the woman the attacks were part of a spiritual healing technique, and he warned the alleged victim not to tell anyone about them.
"There's no operational reason for that name to be held back by us now," said a police source, who declined to be identified.
His website, which has now been taken down, featured graphic pictures of dead children he claims were killed as a result of US air strikes.
Just yesterday, Haron posted an update that read: "Islam is the religion of peace, that's why Muslims fight against the oppression and terrorism of USA and its allies including UK and Australia. If we stay silent towards the criminals we cannot have a peaceful society. The more you fight with crime, the more peaceful you are. Islam wants peace on the Earth, that's why Muslims want to stop terrorism of America and its allies. When you speak out against crime you have taken one step towards peace."
An earlier update reads: "I used to be a Rafidi, but not any more. Now I am a Muslim, Alhamdu Lillah".
In one video posted on his YouTube channel, Haron can be seen holding a placard that says "I have been tortured in prison for my political letters".
On his Twitter account, Haron has posted numerous messages in support of "Team Islam" and criticising "racist and terrorist Australians".
Monday's siege began at around 9:45am, at a plaza in Sydney's financial and shopping district that is packed with holiday shoppers this time of year, when Monis entered the building in the city's busy financial and shopping district carrying a black Islamic flag.
Australia's Channel Ten reported that he told police that he had placed two bombs in the city's central business district, and had a further two in the café with him - claims which police later confirmed were false.
As the siege continued and evening descended, one employee was seen turning the lights of the café off - plunging the shop into complete darkness. Police have not provided details on the operation and whether it was the force who have turned off the lights or the people inside the building.
Earlier, dramatic footage showed five separate people - three men and two women some of whom were wearing brown Lindt aprons - managing to flee the scene. Police have not confirmed whether the five people who escaped the building did so by their own means or were set free by the gunman. One woman who escaped has been widely named as Elly Chen.
Chris Reason, a reporter at Channel 7, said Monis had carried what appeared to be a pump-action shotgun, was unshaven and wore a white shirt and a black cap.
He went on to claim that Monis could be seen "getting extremely agitated" and was shouting at the remaining hostages when the five people escaped, while Sky News later reported Monis used some of the hostages as human shields in the window.
As the siege unfolded, two people inside the café were seen holding up a flag with an Islamic declaration of faith that has often been used by extremists. The flag, believed to be the Shahada, carried a message that translates as: "There is no deity of worship except God (Allah), and Muhammad is the messenger of God."
Channel Ten claimed that Monis made known a list of his demands to local news organisation through phone calls made from inside the cafe, but New South Wales Police requested at the time that media organisations do not repeat the gunman's demands or relay what the hostages have said during these calls.
Talk radio presenter Ray Hadley claimed on Twitter that he was rung by a hostage while on air. He took the call off air and the station, 2GB, then said that the NSW police commissioner has confirmed this.
During the lengthy siege, three videos were released on YouTube, believed to be of three female hostages relaying the gunman's demands to police, Daily Mail Australia reported. Using his captives, Monis called on police to bring an Isis-style flag to the café - with some outlets reporting that he took the wrong flag into the cafe - and asked to speak with Australian Prime Minister Tony Abbott.
Reason also claimed there were around 15 hostages, "a mix of women, men, young and old," who are being forced to stand against windows for up to two hours at a time, and said that food was apparently being delivered to the hostages, with "staff bringing it out from kitchen at the back".
In pictures: Sydney siege

Show all 32
Prior to a press conference early on Tuesday morning local time, New South Wales's Premier Mike Baird thanked the police, and said: "Earlier tonight the commissioner and I also had a conference call with the Islamic leaders. They expressed their full confidence and support with what the NSW police are doing, and the commissioner and I thank them for it.
"We are in this together."
Before the stand-off, armed police officers were seen outside the café with their guns drawn, and a man with a backpack inside the café could be seen walking back and forth in front of the glass doors, in a building containing a number of state government bodies.
Police closed roads in the area and also stopped some trains from running after the alert was raised at about 9.45am on Monday local time. The newsroom at broadcaster Channel7, which is about 30 metres away, was evacuated.
The police urged "business as usual" for people in Sydney, though Sydney Opera House has reportedly cancelled performances for Monday night and the building was evacuated after reports of a suspicious device.
As the siege unfolded, Australian Prime Minister Tony Abbott said it was unclear if the siege was politically motivated.
"We don't yet know if this is politically motivated, although there are some indications that it might be," Abbott told reporters in Canberra.
"This is a very disturbing incident. I can understand the concerns and anxieties of the Australia people," Abbott said, without providing any information on the unfolding siege.
Kylie Gillies, host of Channel7's The Morning Show who watched events from the nearby studio, said "This is chilling."
Her colleague Shelly Horton, a journalist with the station, tweeted: "Terrifying siege in Martin Place. Those poor hostages. My @themorningshowon7 @sunriseon7 friends have been evacuated."
An employee of the café said her "heart just sank" when she recognised three of the hostages on television.
Kathryn Chee was about to start work at the Lindt chocolate cafe in Martin Place when news of the siege broke.
She said the first pictures she saw were "three people she knew" standing with their hands up against the cafe's window.
"I was shocked, I didn't know what to do," she told ABC News Australia. "I started calling work. I called my kitchen manager and he didn't pick up the phone. My heart just sank."
As Sydney-siders learned of the hostage situation, there was a sense of shock at such an incident of apparent terrorism in Australia.
Katie Buckley, who left London last year to live in Sydney, spoke to London Live about people in the city finding the event both confusing and scary, because "nothing like this happens in Sydney: it's a very safe, calm, very chilled-out city.
"This threat of terrorism, that I guess Europe and America are a bit more used too, is something quite new here...it's something scary and new for Australian society."
Earlier on Monday, police arrested a 25-year-old man in the city as part of operations to disrupt the flow of money and fighters to conflict zones such as those in Iraq and Syria.
The police commissioner confirmed that the two incidents were not in any way linked.
John Key, the New Zealand Prime Minister, is one of the world leaders to have sent messages of support to Mr Abbott.
Australia is on high alert for attacks by radicalised Muslims or by home-grown militants returning from fighting in the Middle East, having raised its threat level to high and undertaken a series of high-profile raids in major cities.
Prime Minister Tony Abbott has said that at least 70 Australians were fighting in Iraq and Syria backed by about 100 Australia-based "facilitators".
Reuters contributed to this report