Tony Abbott's government 'will never introduce same-sex marriage', Australia's opposition claims
Members of the right-wing ruling coalition have been ordered to vote against gay marriage, meaning that it cannot be legalised unless MPs rebel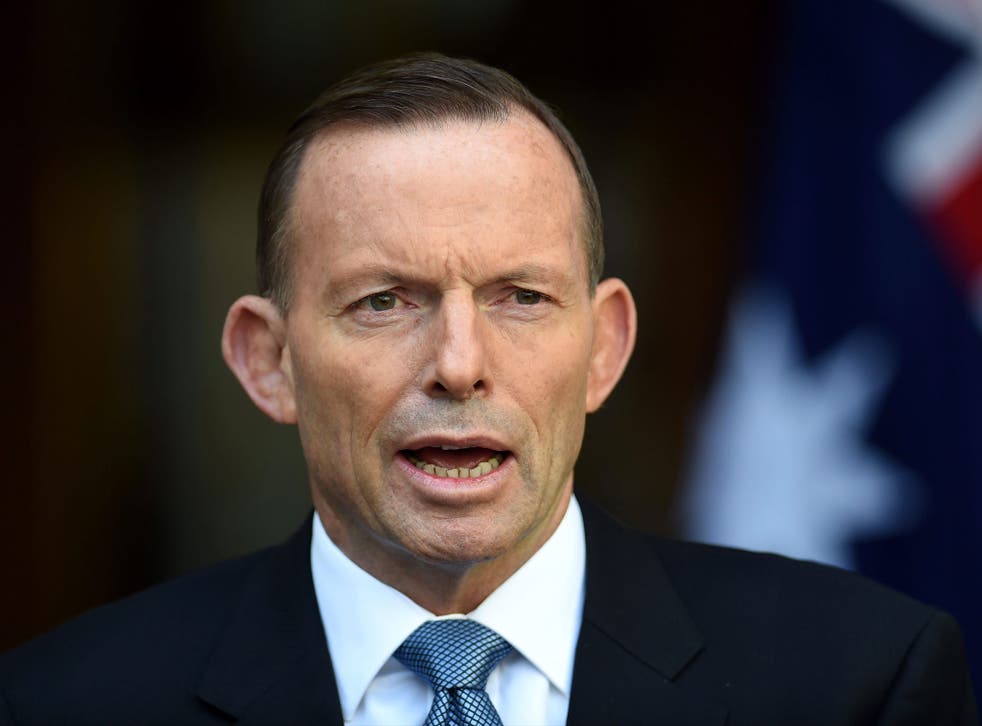 Same-sex marriage will never be introduced under Tony Abbott's government in Australia, the country's Labor party has warned after a free vote on the issue was blocked.
The ruling coalition voted by a margin of 66 to 33 to order government MPs to follow the party line and vote against equal marriage, meaning the law cannot be passed unless significant numbers break ranks.
The Prime Minister has warned that under his Liberal Party's policies, any frontbenchers who defy the agreed position will be sacked.
Mr Abbott, who personally opposes gay marriage and trained as a Roman Catholic priest, has offered a referendum on the issue if his government remains in power after the next election, but the outcome would not be binding.
"Obviously the fact that we are disposed to put it to the people in the next term of parliament shows that we are open to change, but please let's not underestimate the magnitude of this as a cultural shift," he said.
Bill Shorten, leader of the opposition Labor party, called on all coalition MPs to keep lobbying for a free vote but did not appear hopeful.
"The choice in this country is you either have Mr Abbott or you have marriage equality, but you can't have both," he said.
Members of Mr Shorten's party will not be whipped for any vote on same-sex marriage and he has pledged to introduce legislation making it legal within 100 days of the next election, in the event of a Labor victory.
But it is a conservative MP, Warren Entsch, who is due to introduce a new bill to Parliament on Monday to allow same-sex marriage throughout Australia.
The backbench politician is a member of the Liberal National Party, part of Abbott's right-wing coalition, but has cross-party support for the legislation.
"I think there will be a handful of people on my side that will vote for this," Mr Entsch told News Corp Australia.
"Absolutely I will be crossing the floor. But even with some support I don't think the support is there to see it succeed."
In pictures: Marriage equality rally in Sydney

Show all 15
Opinion polls suggest that the majority of Australians support equal marriage and supporters were enraged by the latest development in the long-running debate.
Many people had hoped that success in the US and Ireland, despite well-publicised opposition, would bring Australia closer to taking the same step.
Some television network have refused to carry anti-same-sex marriage advertising and the owners of Canberra's airport made their feelings known as MPs returned to the capital after a six-week recess on Monday.
They arrived to see it illuminated in rainbow colours symbolising LGBT pride as owners joined hundreds of Australian businesses declaring their support for marriage equality.
Members of the Australian Marriage Equality campaign group said people would support equality in a referendum, known as a plebiscite, even if politicians refused to.
"The Abbott Government has disappointed and angered millions of Australians by deciding to remain on the wrong side of history, but momentum will only build and love will win out," the group's national director, Rodney Croome, said.
"Tony Abbott can gag his party room, but he can't gag the Australian people who will vote strongly in favour of marriage equality at a plebiscite."
Additional reporting by PA
Join our new commenting forum
Join thought-provoking conversations, follow other Independent readers and see their replies