BBC journalists expelled from North Korea: The reporting that did it
How exactly might a foreign journalist insult the dignity of North Korea? Taking a quick look at some of the reports Wingfield-Hayes's crew filmed while in North Korea gives us some clues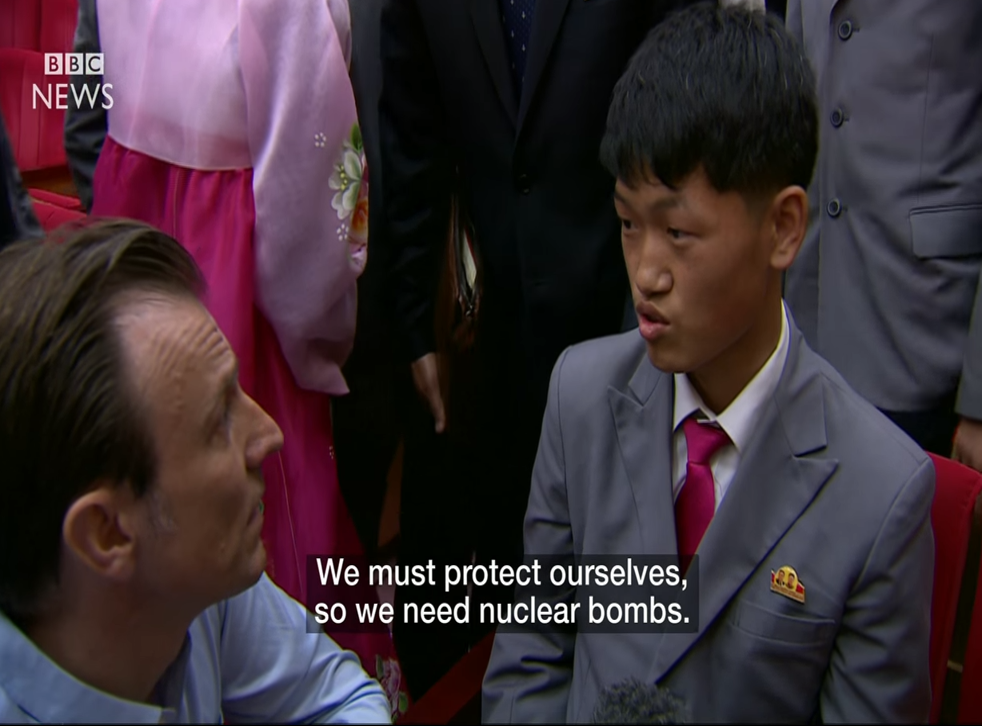 North Korea has a funny relationship with the foreign media. The isolated country recently invited hundreds of foreign journalists (including some from The Washington Post) to cover its rare, once-in-a-generation party congress.
But then these journalists were largely restricted from actually reporting on the still-ongoing party congress. Instead, they have been forced to go on media trips to slightly-less-exciting destinations -- state-run wire factories, for example.
Now, Pyongyang announced on Monday that three visiting BBC journalists have been expelled from the country for "insulting the dignity" of North Korea. According to the BBC, correspondent Rupert Wingfield-Hayes was stopped at the airport as he prepared to leave the country Friday.
His crew, which included producer Maria Byrne and cameraman Matthew Goddard, refused to board the plane without him. After some wrangling with authorities, the three are now safely in Beijing; North Korean officials say they can never return.
How exactly might a foreign journalist insult the dignity of North Korea? Taking a quick look at some of the reports Wingfield-Hayes's crew filmed while in North Korea gives us some clues.
The video above, for example, takes a look at North Korea's Kim Il Sung University. As Wingfield-Hayes notes himself in the video, North Korea is "a country that can be very easily offended," and the BBC journalist doesn't exactly mince his words. He describes Kim Il Sung, the founder of North Korea and grandfather of its current leader, Kim Jong Un, as a "dictator." He says the country can be both "comical" and "scary." He asks a student at the university about the intentions behind North Korea's nuclear-weapon program, prompting a stern-faced minder to step in to end the interview.
A BBC journalist, Rupert Wingfield-Hayes, who was expelled from North Korea over his reporting, said he was "just relieved to be out," as he returned to his Beijing base on Monday, May 9. (Reuters)
At one point, Wingfield-Hayes is shown being accosted by another minder as he tries to film a segment by a huge statue of Kim Jong Il, the father of North Korea's current leader. "They clearly felt that we said stuff that was not respectful to the great leader, and now we're in trouble," the correspondent says. The crew is later shown deleting the footage at the order of authorities. At the end of the video, Wingfield-Hayes suggests that the "control and nervousness" his crew experienced betrays the "weakness and insecurity" of the North Korean state.
Workers' Party Congress in North Korea

Show all 12
In another report filed by Wingfield-Hayes and his crew, included below, the reporter suggests that some of the media trips he has been invited on appear to be staged. "Everything we see looks like a setup," he says. Later, when he tries to ask a female Taekwondo athlete about the United States, she keeps awkwardly quiet as a gang of minders take notes.
There's more. In another video (which can be viewed here), Wingfield-Hayes says that North Korea is "one of the most isolated, impoverished and repressive places on Earth." And in an article that accompanies the video, Wingfield-Hayes describes North Korean leader Kim Jong Un as "corpulent and unpredictable."
This is certainly not a rose-tinted view of North Korea. But it's not necessarily different from what many reporters and analysts say about North Korea most of the time. Those who defend North Korea from such accusations are a fringe, to say the least. What's different for Wingfield-Hayes, perhaps, is that he did it in the country at a time when Pyongyang was obviously courting the foreign media in the hope of positive coverage.
What you're not allowed to say in North Korea
After news of his expulsion spread, some North Korea experts wondered whether Wingfield-Hayes did the right thing in taking this aggressive stance in his reporting while in the country -- not because of the hurt feelings of the North Korean state, per se, but because the impact those hurt feelings could have on average North Korean citizens. On Twitter, Gady Epstein, formerly a China correspondent for the Economist magazine, and John Delury, a North Korea analyst who teaches at Yonsei University in Seoul, both expressed worry that such reports could unintentionally hurt North Korean officials and citizens.
This is something all foreign journalists have to grapple with when they visit North Korea. The Post's own Anna Fifield, a veteran visitor to North Korea, last year noted that she might be risking the lives of North Korean interviewees if she had "frank and truthful" conversations that didn't fit the regime's talking points. But pushing against the regime's limits while in the country was her responsibility as a journalist, Fifield explained. "After all, I'm in the information business, not the isolation business," she wrote.
Copyright Washington Post
Join our new commenting forum
Join thought-provoking conversations, follow other Independent readers and see their replies