Could Croatia's Foreign Minister Vesna Pusic take over from Ban Ki-moon as new UN secretary-general?
Exclusive: Croatia's Foreign Minister tells Andrew MacDowall in Zagreb why she should succeed Ban Ki-moon - she just might, too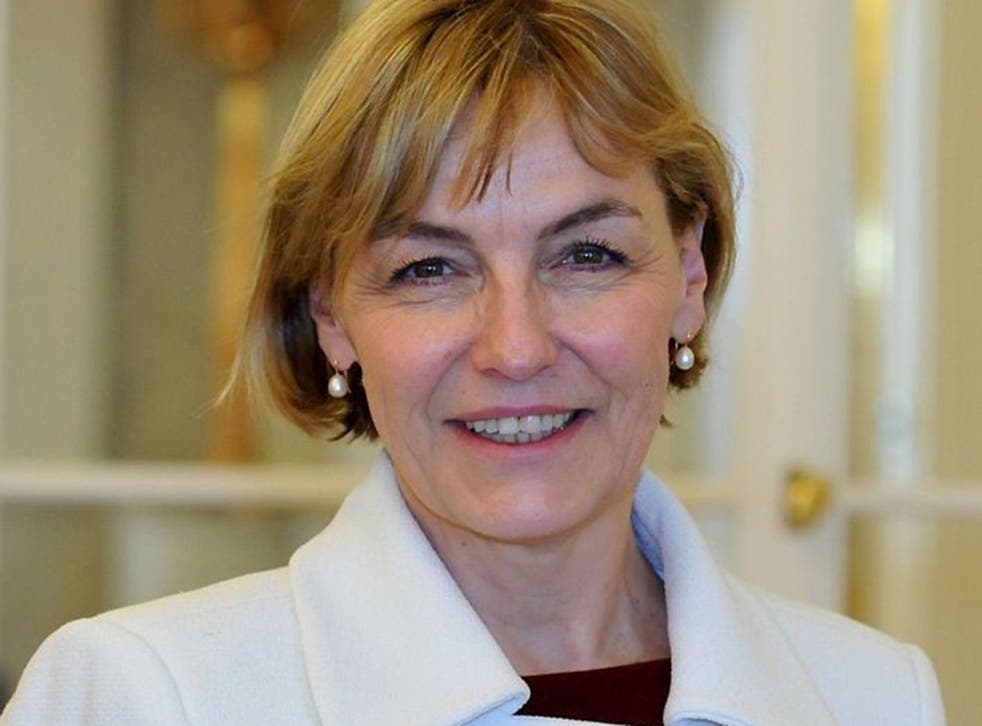 When Ban Ki-moon's time in office comes to an end next December, the world could be looking at two firsts in the new UN secretary-general: the first to come from Eastern Europe, and the first woman in the post.
Vesna Pusic, Croatia's Foreign Minister, in an exclusive interview with The Independent on Sunday, makes it clear she intends to run.
"I will stand as a candidate," she says, speaking in her wood-panelled office in the Ministry of Foreign Affairs, in Zagreb. "This would be a fantastic thing, a golden opportunity ... it would be a great honour for me to even be part of the process."
Ms Pusic – who specialised in sociology before entering politics in the early 2000s, shortly after the end of Croatia's bloody war of independence – oversaw the country's EU accession in 2013. The experience of post-war politics has been important training for the UN, the 62-year-old believes.
"Maybe it's too much to expect that a secretary-general can change countries," she said. "But it helps a great deal if she can understand and know how it feels when talking to people in a country, or confronting a situation in a country before or during a conflict."
She has, in theory, a decent shot. The Secretary-General is appointed by the UN's General Assembly, on the recommendation of the Security Council. The informal practice of regional rotation suggests that the next UN chief – to be elected to succeed Ban Ki-moon (inset) in 2016 – should be from Eastern Europe. There is also growing support for a female secretary-general.
The process was kickstarted last year by Unesco director-general Irina Bokova, who was nominated for the role by her native Bulgaria and is thought to be an early front-runner, but family ties to the communist-era elite may act against her. Indeed, the crisis in Ukraine may make it difficult to find a compromise candidate from Eastern Europe, given the veto power of the five Security Council nations – the US, UK, France, China and Russia.
Should the Security Council choose outside Eastern Europe, former New Zealand prime minister Helen Clark, administrator of the UN Development Programme, has excellent credentials and the UN inside track.
Ms Pusic, who speaks a clipped, near-flawless English, believes the process should for the first time include a public debate between candidates. "People feel that the UN isn't known to them; it's very abstract, out there in New York, and [then] at times of crisis there are blue helmets that drive through your country. [A debate] would make the institution more acceptable and known to the global general public."
Perhaps with an eye on Moscow's role in the appointment process, she emphasises the importance of repairing relations with Russia in the wake of the Ukraine crisis.
She believes Croatia's path from a post-war nationalist, authoritarian system to an EU member, and its peaceful conclusion of border disputes with Slovenia are a potential model for conflict resolution.
"We can use all that experience in Africa and Asia, in Latin America, confronting dangerous, emotional symbol-based politics," she says.
But domestic opponents accuse her of grandstanding on the international stage when she should be concentrating on diplomacy for Croatia, still a young state with complex relations with its neighbours.
Ms Pusic insists she is no career politician, but has been politically active for decades. She was a feminist activist in the dying days of communist Yugoslavia in the 1980s, and a leading contributor to a political journal in the 1990s, as Yugoslavia dissolved into bloody wars and Croatia emerged as an independent state under strongman nationalist Franjo Tudjman. "The objective was to keep a different opinion alive, to keep the light alive," she says.
It was after a year as a visiting professor at Georgetown University, in Washington DC, that Ms Pusic says she became convinced she should enter parliament. She now leads the liberal Croatian People's Party, and became Minister of Foreign and European Affairs in 2011 as part of a centre-left government.
Despite being an outsider – unlike Ms Bokova and Ms Clark she is not a UN official – Ms Pusic would not want radical change at the UN. "I'd certainly focus on doing the most we can with what we've got."
She aims to put an emphasis on women's health and welfare, and feels the Croatian experience of the 1990s can inform her approach to aid and development. "We were on the receiving end – you need it, but you're a little uneasy and ambivalent about it, and it's important to have a sense of ownership, rather than having someone tell you how to do it."
Join our new commenting forum
Join thought-provoking conversations, follow other Independent readers and see their replies