Abdelhamid Abaaoud: Paris attack mastermind's death hailed, but questions remain how he evaded authorities for so long
Questions raised about how French security agencies had been unaware Abaaoud had returned to France, presumably from Syria, to plan the massacre in Paris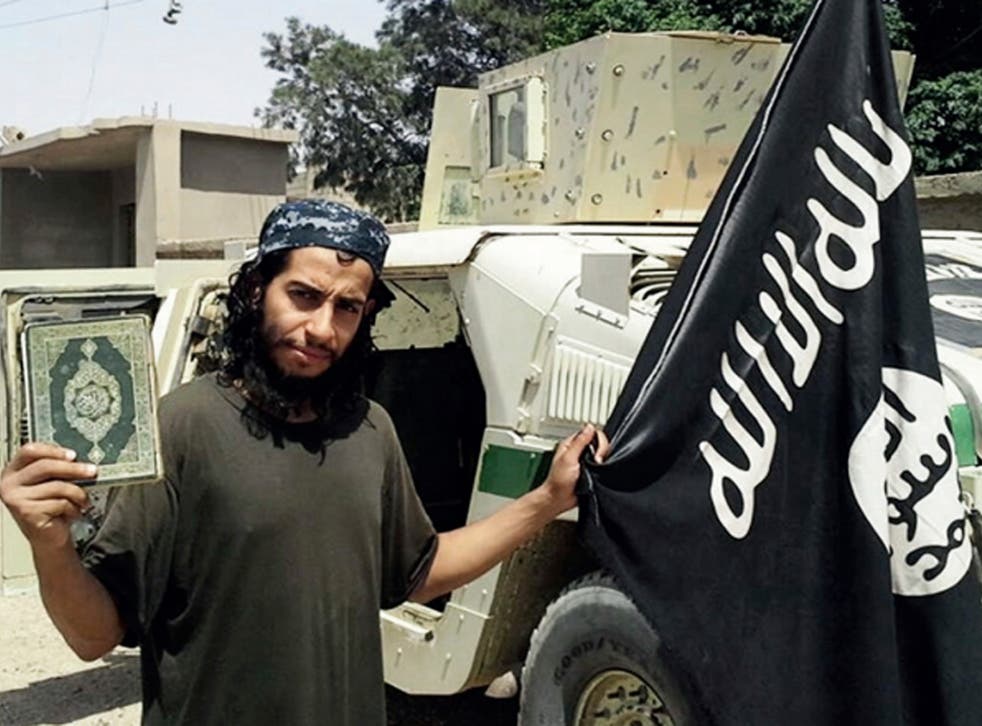 The terrorist who orchestrated the Paris massacre evaded intelligence agencies and travelled from Syria to France before being killed during a shootout with police, officials have said.
After French authorities heralded the killing of Abdelhamid Abaaoud as a victory against Isis, further questions are being raised about how French security agencies had been unaware Abaaoud had returned to France, presumably from Syria, to plan the massacre in Paris which left 129 dead.
His accomplice, Salah Abdeslam, 26, remains at large. Belgian reports suggested Abdeslam wanted to hand himself in and had been seen three days ago.
Abaaoud's mutilated body was identified with the help of fingerprint records after it was found among the corpses of terrorists killed in a ferocious firefight with police in the Paris suburb of Saint-Denis on 18 November.
The news that the 28-year-old was dead prompted the French Prime Minister, Manuel Valls, to congratulate the security services for "neutralising one of the brains behind the attacks", while the Interior Minister, Bernard Cazeneuve, offered his "warmest congratulations".
But many were asking how one of the world's most wanted terrorists could slip unnoticed through Europe from Syria to end up in the centre of a Paris suburb. Mr Cazeneuve said that Abaaoud had played "a key role" in planning at least four terrorist attacks or attempted attacks since the spring, but admitted that no European country had detected the Belgian-born terrorist crossing their borders.
Mr Cazeneuve said it was only on 16 November – three days after the 13 November attacks – that the intelligence service of a country "outside Europe" told the French authorities that Abaaoud had been spotted in Greece.
Abaaoud's alleged presence in Greece also raises the possibility that he had a followed a similar route to a suicide bomber found dead near the Stade de France, who had hidden himself among refugees and was rescued last month from a leaking raft off the Greek island of Leros. It also appeared that this might not be the first time that Abaaoud had travelled from Syria to western Europe via Greece.
A source close to the French inquiry told the Le Parisien newspaper that a phone used by Abaaoud had been traced to Greece in January, at about the time that two terrorists were shot dead in a police raid in Verviers, Belgium.
Shortly afterwards, in February, Abaaoud gave an interview to an online magazine suggesting that he had made it into Belgium and then back to Syria. He boasted: "My name and my photo were in all the newspapers and yet I managed to stay in their country, planning operations against them, and to leave safe and sound."
Calling for greater international co-operation, Mr Cazeneuve said that it was now urgent that Europe "pull itself together" on terrorism, and that he would be making the same point at an emergency meeting on 20 November of EU justice and interior ministers in Brussels. He was backed by the French Foreign Minister, Laurent Fabius, who talked of "failings in the collective European system".
The Paris prosecutor François Molins said that after a shootout involving grenades, the detonation of an explosives belt by Abaaoud's cousin, and the near-destruction of the hideout, Abaaoud's body had been found "riddled with impacts". It was not possible to establish precisely how he had been killed.
Identification had required the "use of skin traces" to match fingerprints taken by Belgian police when Abaaoud was arrested for robbery in 2010. Such was the carnage inside the hideout that police were unable to establish whether they were dealing with two dead terrorists or three.
This added to confusion surrounding the whereabouts of Abaaoud's friend Abdeslam, who was thought to have escaped to Belgium in the immediate aftermath of the Paris attacks. One source told the Belgian newspaper La Capitale that on the evening of 17 November he had met Abdeslam in Molenbeek, the Brussels suburb where the terrorist grew up, and where police carried out searches yesterday.
The anonymous source claimed that Abdeslam had expressed regret for the attacks. "He said he had gone too far," said the source, "but that he couldn't turn himself in because there would be consequences for his family."
The Molenbeek resident added: "He's here, but not for much longer." Belgian police raided houses across Brussels in connection with Bilal Hadfi, 20, who blew himself up near the Stade de France. Seven people were questioned after the raids.
Hadfi was known to Belgian authorities before the Paris attacks, and the searches were based on the case file that was opened on him earlier this year after he went to Syria. Police raids were continuing in France last night.
Abaaoud's terror network extended to Spain, authorities said. Spanish Interior Minister Jorge Fernández Diaz said: "Abdelhamid Abaaoud tried to recruit Spaniards, especially women, though social networks to join Daesh… to repopulate the caliphate."
Join our new commenting forum
Join thought-provoking conversations, follow other Independent readers and see their replies