Far-right AfD surge to second place in German state election, beating Merkel's party
Anti-immigrant party more than doubles share of vote to 23.5 per cent, say exit polls
Peter Stubley
Monday 28 October 2019 00:34 Comments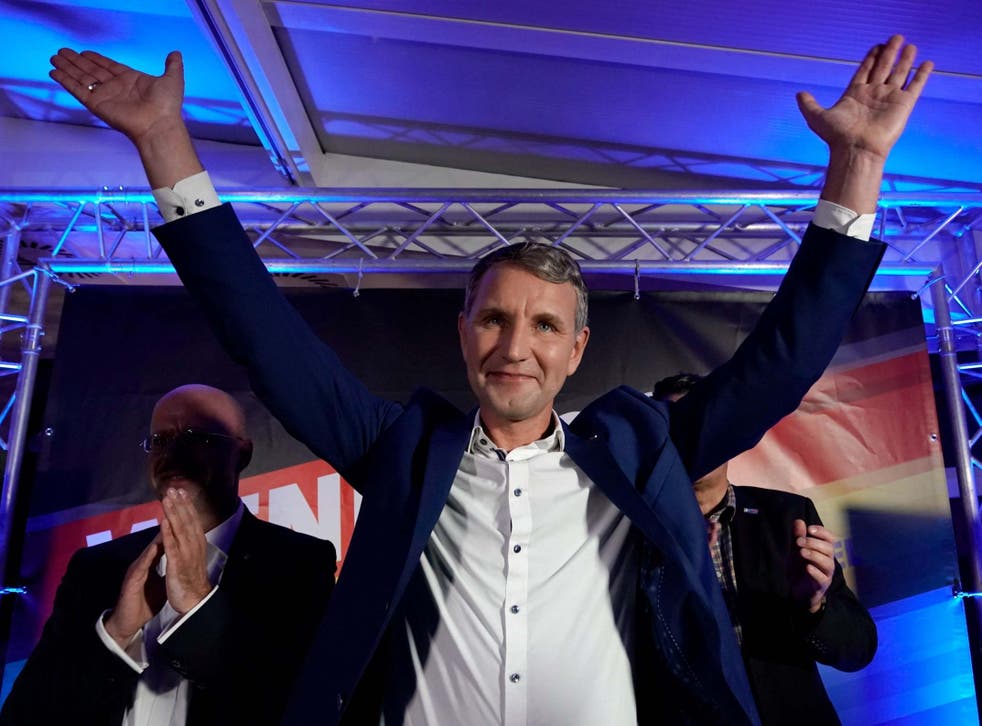 The German far right won a higher share of the vote than Angela Merkel's party in a regional election on Sunday, according to exit polls.
Alternative for Germany (AfD) was forecast to come second in the poll in the state of Thuringia with 23.5 per cent, more than double what it received five years ago.
It follows recent gains for the anti-immigrant party in the eastern states of Brandenburg and Saxony last month.
The AfD's leader in Thuringia, Bjoern Hoecke, is a former history teacher who has described the Holocaust memorial in Berlin as a "monument of shame". His statements are so extreme that even his own party members struggle to differentiate them from the writings of Adolf Hitler.
Mr Hoecke told supporters on Sunday that the AfD "will be a people's party for all of Germany", adding that the preliminary result was "a clear sign that a large part of Thuringia says this can't go on, we need renewal ... This should be taken seriously."
World news in pictures

Show all 50
The left-wing Die Linke party, which has governed the region in coalition with the Greens and Social Democrats (SDP), won the highest share of the vote with 30.1 per cent while the German chancellor's conservative Christian Democratic Union (CDU) came third with 22.1 per cent.
It marked a significant slump in CDU support compared to 2014, when the party won the highest share of the vote with 33.5 per cent.
The SPD also lost votes, coming forth with just over 8 per cent. It means that the existing "red-red-green" coalition is unlikely to be able to command a majority in state parliament.
A Die Linke minority government is said to be the most likely outcome, given that the CDU has ruled out a coalition with either them or the AfD.
Bodo Ramelow, who became Die Linke's first state premier in 2014, said: "I see myself clearly strengthened. My party clearly has the mandate to govern, and I will take it up."
Register for free to continue reading
Registration is a free and easy way to support our truly independent journalism
By registering, you will also enjoy limited access to Premium articles, exclusive newsletters, commenting, and virtual events with our leading journalists
Already have an account? sign in
Join our new commenting forum
Join thought-provoking conversations, follow other Independent readers and see their replies